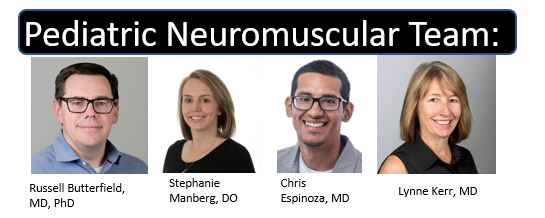 This program partners with the ACGME accredited Neuromuscular fellowship program in adult neurology department at the University of Utah with a unique, pediatric-focused track.  This fellowship will provide a pediatric neurologist with the opportunity to become neuromuscular trained with a focus in pediatric neuromuscular medicine. Time with be prioritized in pediatrics while providing ample amount of time with adult neuromuscular patients to master the scope of neuromuscular medicine and hone EMG skills.  The University of Utah is Mountain West's only academic health care system providing care for Utahans and residents in Wyoming, Montana, Nevada, and Idaho which encompasses more than 10% of the continental US providing a large population of patients with a wide-breadth of pathology.

Pediatric neuromuscular multidisciplinary clinic at Primary Children's Hospital twice a month
Pediatric neuromuscular multidisciplinary clinic at Shriner's Hospital twice a month
Weekly Muscular Dystrophy Clinic at University of Utah (seeing both adult and pediatric patients)
Additional (non-multidisciplinary) neuromuscular clinics on Tuesdays/Thursdays at Primary Children's Hospital
Pediatric EMG's 2-3 afternoons/week
Additional neuromuscular and EMG clinics in adult neurology department including subspecialty clinics include the Motor Neuron Disease, Peripheral Neuropathy, and Muscular Dystrophy Association Clinics
Our clinics have formal care center certifications from the Muscular Dystrophy Association, Parent Project Muscular Dystrophy, and CureSMA.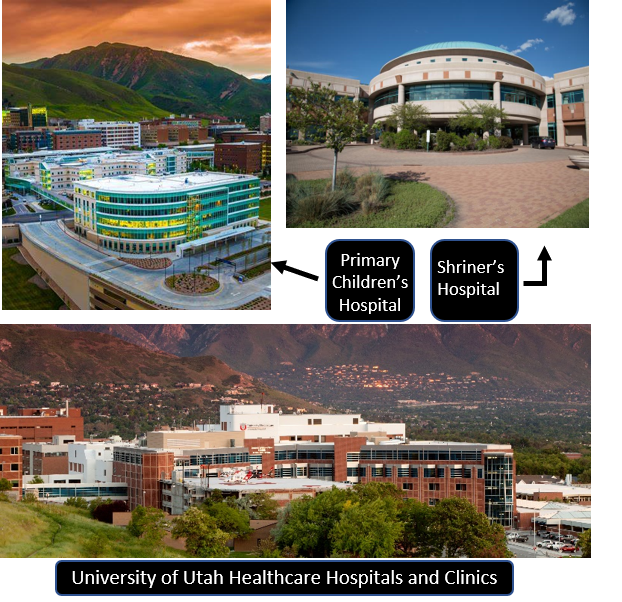 The fellow will have access to a robust research environment, coordinated through the Utah Program for Inherited Neuromuscular Disorders (UPIN), directed by Russell Butterfield, MD, PhD. UPIN research includes a variety of industry, government, and advocacy sponsored clinical trials. These include transformative genetic and disease modification therapies in adults and children. Active current trials include studies for spinal muscular atrophy, Duchenne muscular dystrophy, myotubular myopathy, facioscapulohumeral muscular dystrophy, amyotrophic lateral sclerosis, myasthenia gravis, inclusion body myopathy, and limb girdle muscular dystrophy. In addition, laboratory-based projects studying genetic and pathologic mechanisms in myotonic dystrophy, Duchenne muscular dystrophy, collagen VI related muscular dystrophy, and facioscapulohumeral muscular dystrophy are ongoing in collaboration with Dr. Robert Weiss, PhD, Department of Human Genetics.
See UPIN website for more information: http://upin.genetics.utah.edu/