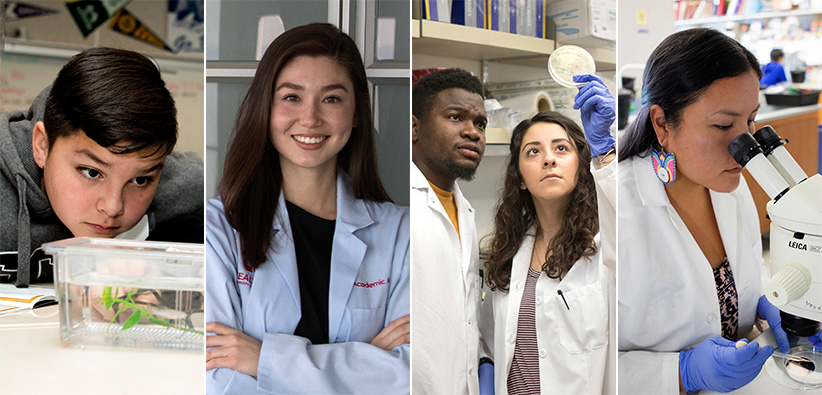 Overview
The Research Education Office is dedicated to providing the best clinical and basic science research opportunities for undergraduate students, medical students, residents, fellows, and faculty.  We strive to meet the personalized needs of each of the students in our programs, working to create a pipeline for future researchers and physicians.
Our Programs
Academic Associate Program (AcA) is an undergrad minor where students receive credit for conducting clinical research designed by University of Utah and Primary Children's Hospital physicians and healthcare providers. Students have the opportunity to complete the Pediatric Clinical Research Minor.
BioEYES is a hands-on science education program that exposes K-12 students to science, the scientific method, and sheds a positive light on science exploration.
Career Development supports pilot research projects by offering PCHF funding, Research-in-Progress and the Grant Writing Workshop.
Genomics Summer Research for Minorities (GSRM) Internship Genomics Summer Research for Minorities is a 10-week summer research opportunity for minority undergraduate students intereste in genomics research, bioinformatics and/or personalized medicine research, and minority health disparities.
Native American Summer Research Internship (NARI) is a dynamic summer research opportunity for Native American undergraduate junior and senior students who are interested in Health Science research.
University Child Abuse Recognition & Education Certificate (UCARE) is a certificate program that focuses on important topics in the filed of child abuse pediatrics.
FOR MORE INFORMATION CONTACT US
Phone
801-213-3753
Email
PedResearchEducation@hsc.utah.edu
Location
Department of Pediatrics
Research Education Office
295 Chipeta Way
Salt Lake City, UT 84108