Welcome to the University of Utah Child and Adolescent Psychiatry Fellowship! Our fellowship is located in the beautiful foothills of the Salt Lake Valley, housed in our free standing academic psychiatric hospital and minutes away from nationally recognized Primary Children's Hospital and the University of Utah Hospital.
Our academic home is the University of Utah Department of Psychiatry and its Division of Child and Adolescent Psychiatry, which serves children and adolescents from all of Utah and much of the Intermountain West including Idaho, Nevada, and Wyoming. Through our Comprehensive Assessment and Treatment program we accept patients from around the world.
We enjoy a history of excellent clinical care and research, with the future only looking brighter. In 2019 the Huntsman family provided a commitment of $150 million to the University of Utah establish the Huntsman Mental Health Institute. The focus of these funds will be to provide financial support to the University of Utah Department of Psychiatry in becoming a national leader in research, clinical care, and community outreach.
The Division of Child and Adolescent Psychiatry includes over 40 full-time faculty members which allows fellows diverse learning and mentorship opportunities. Likewise, fellows enjoy many opportunities for research with over 10 research labs and over 30 research faculty within the department with diverse research interests.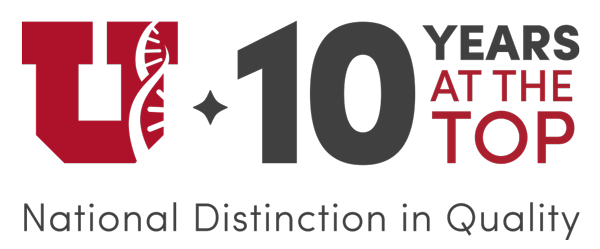 We enjoy working in multiple great healthcare systems. For ten consecutive years, the University of Utah has ranked in the Top 10 of Vizient's Quality Leadership Award, highlighting the organization's emphasis and ability in providing high value healthcare. Likewise, Intermountain Healthcare has been nationally recognized throughout its history as a leader in healthcare quality, leadership, and innovation.
Living and working in Salt Lake City lends itself to having a great lifestyle. The fellowship's main clinical sites sit within minutes of each other, with mountains and trail systems literally out of their back doors. There are multiple resorts within 30 minutes of Salt Lake City where both winter and summer activities are enjoyed. There are six national parks within a six hour drive of Salt Lake City. Salt Lake City is one of the most affordable large western US cities in which to live and has bustling entertainment, restaurants, and night life. Utah as a whole is known for being family friendly, and many physicians find Salt Lake City a great place to lay down their roots.
A LOOK INSIDE OUR PROGRAM
Support Healthy Minds, Give Today
Please help the Department of Psychiatry to expand our clinical care, research and academic programs. Donate here!