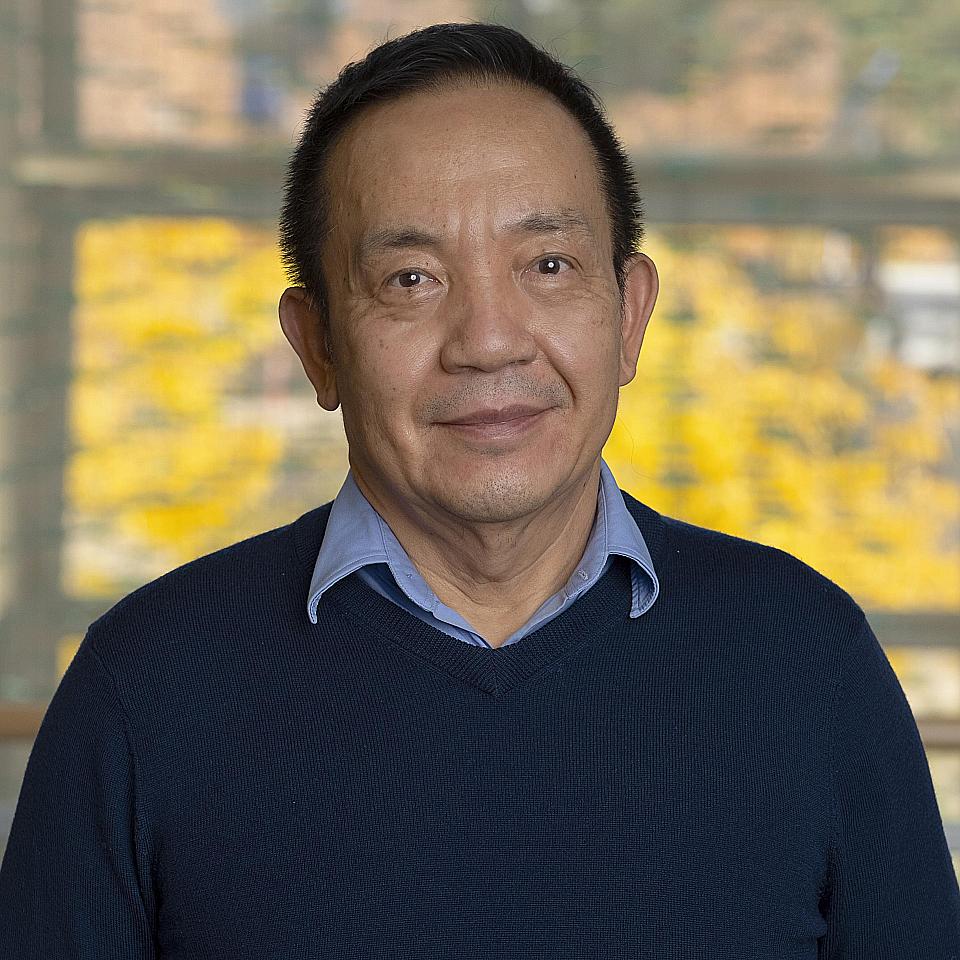 By Chun Yuan, PhD
I have learned much during my first year as the Vice Chair for Research here in the Department of Radiology and Imaging Sciences at the University of Utah, and we have much to celebrate! Reflecting upon 2022, I would like to share some of the existing activities that have impressed me and also point to some new work that our teams are accomplishing.
The department continues its strong track record of grant funding, receiving 33 new grants this past year. Each PI should be proud of these efforts, and I'd like to recognize these in particular:
Dennis Parker, PhD, and his group received a multicenter NIH RO1 grant to study "Implementation and Validation of Efficient Magnetic Resonance Imaging and Analysis of Atherosclerotic Disease of the Cervical Carotid."
Viola Rieke, PhD, and Lubdha Shah, MD, received an R01 NIH grant to study "Validation of a Non-Invasive, Magnetic Resonance Guided Focused Ultrasound System for Spine Applications."
Jace King, PhD, and Molly Prigge, PhD, are spearheading the Utah efforts on a new, large NIH (enter grant for the Alzheimer's Center of Excellence in which Utah plays a key role.
I would also like to recognize Edward DiBella, PhD, and Gang Liu, PhD, both of whom submitted the most NIH grant applications last year: three each! Each application represents a large amount of effort, and NIH grants, in particular, are an important and prestigious metric for the department and the university.
Likewise, we have continued our strong record of publishing articles in peer-reviewed journals. In 2022, our faculty and trainees were authors on over 160 papers, and as first and/or senior author on many of these. See our 2022 publication list here. In related research work, we had 96 open IRB research studies in 2022.
I'm not sure that everyone appreciates the excellence of our annual Imaging Elevated Symposium – it is truly a fantastically run symposium given its internal focus and scope. I was grateful for my co-chairs, Maryam Soltanolkotabi, MD, and Doug Rogers, MD, not to mention the Radiology Research staff who helped to plan and execute the symposium and are a true treasure in the department. This year, it was particularly rewarding to see U of Utah faculty from outside of our department engage so enthusiastically, setting the stage for many potential collaborations. See the recap here.
The UCAIR Symposium was also engaging and enlightening, particularly in how it engaged our trainees and the full range of work going on at UCAIR. Many thanks to co-chairs Ed DiBella, PhD, and Henrik Odeen, PhD. See the recap here.
The department's grant writing course once again developed the professional abilities of a fall cohort of faculty and trainees. It was gratifying to see the following people successfully complete the course: Xiaodong Ma, PhD, Sixiang Shi, PhD, Tara Mastren, PhD, Sam Clinard (graduate student), Chris Mallory, MD (resident).
Two of the grant writing course attendees, Drs. Ma and Shi, are new faculty in the department, and we welcome them heartily. They bring our full-time research faculty head count up to 15. Also joining us on a temporary basis are Drs. Halit and Ebru Akcicek, postdoctoral researchers from Turkey who are working on our AI and data analysis challenges.
One of my charges coming into my role is to build a robust research strategy for the department, and this year we instituted a number of new faculty-led committees towards this end. The following three committees are off and running:
Research trainee committee, co-chairs Frederic Noo, PhD, and Ed DiBella, PhD.  Notably, Allison Payne, PhD, has accepted a new role as Associate Director of Graduate Studies and Trainees, and has started regular social and educational activities for trainees. In 2023, this team will consider building a UCAIR summer camp for interested students, develop an improved Imaging Track with Biomedical Engineering, and build a social media and other marketing plan to attract graduate students.
Seed grant committee: co-chairs: Allison Payne, PhD, and Hediyeh Baradaran, MD. In 2022, they revised the application and elevation criteria and completed two funding cycles of an updated seed grant program and, in this coming year, they plan to better measure the impact of seed grants in terms of NIH submissions.
AI committee, chairs: Jace King, PhD and Bill Auffermann, MD. They have started to address the many needs to create a new, productive AI program in Radiology.  This coming year, they will be surveying faculty about AI needs completing an IRB umbrella application, and developing rules for data access and application.    
Another large change this past year that will continue to blossom has been the newly re-named Utah MR Research Center (UMRC), formerly the Recharge Center. Denise Case is the new manager and there are two new oversight committees that have been formed. They have implemented a new billing system for their 62 active projects and a new MRI Safety Training course in the LMS. This coming year, they plan to fully review and edit their project intake and management and better represent themselves on Pulse.
The UMRC has also received a brand new external website presence thanks to Denise Case, Xiaodong Ma, and our de-facto webmaster, Michael Mozdy. They are not the only ones, as the entire School of Medicine website was migrated to a new platform. In 2023, we will continue to populate our lab websites with up-to-date news and information.
With so much work going on, it's amazing that we get any research done, but we do! For my part, I am busy working with other faculty here and at the University of Washington to launch our joint Neurovascular Research Lab programs. Much is coming in 2023!
I am very enthusiastic about the state of our department's research and optimistic about where we will go from here. I greatly appreciate all of the people – faculty, staff, and trainees – in our research program, and I am wholeheartedly committed to maintaining an inclusive, positive, and supportive research work culture. I thank all of you who have made me feel welcome here in Utah and I look forward to seeing you this coming year.
Chun Yuan, PhD
Vice Chair for Research
Department of Radiology and Imaging Sciences