Applications for all Anesthesiology Residency Programs will only be accepted through the Electronic Resident Application Service (ERAS). Applications will be reviewed once all required documentation has been received. For applications to be considered complete, the following documents are required:
Common ERAS application form
Personal statement

Please use one paragraph of your personal statement to express your interest in our program.

USMLE transcript
Medical school transcript
Medical Student Performance Evaluation (MSPE)
A minimum of three letters of recommendation
Altus Assessment – assessments of non-cognitive skills for selection

All applicants applying to the Anesthesiology Residency Program at the University of Utah are required to complete Altus Suite for the 2022/23 application cycle. To complete Altus Suite, visit TakeAltus.com to create an account and complete the following assessments:
Casper: 60-90 minute online, open-response situational judgment test
Snapshot: 10-minute one-way video interview with standardized questions
Duet: 15-minute value-alignment assessment
The deadline for application submission is 10/15/2022. Applications received after this date may be considered, but interviews are subject to availability.
After an application is deemed complete, it will be reviewed by a member of our residency selection committee, and selected applicants will be invited for a personal interview through Thalamus.  Applicants not selected for an interview will be notified through ERAS.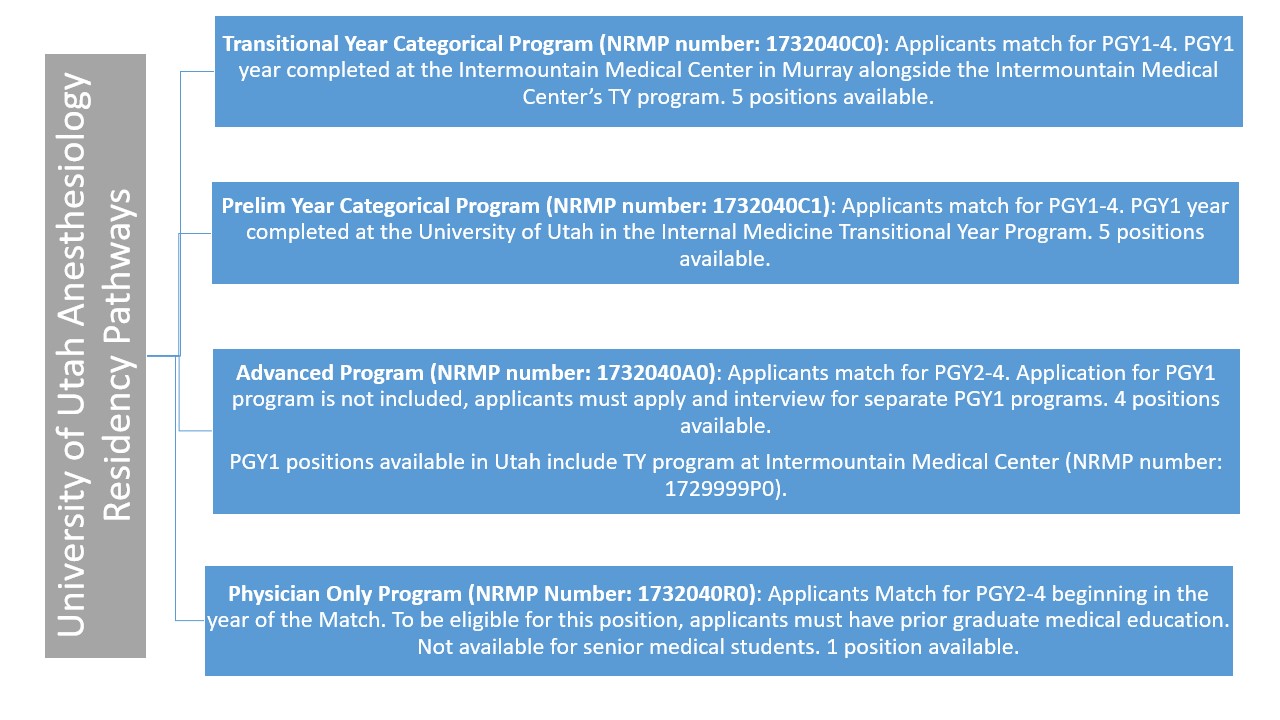 Communication with Residency Applicants
Due to the large number of applicants to our training program, the quantity of emails received makes it impossible to provide updates on application status. We work diligently to review applications and deliver decisions as soon as possible. Once a decision has been made on an application, applicants will be notified via electronic communication.
Post Interview Communication
Our interview day is designed to provide applicants with a thorough view of our training program. Interviewees will have multiple opportunities to ask questions of our residents, leadership, faculty, and administrative staff. For questions that may arise after the interview day applicants will receive contact information for program representatives who are more than happy to answer any questions.
The University of Utah Department of Anesthesiology requests that applicants do not send thank you notes or emails. These types of communications will not routinely receive a reply.
Our review committee and program leadership do not commonly reach out to applicants after an interview.
Applicants are specifically encouraged to review the following GME Policies
Contract and Stipend Information