Hospital Medicine Academic Mentorship Program
Utah Quality Advancement Laboratory (UQuAL) Scholars is a 1-year mentorship and education program designed to assist hospital medicine clinicians (APCs are eligible) in carrying out a successful scholarly research/ QI project, presenting and publishing their work, and to help more experienced faculty develop their mentorship skills.
At its most basic level, UQuAL Scholars is a program that links people together to create productive partnerships and build a community that supports academic growth.
UQuAL Scholars' program structure includes the following:
A primary mentor: This person works closely with the mentee to provide ongoing support and advice during the program
A senior mentor: This individual supports both the mentee and mentor, providing tactical and strategic advice and periodic assistance with projects as needed
Educational curriculum: UQuAL Scholars is supported by Division of General Internal Medicine faculty and staff, who provide an educational structure to sessions:

Valerie Vaughn, MD, MSc, UQuAL Director and Hospitalist Investigator with experience in health services research; provides leadership and support to mentees, and oversees curriculum
Stacy Johnson, MD, UQuAL Co-Director and Hospital Investigator with clinical outcomes and survey research experience; contributes to the research curriculum and provides support to mentees on research design and methods
Molly Conroy, MD, MPH, FACSM, FAHA, Professor and Chief of the Division of General Internal Medicine; provides program support and mentorship
Andrea White, PhD, provides support to mentees on regulatory processes and assists with UQuAL Scholars sessions
Chaorong Wu, provides data analysis support to UQuAL Scholars
Defining a good research/ QI study
Developing a research question
Identifying your study population and sampling
Systematic Reviews
Survey Research Methods and Tools
Solidifying your Project – design, scope, barriers
Refining Project Details – statistics, publications, authorship
IRB and Protocols
Drafting your Methods
Presenting your Work – Tables and Figures
Composing your Introduction
Charting your course for the next 6 months
UQuAL Scholars program selection is a competitive process open to hospitalists interested in quality improvement or hospital medicine research. Typically, faculty should be in at least their 2nd year on faculty and have at least a rough idea of a potential research project and research mentor.
UQuAL provides a lot of resources to help you learn and successfully complete a research project! We expect at least 80% attendance, monthly "homework", and for the project to be submitted as an abstract and a manuscript. In addition, we will call upon you in the future to "pay it forward" as a future mentor!
For questions, please contact Andrea White at andrea.white@hsc.utah.edu.
Completed applications must be submitted to valerie.vaughn@hsc.utah.edu by July 15, 2023. Finalists will undergo an interview in July to discuss potential projects and mentors. Scholars will be announced August 11, 2023, and the program will begin on September 7, 2023.
Meet the New UQuAL Class of 2022-23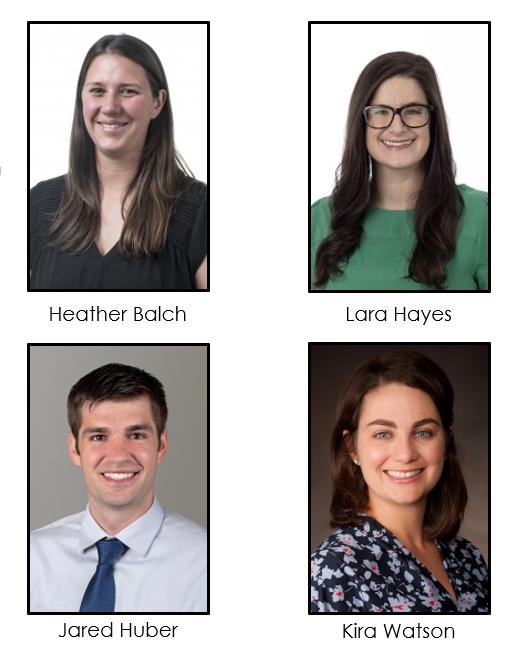 Dr. Balch
Implementation of standardized discharge medication reconciliation
Dr. Hayes
Comparative effectiveness of furosemide vs. bumetanide in patients with cirrhosis 
Dr. Huber
Impact of Hospital at Home on Caregiver Burnout 
Dr. Watson 
Ambulatory QI Director
Implementing Standardized Depression Screening in Primary Care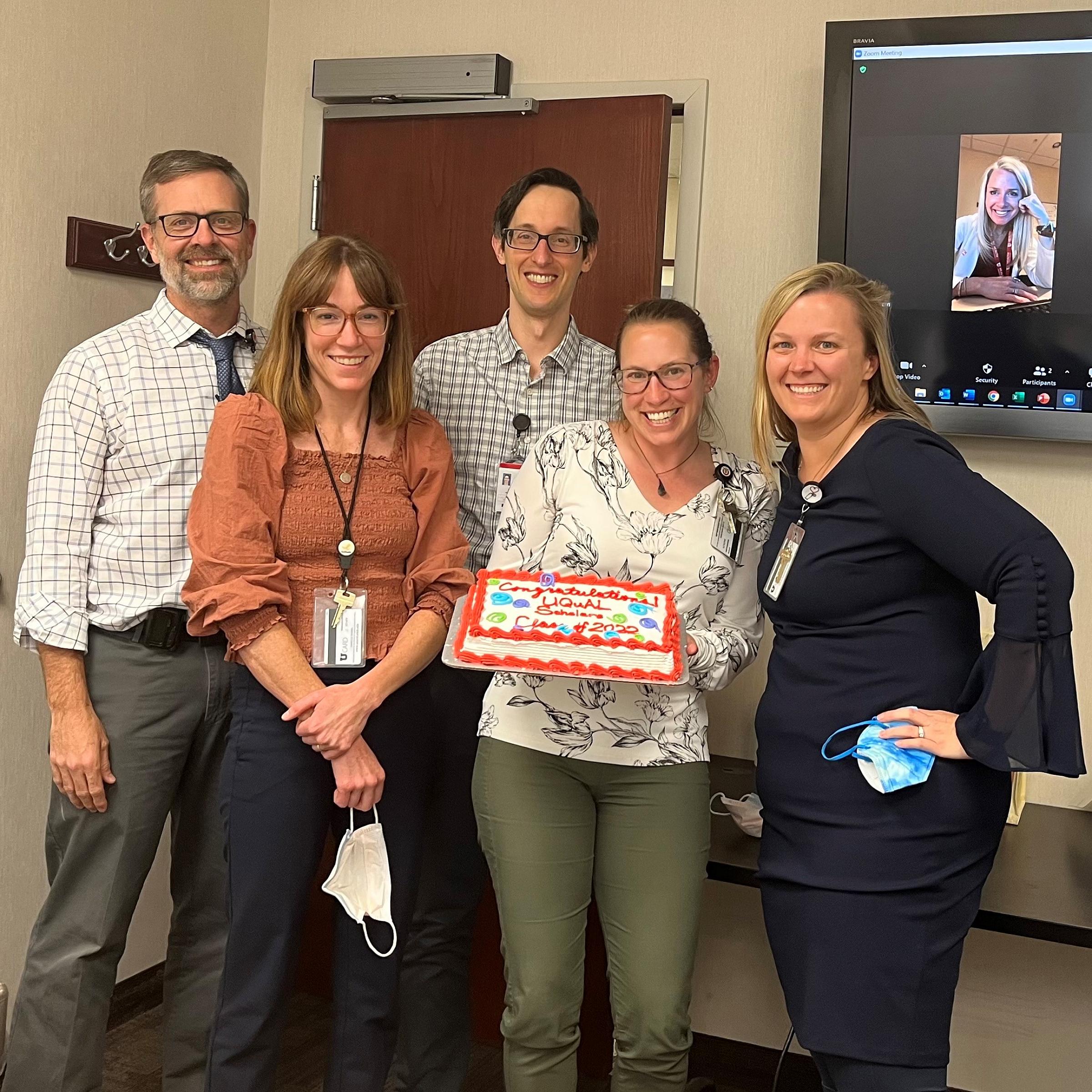 Congratulations to the UQuAL Scholars inaugural class of 2021-22!
Stacy Johnson (mentor), Danielle Babbel, Ryan Murphy, Claire Ciarkowski, Valerie Vaughn (mentor) and Sara Wikstrom (via Zoom)
2021-22 Mentees and their projects: