Department of Internal Medicine System Summary
The University of Utah's Department of Internal Medicine advances health through excellence in each of its core domains—education, patient care, and discovery—by inspiring an engaged, diverse membership, and trainees, encouraging innovative thinking, and building collaborative partnerships.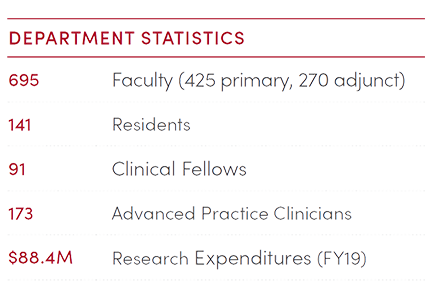 The Department of Internal Medicine plays a foundational role within academics at the University of Utah. The department has a large degree of engagement in education, comprising 20% of full time employees and 16.6% of core educators. Furthermore, Internal Medicine faculty taught 15% of all class sessions in 2021.The department trains more than 130 residents annually in its categorical, preliminary, and combined Internal Medicine-Pediatrics residency programs. In addition, our fellowship programs train nearly 100 fellows annually.
The categorical residency program attracts high-quality residents from across the United States and is proud to emphasize diversity in its residency class. The program is well balanced to offer exceptional clinical training in both the inpatient and outpatient settings, allowing residents the option to choose areas of training that include traditional, global health and underserved, or academic hospitalist training tracks. The program strategically grows their curriculum with active initiatives in substance use, resilience training and burnout prevention and recognition, health care policy and advocacy, health care disparities, and health equity. Mentoring and opportunities for research are high priorities for the department. While in residency training, the 2020-2021 categorical Internal Medicine graduates participated in scholarship projects resulting in 47 presentations at international, national, and regional meetings and 43 publications.
Internal Medicine maintains a proud research tradition, including the first-ever extramural NIH grant, which was awarded to our founding chair, Maxwell M. Wintrobe, MD, in the 1940s. Research continues to be our central focus, with a growing research faculty base and increasing extramural grant funding. Currently, sponsored research in the Department of Internal Medicine ($105M in awards) represents approximately one-third of the total extramural dollars awarded to the School of Medicine.
The department exemplifies the collaborative spirit found within the University of Utah. It maintains strong partnerships among divisions, across departments, with the Huntsman Cancer Institute, VA Medical Center, and Intermountain Healthcare. Members of the department engage with investigators in health sciences initiatives (Cancer, Cardiovascular, Diabetes & Metabolism, Genomics, Neuroscience, Triple-I, Global Health), as well as CTSI, Molecular Medicine, CVRTI, and other organizations. Specific areas targeted for growth include diabetes, heart failure, cardiorenal syndrome, health services research, implementation science, addiction medicine, microbial genomics, and partnering with genomic medicine to create a biorepository for discovering the genetic causes and biomarkers of multiple diseases.
The department strives to create an environment for successful career development across the continuum, from students to established investigators. Early-career faculty are typically supported by NIH K, VA, and other competitive research career development awards. Extensive focus is placed on the transition from career development to research independence. Emphasis on mentorship and sponsorship is key to our success.
With 51,000+ new patients, almost 1.4 million wRVUs, and nearly 500 MDs and APCs across 11 clinical divisions, the department is one of the major drivers of the School of Medicine's Clinical Mission. The department is a destination care treatment center for many diseases, including cystic fibrosis, hemophilia, interstitial lung disease, hypertrophic cardiomyopathy, pulmonary hypertension, amyloidosis, vasculitis, multi-organ transplant, and medical oncology. Skilled clinicians provide both routine and lifesaving care to patients living in Utah and across six additional states.
With 12 divisions, 700+ faculty, and more than 220 residents and fellows, the Department of Internal Medicine is UHealth's largest clinical department. For more than 75 years, the department has built a rich history of providing excellent care, quality research, and valuable education in Utah. We are committed to increasing equity, diversity, and inclusion among all members of this community through creating an environment of openness, compassion, excellence, and respect. These values build the foundation that supports all that we do in the Department of Internal Medicine.