Idaho Affairs
The University of Utah Spencer Fox Eccles School of Medicine has a contract with the State of Idaho that ensures that 10 Idaho residents are accepted to the School of Medicine each year.
There are unique opportunities and benefits that Idaho students can take advantage of throughout their medical school career. Some of these opportunities include rural rotations, student groups, and other learning experience opportunities through the RUUTE & Regional Affairs Program.
For admissions, pre-med information, and information regarding visit the Idaho Residents Admissions website. 
Specific information regarding the Idaho Service Payback Requirement for Idaho medical students matriculating starting in Fall 2023 can be found on the Admissions website. 
For more information on Idaho Affairs, contact:
Kylie.Christensen@hsc.utah.edu
In order to be considered for one of the 10 designated Idaho seats, certification of Idaho state residency is required. Accepted certified Idaho residents will pay in-state Utah tuition, and the state of Idaho will pay the difference between in-state and out of state tuition for the duration of the student's medical education.
For more information about Idaho State Certification, tuition, and other application information, visit the Idaho Residents Admissions website.
The Rural Outreach Program (ROP) is a student-run organization that delivers health science learning experiences to K-12 students. This program is run in Utah, Montana, Wyoming, and Idaho. This opportunity allows medical students to practice teaching, provide hands-on instruction to students with dissections, and provide insight on the pathway to being in medical school and some of the pros and cons.
Time commitment: 3-5 days
Trips occur during winter and spring breaks
The objective of the RUUTE Community Engagement Experience (CEE) is to familiarize students with identifying community health needs and then creating actionable intervention(s) to address that need. Students will become immersed in the community via clinical preceptor time and community service. By completing this experience in a rural and/or underserved area, students will develop a more well-rounded understanding of differences in health system medicine. The project/community deliverable/intervention that students will complete will promote student engagement in Utah, Idaho Wyoming or Montana and integrate emerging knowledge across health humanities and the foundational, clinical and healthcare delivery sciences.
Students from the state of Idaho are required to complete their Family Medicine rotation in Idaho.
The RUUTE & Regional Affairs team is excited for students to complete a clinical or community experience in a rural and/or underserved community in Idaho. Funding for lodging and travel assistance (mileage stipends) is limited and is on a first-come-first-serve basis. Travel assistance is also dependent on the time of matriculation, geographical location, clinical experience, and funds available. We understand travel and/or lodging accommodations are important to ensuring your experience is exceptional, thus we will do our best to support your request. Learn more about the travel application here.
Idaho students, please read the following steps. *Rotations in Idaho are prioritized for Idaho students. However, if you are student from outside of Idaho who is interested in completing a rotation in Idaho please email Madelyn.Carter@hsc.utah.edu and view the following steps.
Rising second year students will complete this survey  to further solidify your preferences for completing a third year clerkship in your home state of Idaho.

Survey should be completed by the first day of second year

The RUUTE and Regional Affairs team will use survey responses to determine best placement options for Idaho students.
The RUUTE and Regional Affairs team will use survey results to find suitable preceptors in identified areas. RUUTE and Regional Affairs will make contact with prospective preceptors to determine if the preceptors are a good fit and are willing to take UUSOM medical students
RUUTE and Regional Affairs will work with Governance & Accreditation to process affiliation agreements with preceptors and clinics. (Note that affiliation agreements will be processed during students second year).
RUUTE, Regional Affairs and students will work with prospective clerkship directors and coordinators to place students

*Please note that given the nature of affiliation agreements, if the steps are not completed in a timely manner, we cannot assure placements.

If students have additional questions, please reach out to Madelyn.Carter@hsc.utah.edu
For more information about Family Medicine clerkship placements, contact:
Cayla Sanelli, Family Medicine Clerkship Coordinator
RPIP provides loan repayment for qualifying physicians in medically underserved areas of Idaho. The program is focused on physicians providing primary care medicine, family medicine, internal medicine, and pediatrics. Idaho Medical students at the UUSOM pay an annual surcharge into the RPIP fund and are later eligible to be given priority for RPIP awards if they return to practice medicine in a medically underserved community in Idaho.
For more RPIP information, visit the Idaho Department of Health and Welfare. 
After completing medical school, students are required to complete a Graduate Medical Education (GME) training program. GME programs are expanding throughout Idaho, and Idaho students are encouraged to apply to these programs during the match process.
Idaho GME Programs:
UUSOM Idaho students are encouraged to become members of the Idaho Medical Association.
The IMA offers members a wide range of benefits and services including (but not limited to) professional involvement, legislative representation, and reimbursement assistance for services rendered.
A medical student representative is selected to represent the UUSOM at IMA board meetings, IMA annual meetings, and is a voting member of the association.
Membership fees are waived for medical students.
The UUSOM contract with the state of Idaho stipulates that leaves of absence are allowed, but can only last up to one year in length.
UUSOM students from the state of Idaho who wish to take a leave of absence must obtain permission from both Associate Dean of Student Affairs and the Office of Idaho Affairs.
Current RUUTE Idaho Offerings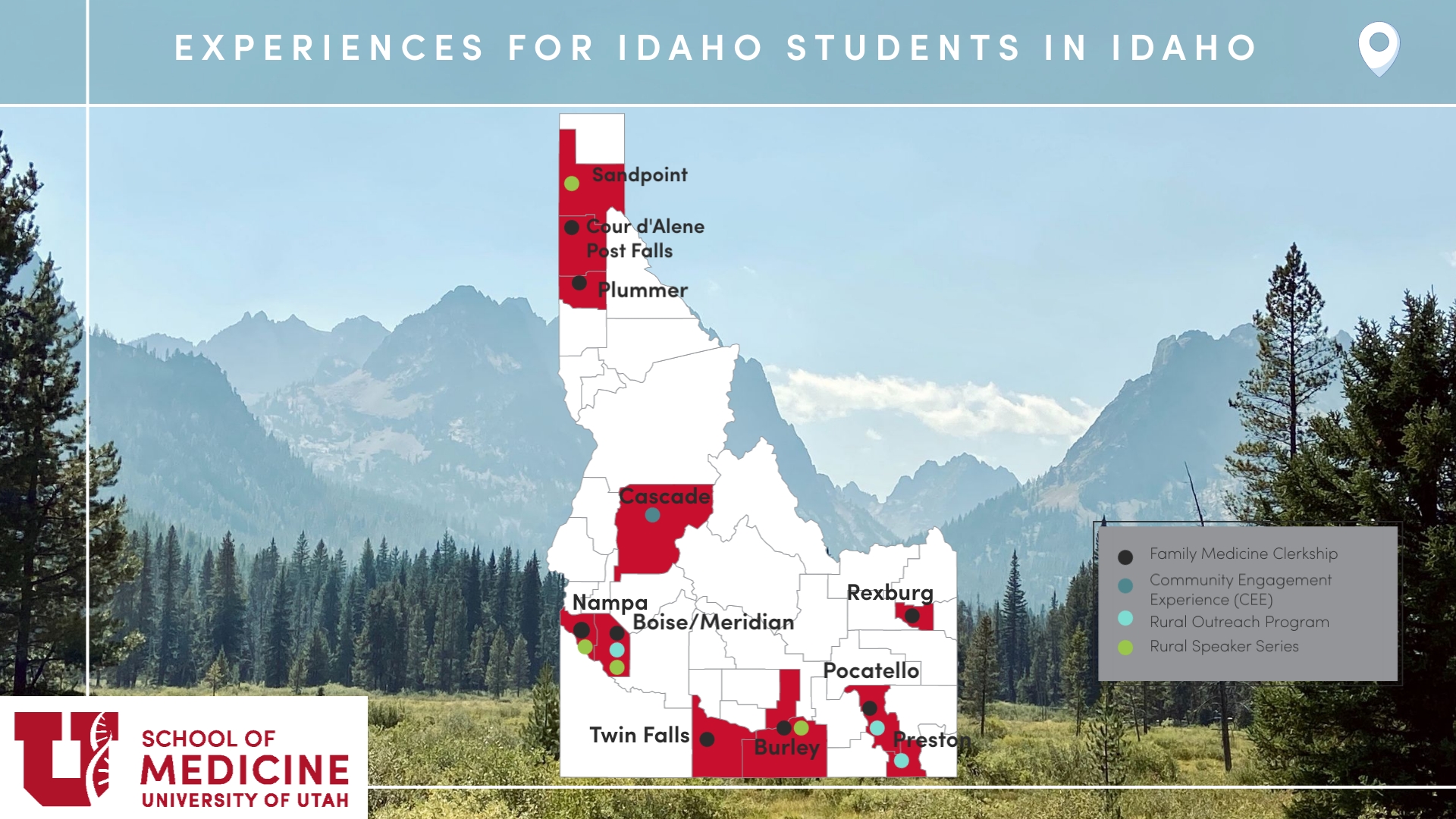 CONTACT US
Please contact the RUUTE Team with any questions, concerns, or suggestions.
Email: RUUTE@umail.utah.edu