VIP Initiative
In March 2018, the Vulnerable Veteran – Innovative Patient Aligned Care Team (PACT) Initiative or VIP Initiative was started by the Veteran Health Administration (VHA) Veteran Integrated Service Network (VISN) 19 and the Salt Lake City Veterans Administration Health Care System (SLCVAHCS). The overarching goal of the VIP Initiative is to improve the health of Veterans who are particularly vulnerable due to medical disease and/or their social determinants through a unique longitudinal, primary care and consultative service delivery model.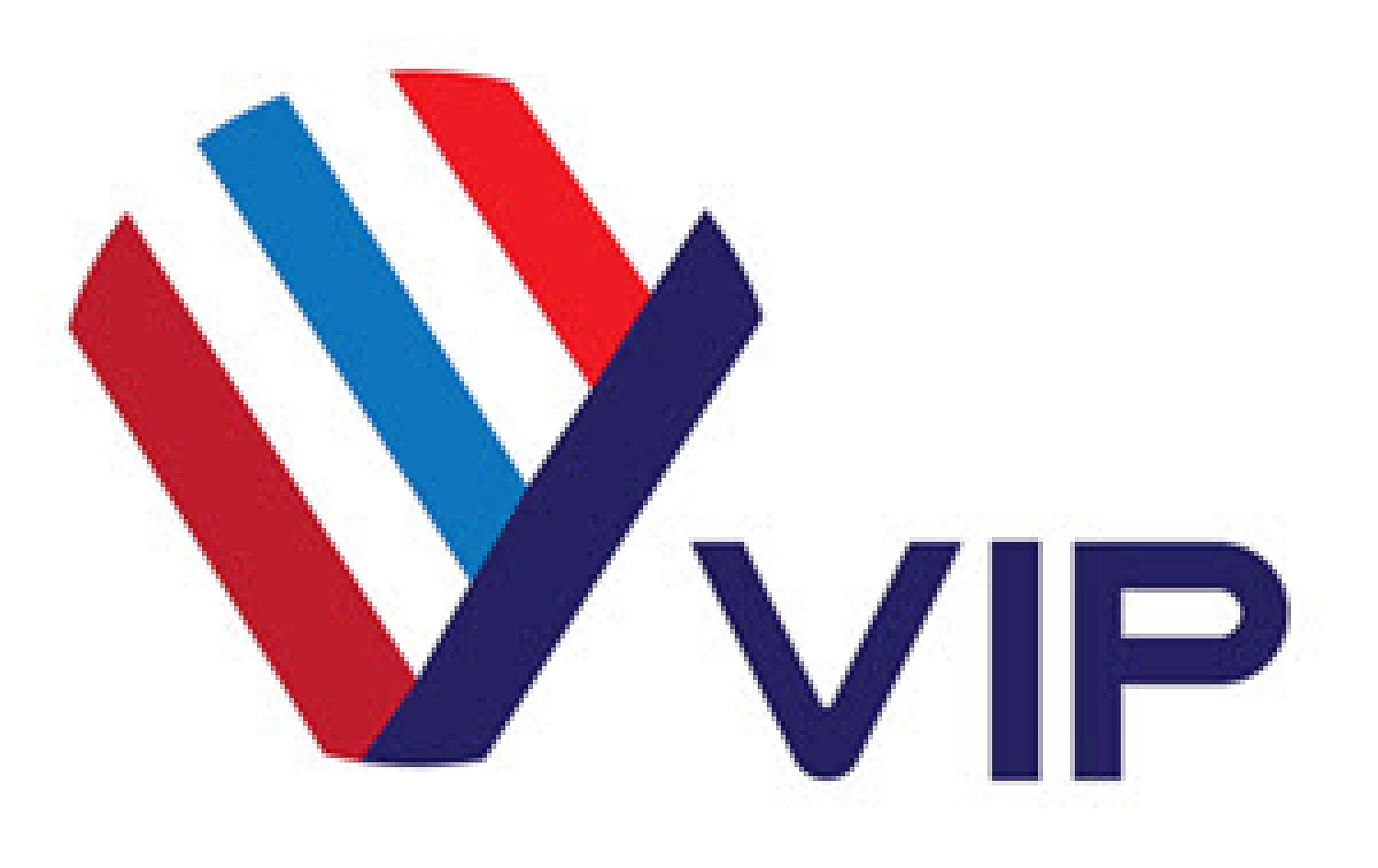 A focus of this collaborative clinical, education, and clinical service project was to provide comprehensive primary and coordinated care for patients with co-occurring medical disease and/or social determinants of health.
The Veterans who have been targeted by this initiative are those Veterans with:
unhealthy alcohol use and/or addiction disorders
co-occurring addiction and pain disorders
social determinants (e.g., homeless or at-risk for homelessness)
high utilizers of health care services
potentially high risk for opioid medication influenced morbidity in need of risk assessment and risk mitigation
those who may need high intense, high-frequency primary care engagement
These Veteran populations are often disengaged from traditional primary care services, need services that are not readily available, or may require non-traditional service engagement. The VIP initiative consists of three clinical arms (VIP 1, VIP 2, VIP 3) which are intertwined but independent in function. The initiative has been designed to ensure that all three clinical arms can be a replicable model of care across the VISN and the VA nationally.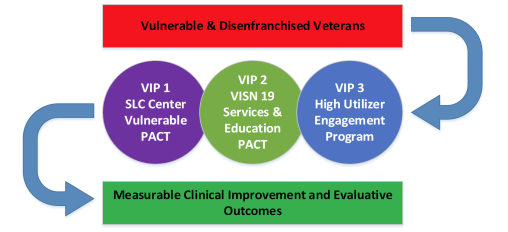 VIP 1 - SLC Vulnerable Veteran PACT
The primary goal of the VIP-1 PACT is to empanel eligible patients to primary care at the VASLCHCS and to integrate and collaborate their care among inpatient, urgent care, and specialty care services. The VIP-1 serves as the Center of Excellence and model a PACT that serves vulnerable patient populations.
VIP 2 - VISN 19 Services and Education PACT
The primary goals of the VIP-2 PACT are to 1) provide direct, remote clinical services to Veterans, 2) provide e-consultation regarding vulnerable Veteran patient population across the VISN, 3) provide mentoring of VA providers, and 4) provide education and consultative services to VA providers regarding vulnerable Veteran care issues (e.g., addiction, opioid risk assessment/mitigation). The intention of the VIP-2 is to extend the VIP-1 model of care to other CBOCs and Facilities in VISN 19 and to serve both staff (education) and Veterans (clinical service).
VIP 3 – High Utilizer Engagement Program
The primary goal of this VIP-3 PACT is to describe and evaluate the population of Veterans in VISN 19 who use health care services (e.g., emergency room, inpatient hospitalization) to a high degree and offer and evaluate interventions or implement process changes to mitigate that high use. VIP-3 will outreach to "high utilizer" patients who may or may not be served by VIP-1 or VIP-2 clinics and be more of a consultation and patient-directed service than a traditional primary care PACT.
The VIP has a newly active consult service that any ED staff (or anyone for that matter) can use to refer and alert the VIP Primary Care Team about a patient who might benefit from follow-up by the VIP team.
For VA Clinicians/Providers:
The new VIP consult that can be found under the Consult menu, under Primary Care. Anyone, especially staff in the ED, inpatient setting, CBOCs, etc. can use the consult for one of two purposes:
VIP CONSULT:
To alert the VIP team about a patient who might be appropriate for VIP Primary Care PACT – primarily patients with substance use disorders and complicated social, pain, and psychiatric disorders
To have the patient be seen by the VIP team in a consultative visit to assist the established primary care team with the direction of treatment for patients with substance use disorders and complicated social, pain, and psychiatric disorders
VIP e-CONSULT:
Chart review and consultative advice for next steps for patients with substance use disorders and complicated social, pain, and psychiatric disorders
VIP MAJOR ACCOMPLISHMENTS:
1482+ patients served

786+ patients currently empaneled to VIP clinicians (VIP clinicians are primary care providers of record)

120 e-consult completed

134 consultative visits completed

Interdisciplinary teams established within Primary Care organizational chart

4 Physicians (3 with addiction medicine certification; all x-waivered clinicians)

1 Advanced Practice Registered Nurse

2 Mental health trained pharmacists

2 Registered Nurses

1 Social Work

2 Medical Assistant/Licensed Practical Nurse

1 Administrative Assistant

Led to reduction in direct acute care (ED and Hospitalization) costs to the VASLCHCS of nearly $5 million over 18 months ($10 million estimated over 3 years since VIP initiation)
Major training sites for Addiction Medicine/Psychiatry, Internal Medicine, and Pharmacy trainees

Leadership in training programs

Developed tight collaborative relationships with Mental Health, Addiction, Pain, Palliative Care and other services

Training and mentorship activities across the VISN

Established monthly VIP monthly newsletters

Established monthly VIP Chats, webinar to the nation regarding addiction topics
Developed leadership with co-VIP Evaluation Directors

Collaborate funded research externally, particularly Minneapolis, Denver, Alabama-Birmingham, Chicago.

Collaborated with national and programmatic initiatives on the regional and national level

Helped launch two VA HSR&D career development awardees and developing another's application

Worked with several faculty and trainees on their quality improvement projects

Authored and published many papers that 1) reflect direct VIP accomplishments, 2) reflect VIP affiliated work with other teams, and 3) reflect content related to VIP mission.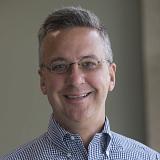 Adam Gordon
Dr. Adam Gordon is a Chief of Addiction Medicine at the VA Salt Lake City Health Care System and Professor of Medicine and Psychiatry at the University of Utah School of Medicine. He is an internal medicine and addiction medicine physician with a research mission to improve the access and quality of care for patients who are vulnerable, including those with addiction.
A. Taylor Kelley, MD, MPH, MSc
A. Taylor Kelley, MD, MPH, MSc, is an assistant professor in the Division of General Internal Medicine and a primary care physician in the Vulnerable Veteran Innovative Patient-Aligned Care Team Initiative (VIP) clinic at the Salt Lake City VA. As a general internist and pediatrician, his research interests include access to care for vulnerable populations, with focus on immigrants, veterans, and individuals covered by Medicaid.
Dr. Ana Holtey is currently working in Salt Lake City at the VIP Clinic. She has worked in an Addiction Medicine/Primary Care model now for over 6 years. Dr. Holtey completed Medical School at Midwestern University in Glendale, Arizona and then moved to Salt Lake City to complete both her Family Medicine Residency and Addiction Medicine Fellowship. Areas of interest include End Stage Addiction Medicine, Preventive Medicine and Outreach to vulnerable patients lost to care.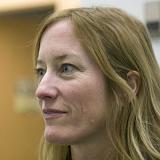 Christina L. Gallop, MD
Dr. Christina Gallop is a primary care physician at the Salt Lake City VA Medical Center and Clinical Director of the VIP Clinic that serves vulnerable veterans with substance use disorders. Previously she was Assistant Chief of Primary Care at the VA. She served as Fourth Street Clinic's Medical Director from 2006-2016. She completed her residency in Internal Medicine at the University of Utah and received her M.D. from the Temple School of Medicine. Prior to medical school, Christina worked as the Hepatitis Program Manager and Chief of Programs at Los Angeles County Department of Health Services' Immunization Program. She also served as Project Director for a Community Hypertension Intervention Project at MLK/Drew University School of Medicine in Los Angeles. Christina has worked on several public health research projects at the Medical Entomology Research and Training Unit, CDC, Universidad de Valle in Guatemala, the UCLA Drug Abuse Research Center and the University of Southern California's School of International Relations. Christina is board certified in Internal Medicine and Addiction Medicine and is the former president of the Utah Association of Addiction Medicine. She holds an MPH from the University of California, Los Angeles and a Bachelors in International Relationships from the University of Colorado.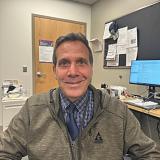 Diego A. Ponieman, MD, MPH
Dr. Diego A. Ponieman is currently a Primary Care Physician at the VIP Clinic, SLCVAHCS. Prior to that he served as Chief of Medicine at the El Paso VA Health Care System. Dr. Ponieman completed Medical School at the University of Buenos Aires School of Medicine. He completed his Internship and Residency at Albert Einstein/Montefiore Medical Center and later an Academic Fellowship in General Internal Medicine and a Masters in Public Health at the Mount Sinai School of Medicine. His areas of interest are Integrating SUD in the General Medical Settings and Preventive and Lifestyle Medicine in Minorities-Underserved Populations.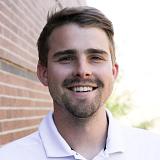 Jacob Baylis, MPH
Jacob earned his Master of Public Health from Indiana Wesleyan University and a Bachelor of Science in International Health from Bethel University. He joined the team with experience in harm reduction, health education, and data management and plans on continuing that work with PARCKA. Jacob has a passion to use data for improving patient's quality of care, especially for vulnerable populations. After work hours, you can find him climbing, hiking, or camping in the mountains.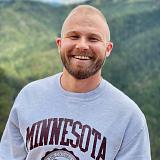 Jacob Matano, PharmD
Jake completed his education at the University of Kentucky in 2019 prior to undergoing his first year of residency at the Lexington, Kentucky Veterans Affairs (VA) Medical Center. After developing an interest in mental health and substance use disorders, he moved to Utah to finish his residency at the Salt Lake City VA Medical Center. Prior to joining the Vulnerable Veteran Innovative Patient-Aligned-Care-Team (VIP-PACT), he was employed as a mental health and substance use disorder pharmacist as part of a national VA initiative devoted to increasing access to healthcare for rural veterans. He hopes to continue this expansion of care while working with VIP-PACT. In his free time, he enjoys climbing, skiing, and hiking (either with or without his dogs, depending on how well-behaved they are that day).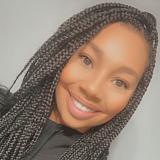 Jaquel I. Ramirez, RN
Jaquel Ramirez has a background in Addiction Medicine, Mental Health and Hospice. She is married with two amazing kids and has a love for love animals and sports. Jaquel is a football fanatic who proudly represents the Los Angeles Chargers. In her downtime, she loves to travel and lives her life by the motto, "Nothing is impossible, it's just a challenge." Jaquel loves her career and being able to be a part of the amazing VIP team!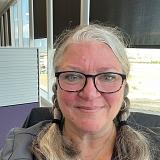 Hedy Kiekhaefer, LPN
Originally from Minnesota, Hedy Kiekhaefer, has been a nurse for over 20 years. In that time she developed a passion in caring for the underserved.  Hedy believes that all people deserve the best possible care available, regardless of those same circumstances and complexities that cause them to be overlooked or neglected. She is proud to be part of the SLC PACT VIP Team.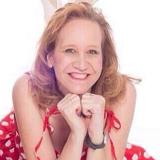 Laura Jane Hyte-Garner, BSN, RN
Laura Jane Hyte-Garner knew she wanted to be a nurse when she was eight years old, even when there were no medical professionals in the family. She attended the University of Utah and earned her Bachelor of Science as a Registered Nurse. She has been a nurse for 23 years. She is currently attending Walden University to get her Psychiatric Mental Health Nurse Practitioner (PMHNP) degree. Laura Jane loves to run. She has accomplished three Ultra marathons, 20 Marathons, and 100s Half Marathons with her family. Before she began working for the VIP Project, Laura Jane worked in Labor and Delivery, NBICU, and at the LDS Hospital Psychiatric and Day Spring Unit. She feels very blessed and loves working with Veterans on the VIP team. She understands veterans and their spouse's hardships because her husband, who saw combat, was injured during a deployment, returned with PTSD, and became an alcoholic to escape the trauma. He has now been sober for over eight years. Together they are very active in the recovery community and volunteer for a non-profit organization Recovery United Network (RUN), that supports families that have been affected by addiction and mental illness.
Natalie Valentino, PharmD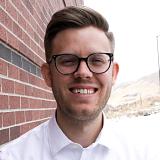 Spencer Calder, MPH
Spencer graduated with a master's in public health from the University of Utah in 2019 after completing an undergraduate degree in public health from Brigham Young University. As a graduate student, he worked as a Connect2Health mentor and with the University of Utah's Hotspotting program to improve vulnerable patients' access to healthcare, affordable housing, and other basic needs. Prior to working as a research analyst, he worked as a lead medical scribe for Robin Healthcare where he worked with otolaryngologists and urologists at UCSF. He is passionate about the potential of nutrition and physical activity to promote health and prevent chronic diseases. In his free time, he loves running and exploring new plant-based recipes.
Amy De La Garza, MD
Amy L. Butz, PharmD, Psychiatric Pharmacist Practitioner
Sean Erickson, Advanced Practice Nurse
Jeremy Patton, Social Worker
Devon Cornish, Admin/Clerk
Shannon Cowley, MSA
Eric Johnson, Admin/Clerk
Robin Palmer, Nurse Care Manager
Jeanine Thome, RN
Norma Rae Cutter, LPN
Heather Duningan, MSA
Connie Howard, LPN
Deborah Hollberg, LPN
Tania Knight, RN
Christine Openshaw, Medical Support Assistant
Andrea Nichols, RN
Cinnamon Paviolo, LPN
Benjamin Rollins, APRN
Marnie Wilson, LCSW
Gordon AJ, Drexler K, Hawkins EJ, Burden J, Codell NK, Mhatre-Owens A, Dungan MT, Hagedorn H. Stepped Care for Opioid Use Disorder Train the Trainer (SCOUTT) initiative: Expanding access to medication treatment for opioid use disorder within Veterans Health Administration facilities. Subst Abus. 2020;41(3):275-282. doi: 10.1080/08897077.2020.1787299. PMID: 32697170; PMCID: PMC7849630.

DeRonne BM, Wong KR, Schultz E, Jones E, Krebs EE. Implementation of a pharmacist care manager model to expand availability of medications for opioid use disorder. Am J Health Syst Pharm. 2021 Feb 8;78(4):354-359. doi: 10.1093/ajhp/zxaa405. PMID: 33326564.

Lei J, Butz A, Valentino N. Management of kratom dependence with buprenorphine/naloxone in a veteran population. Subst Abus. 2021;42(4):497-502. doi: 10.1080/08897077.2021.1878086. Epub 2021 Feb 22. PMID: 33617752.

Codell N, Kelley AT, Jones AL, Dungan MT, Valentino N, Holtey AI, Knight TJ, Butz A, Gallop C, Erickson S, Patton J, Hyte-Richins LJ, Rollins BZ, Gordon AJ. Aims, development, and early results of an interdisciplinary primary care initiative to address patient vulnerabilities. Am J Drug Alcohol Abuse. 2021 Mar 4;47(2):160-169. doi: 10.1080/00952990.2020.1832507. Epub 2020 Dec 10. PMID: 33301347; PMCID: PMC8062280.

Hawkins EJ, Danner AN, Malte CA, Blanchard BE, Williams EC, Hagedorn HJ, Gordon AJ, Drexler K, Burden JL, Knoeppel J, Lott A, Sayre GG, Midboe AM, Saxon AJ. Clinical leaders and providers' perspectives on delivering medications for the treatment of opioid use disorder in Veteran Affairs' facilities. Addict Sci Clin Pract. 2021 Sep 6;16(1):55. doi: 10.1186/s13722-021-00263-5. PMID: 34488892; PMCID: PMC8419813.

Kelley AT, Dungan MT, Gordon AJ. Barriers and Facilitators to Buprenorphine Prescribing for Opioid Use Disorder in the Veterans Health Administration During COVID-19. J Addict Med. 2021 Sep-Oct 01;15(5):439-440. doi: 10.1097/ADM.0000000000000786. PMID: 33323694; PMCID: PMC8489586.

Spelman JF, Edens EL, Maya S, Moore BA, Boggs A, MacLean RR, Ackland P, Becker WC, Lynch D, Garcia-Vassallo M, Burgo AL, Rosen MI, Gordon AJ. A Facility-Wide Plan to Increase Access to Medication for Opioid Use Disorder in Primary Care and General Mental Health Settings. Fed Pract. 2021 Oct;38(10):460-464. doi: 10.12788/fp.0186. PMID: 34733066; PMCID: PMC8560103.

Hawkins EJ, Malte CA, Gordon AJ, Williams EC, Hagedorn HJ, Drexler K, Blanchard BE, Burden JL, Knoeppel J, Danner AN, Lott A, Liberto JG, Saxon AJ. Accessibility to Medication for Opioid Use Disorder After Interventions to Improve Prescribing Among Nonaddiction Clinics in the US Veterans Health Care System. JAMA Netw Open. 2021 Dec 1;4(12):e2137238. doi: 10.1001/jamanetworkopen.2021.37238. PMID: 34870679; PMCID: PMC8649831.

Gordon AJ, Kenny M, Dungan M, Gustavson AM, Kelley AT, Jones AL, Hawkins E, Frank JW, Danner A, Liberto J, Hagedorn H. Are x-waiver trainings enough? Facilitators and barriers to buprenorphine prescribing after x-waiver trainings. Am J Addict. 2022 Mar;31(2):152-158. doi: 10.1111/ajad.13260. Epub 2022 Feb 3. PMID: 35118756.

Jones AL, Kelley AT, Suo Y, Baylis JD, Codell NK, West NA, Gordon AJ. Trends in Health Service Utilization After Enrollment in an Interdisciplinary Primary Care Clinic for Veterans with Addiction, Social Determinants of Health, or Other Vulnerabilities. J Gen Intern Med. 2022 Feb 22:1–9. doi: 10.1007/s11606-022-07456-x. Epub ahead of print. PMID: 35194740; PMCID: PMC8862702.

Radmall AO, Calder S, Codell N, Kelley AT, Hawkins E, Jones AL, Hagedorn H, Reynolds MA, Gordon AJ. Roles and perceptions of nurses during implementation of a medication treatment for opioid use disorder national initiative. J Addict Nurs. 2022;33(2):70-79. PMID: 3564010

Wyse JJ, Mackeu K, Lovejoy TI, Kansagara D, Tuepker A, Gordon AJ, Korthuis TP, Herreid-O'Neill A, Williams B, Morasco BJ. Expanding access to medications for opioid use disorder through locally initiated implementation. Addict Sci Clin Pract. 2022;17(1):32. PMID: 35725648

Kelley AT, Wilcox J, Baylis JD, Crossnohere NL, Magel J, Jones AL, Gordon AJ, Bridges JFP. Increasing Access to Buprenorphine for Opioid Use Disorder in Primary Care: an Assessment of Provider Incentives. J Gen Intern Med. 2022 Dec 5. doi: 10.1007/s11606-022-07975-7. Epub ahead of print. PMID: 36471194

Lott AM, Danner AN, Malte CA, Williams EC, Gordon AJ, Halvorson MA, Saxon AJ, Hagedorn HJ, Sayre GG, Hawkins EJ. Clinician Perspectives on Delivering Medication Treatment for Opioid Use Disorder during the COVID-19 Pandemic: A Qualitative Evaluation. J Addict Med. 2023 Mar 2. doi: 10.1097/ADM.0000000000001156. Epub ahead of print. PMID: 36862502