The Next Generation of Leaders in Pediatric Emergency Medicine
The Pediatric Emergency Medicine (PEM) fellowship at the University of Utah/Primary Children's Hospital (PCH) places each fellow in a well-designed clinical and research program emphasizing the skills needed for future academic success.
This clinical experience is complemented by instruction in research design and methods, leading to completion of original research projects.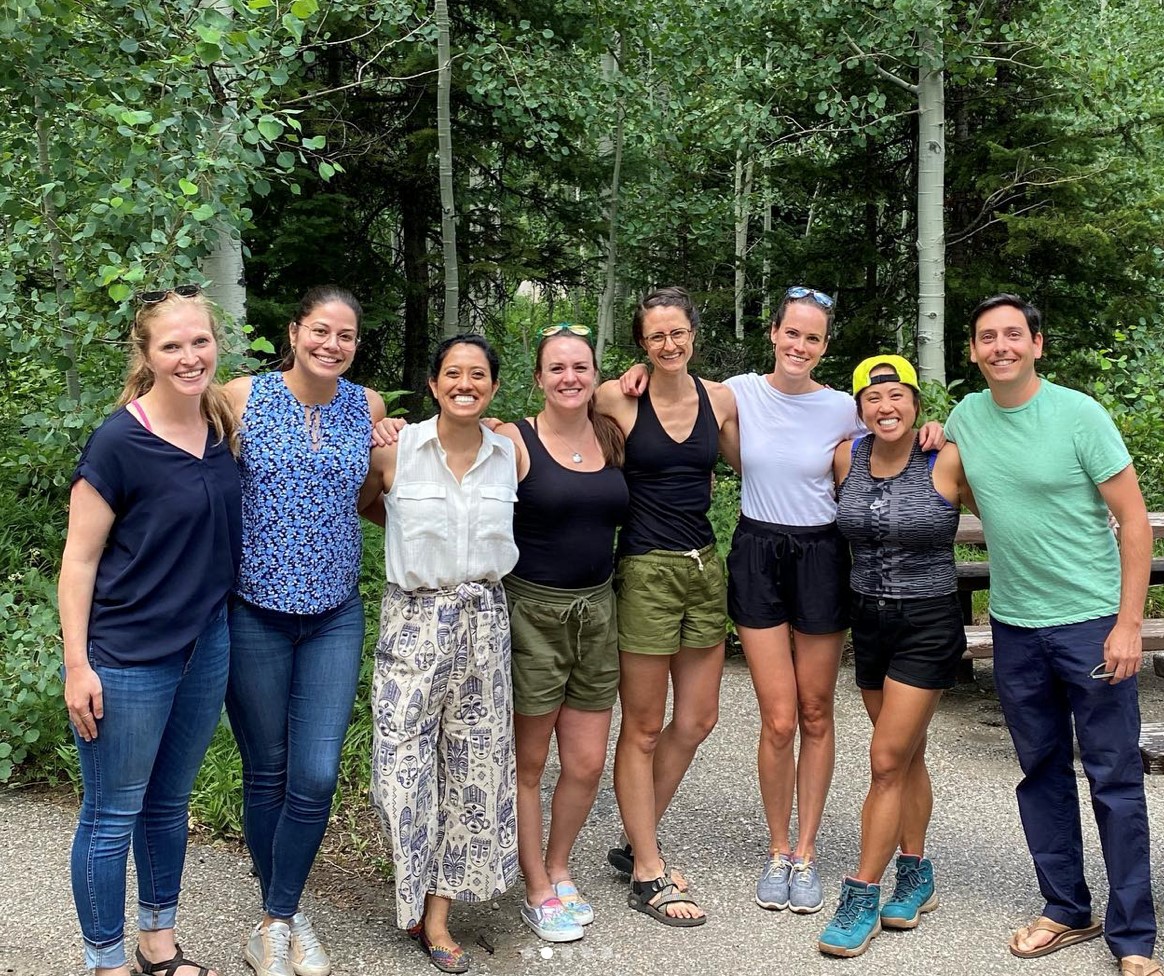 Goals
The goal of the Pediatric Emergency Medicine fellowship program is to produce academically-oriented PEM physicians with superb clinical skills and the ability to expand the field's knowledge base. The traditional PEM fellowship is a three year program for pediatrics residency trained applicants, and a two year program for emergency medicine residency trained applicants. Fellows acquire experience and skills to fulfill their maximal potential as a clinician, researcher, teacher, and administrator. In addition to the traditional PEM fellowship tracks, we also offer a PEM-Global Health (PEM-GH) fellowship track, and a dual PEM-Child Abuse (PEM-CAP) fellowship program. Please see the llnks on this page for more information about PEM-GH and PEM-GH.
Our fellowship has several features that make for a unique and enriching fellowship experience:
We have a high acuity with a historical admission rate of >20%. This leads to a great clinical experience where fellows are actively involved in managing very sick and complicated patients.
We have a very large catchment area covering >400,000 square. That means that fellows gain experience taking care of the sickest patients in the Intermountain West and learn how to provide on-line medical control during pediatric resuscitation prior to arrival to a tertiary children's hospital.
We have an excellent trauma experience at both Primary Children's Hospital and Intermountain Medical Center during the designated Trauma Rotation. At both of these Level 1 Trauma Centers, PEM fellows take an active role in leading resuscitation of traumatic patients and performing critical procedures.
The overarching goal of our Fellowship and the Division of Pediatric Emergency Medicine is to help our physicians pursue a meaningful career. Our attendings and fellows have a variety of clinical and academic interests and our Division has numerous resources available to help faculty and fellows pursue their career goals.
There are few better places for a work-life balance than Salt Lake City! Utah's capitol city offers easy and fun living where fellows have access to a vibrant city life with restaurants, big-name concerts, major sporting events, museums, a renowned ballet company, Broadway shows, opera…all minutes from the hospital. Moreover, our fellows benefit from unparalleled access to an outdoors scene that is truly one-of-a-kind.
Primary Children's Hospital
Primary Children's Hospital is a high-acuity tertiary referral center for medical, surgical, and trauma care, with patients coming from large parts of six western states. PCH's 35-bed ED sees about 45,000 patients annually, and includes an 18-bed short-stay observation unit also overseen by our division.
Research, Policy, and Advocacy
Fellows' responsibilities go beyond patient care, including opportunities resident teaching and patient care, but the division is also very active in research and is additionally involved in many areas throughout Primary Children's Hospital and the community:
Pediatric transport
Trauma care
Resuscitation
Injury prevention
Disaster management
Emergency Medical Services for Children (EMSC)
Outreach
Global, rural, and underserved child health
Child advocacy
Simulation
Staff from Diverse Fields
The Division of Pediatric Emergency Medicine consists of 26 PEM BC/BE faculty, 7 pediatricians, 7 fellows, 5 administrative staff, and 2 research staff. Some faculty also have additional training:
1 Child Abuse Pediatrics trained
2 Sports Medicine trained
2 Emergency Medicine trained
1 Ultrasound fellowship trained
2 Global Health trained
2 with MBA
4 with MPH
1 with MSPH
Our PEM Division faculty include the following
Pediatrics Residency Program Director
Immediate Past President of AAP Utah Chapter
Primary Children's Hospital Medical Directors:

Trauma
Pediatric Life Flight
Emergency Department
Rapid Treatment Unit (Observation unit)
Quality
Disaster Preparedness
Informatics
Pediatric Specialty Services
Outreach
Pediatric Clinical Programs
Associate Chief Medical Officer