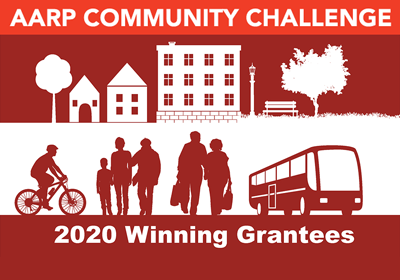 The Department of Psychiatry's Geriatric Psychiatry Clinic (GPC) has been named a grantee in AARP's 2020 Community Challenge. The fourth annual Challenge received more than 2,800 applications from nonprofits and government entities, resulting in a highly competitive selection process. A total of more than $2.4 million is being distributed to fund 184 quick-action projects across the country.
"We developed the AARP Community Challenge grant program in response to mayors, local leaders and residents who asked for help building momentum for more livable communities nationwide. This year, both coronavirus response and projects that aid diverse communities are acute needs," said Nancy LeaMond, AARP Executive Vice President and Chief Advocacy & Engagement Officer.
The GPC's winning project will fund pilot Conversation Cafes that provide a weekly, virtual gathering place for residents and their families. The project is designed to improve social connections among residents of assisted living and nursing home facilities during the COVID-19 crisis. The funds will also support the installation of high-speed internet service where none exists, the installation of Wi-Fi boosters where there are weak or intermittent signals, and platform-specific training for staff.
For more information about AARP's Community Challenge and criteria, visit https://www.aarp.org/livable-communities/community-challenge/info-2020/2020-grantees.html