The primary emphasis for resident education is on-the-job teaching at the PACS workstation during sub-specialty rotations. The majority of these rotations take place at University of Utah settings, both at the main hospital and integrated clinical settings including the Huntsman Cancer Institute, the Clinical Neurosciences Center and the University Orthopaedic Center. In addition, training occurs at Primary Children's Hospital and the Salt Lake City Veteran's Administration hospital. A core curriculum provides comprehensive coverage of important topics for resident training. This lecture/seminar schedule is on a two-year repeating basis.
Content-rich conferences take place on Wednesday and Thursday mornings, during which residents are excused from clinical responsibility. These conferences emphasize the diagnosis and management of diseases, with tailoring toward preparation for the ABR Core Examination that is taken in June of the PGY-4 year. Daily Noon conferences prepares residents for practice, with sub-specialty based interactive case conferences and non-interpretive skills training and assessment. With an emphasis on learning to teach in this training program, residents are involved in giving the noon conference on many of their clinical rotations, including Ultrasound, Body, Pediatrics, IR and Mammography.
Our residents attend the American Institute for Radiologic Pathology during the PGY-4 year either virtually or in person; tuition and a travel stipend (if applicable) are provided. An internal Physics course is offered every spring by our faculty and physicists and is integrated into case-conferences, lectures and rotations. We subscribe to interactive educational websites and software for particular resident classes including StatDx® and RadPrimer® as well as CaseStacks® and MRI Online®. An individual educational fund is provided for each resident for books and electronic educational materials. We also pay for ABR exam fees for our residents during their residency. Residents are provided a travel stipend for meetings to support the presentation of scholarly activity.
Mission Statement and Aims
Mission Statement
Our mission is:
To train physicians to be vital members of the health care team and future leaders in medical imaging
To provide compassionate care without compromise for the people of Utah and the intermountain west region
To promote personal responsibility and well-being
To advance knowledge through research
Program Aims
Excellence in Education: Our trainees learn radiology and imaging science from world-renowned radiologist educators, both at the point of care and through a well-established didactic and case-based education curriculum.
Excellence in Clinical Care: As a specialized referral center that cares for patients and receives imaging from a 5 state geographic area, our trainees work with state-of-the-art technology at our facilities and understand the variability of technology they will encounter in clinical practice. Our trainees learn to be efficient, thorough and accurate in their interpretation of imaging.
Excellence in Research and Innovation: Our trainees have access to customized training to create and promote value transformation in healthcare, through research, and leadership. We also provide access to high quality research training and support through collaboration with the Utah Center for Advanced Imaging Research.
Diversity is a core value of our program. We strive to create an environment of inclusion, support, and mutual respect for all. Diverse residents and faculty strengthen our program and enhance the education environment. Our goal is to interview and select a diverse group of residents to train every year that will strengthen our field and serve the needs of all patients. For more information, visit the School of Medicine Health Equity, Diversity and Inclusion pages.
Rotation Schedule - Example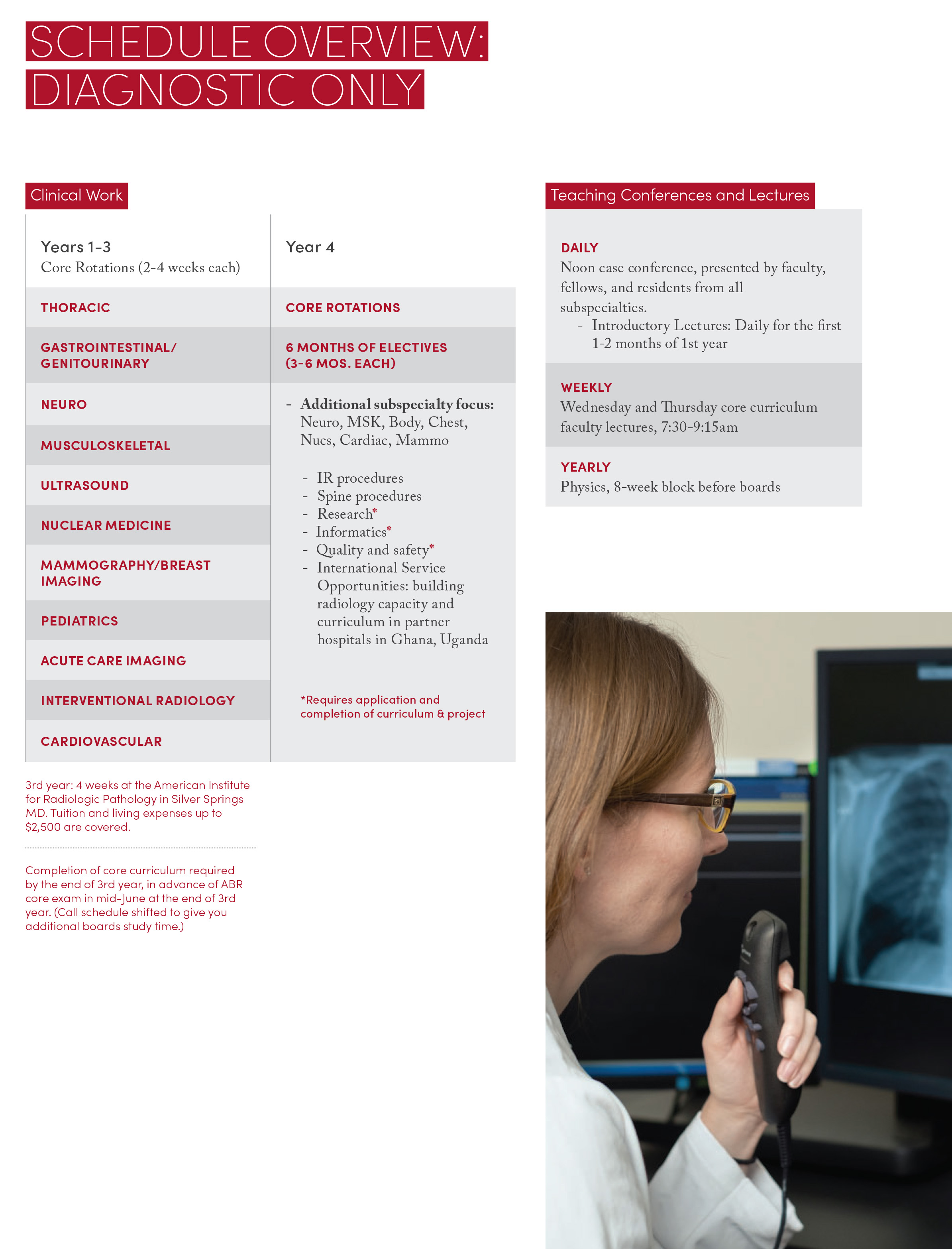 We offer pathways to allow residents to tailor their residency experience to their interests.  
Focus Pathways for Residents:
Quality Improvement/Resiliency
Informatics
Research 
Diagnostic Radiology/Nuclear Medicine (DR/NM) Pathway
ESIR
Goals: To provide a dedicated experience to interested residents
Eligibility: R2 –R4 Radiology resident
How to Apply: Arrange meeting with program director and pathway mentor to discuss your interest.
Completion: A certificate of completion of focused pathway will be provided upon demonstration of competence in area of focus and completion of written pathway expectations (separate document) as determined by the pathway mentor.
 
Policies, Requirements, and Agreements
The Diagnostic Radiology policies are maintained on a secured internal website. All current residents and faculty have access to these policies at all times. The selected policies listed below may be of particular interest to applicants: