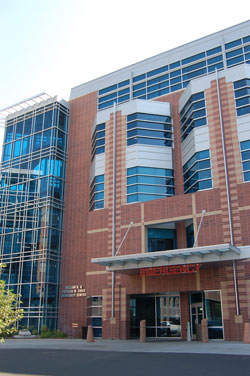 Compassionate care is at the core of Emergency Medicine. The Department of Emergency Medicine provides a medical safety net to the Utah community and Mountain West region to ensure that even the most vulnerable community members have access to the highest level of care possible. We provide exceptional patient care at three Emergency Departments: University of Utah Hospital, a fully approved trauma 1 facility and referral center, University of Utah South Jordan Health Center, a free-standing Emergency Department, and Memorial Hospital of Sweetwater County in Rock Springs, Wyoming, a critical access community hospital serving Southwest Wyoming.
Through Medical Directorships with local EMS agencies, the Department also serves over 1.2 million people in the Salt Lake Valley and provides AirMed support to the largest regional catchment area in the United States. The department's prehospital reach ensures that exceptional care begins even before patients arrive at the hospital.
The Department of Emergency Medicine is committed to training the next generation of Emergency Medicine Physicians. We run a highly competitive and successful residency program and provide specialized fellowship programs in Emergency Medical Services (EMS), Global Health, Hospice and Palliative Care, Sports Medicine, Point of Care Ultrasound, Research and Wilderness Medicine.