Faculty Projects
Dr. Anna Catino is a cardiologist with a clinical and research interest in Cardio-Oncology. She is interested in the inter-relationship between cancer and the heart, specifically the effect of cancer therapies on cardiovascular health. Cancer therapies have grown tremendously in last several years and include numerous cell-specific targeted treatments as well as immunotherapies. Such developments have led to remarkable improvements in survivorship and progression free survival. Unfortunately, many of the therapies used to treat cancers have side effects that can lead to hypertension, heart failure, left ventricular dysfunction, arrhythmias, and vascular disease including acute coronary syndromes. Dr. Catino's research, in collaboration with our Huntsman Cancer Institute and other colleagues around the country, focuses on understanding the cardiotoxic pathophysiology of specific tyrosine kinase inhibitors, how to identify at risk patients, and better understand the use of cardiac imaging modalities in screening patients.
Selected publications:
Lyman G, Catino AB, and Ky B. Vascular Complications of Cancer and Cancer Therapy. Gretchen Kimmick, Daniel Lenihan, and Doug Sawyer (Eds.), Cardio-Oncology - The Clinical Overlap of Cancer and Heart Disease (First). 2017. New York City: Springer. p 215-240. 
Narayan V, Keefe S, Haas N, Wang L, Puzanov I, Putt M, Catino A, Fang J, Agarwal N, Hyman D, Smith AM, Finkelman BS, Narayan HN, Ewer S, ElAmm C, Lenihan D, and Ky B. Prospective Evaluation of Sunitinib-Induced Cardiotoxicity in Patients with Metastatic Renal Cell Carcinoma. Clinical Cancer Research, 2017 Feb 14.  doi: 10.1158/1078-0432.CCR-16-2869. 
Catino AB, Hubbard, RA, Chirinos JA, Townsend R, Keefe S, Haas NB, Puzanov I, Fang JC, Agarwal N, Hyman D, Smith AM, Gordon M, Plappert T, Englefield V, Narayan V, MD, Ewer S, ElAmm C, Lenihan D, Ky, B. Longitudinal Assessment of Vascular Function With Sunitinib in Patients with Metastatic Renal Cell Carcinoma. Circ Heart Fail. 2018;11:e004408.
Dr. Drakos's research interests are focused on cardiac recovery associated with unloading and mechanical support in the chronic heart failure (HF) setting and the acute setting (i.e. acute HF/cardiogenic shock). Dr. Drakos's team is utilizing clinical and biological information derived from studies in humans and small or large animal HF models to understand and manipulate cardiac recovery. Dr. Drakos's NIH-funded team is housed at the Nora Eccles Harrison Cardiovascular Research and Training Institute-CVRTI (Drakos Lab & Clinical Research Team website: http://cvrti.utah.edu/~drakos). Original work generated by Dr. Drakos's team both in the clinical arena and in his lab led to the establishment of the award-winning multidisciplinary Utah Cardiac Recovery Program-UCAR. To further advance the field of cardiac recovery Dr. Drakos is co-directing the Annual International Utah Cardiac Recovery Symposium (UCARS) - for more info: http://medicine.utah.edu/cardiacrecoverysymposium/. Along the same lines Dr. Drakos is co-chairing the NIH/NHLBI Working Group on Myocardial Recovery - its executive summary and member list can be found at: https://www.nhlbi.nih.gov/events/2016/nhlbi-working-group-advancing-science-myocardial-recovery-mechanical-circulatory (simultaneous publication at the official journals of the American College Cardiology (ACC), Heart Failure Society of America (HFSA), American Society of Artificial Internal Organs and the American Association of Thoracic Surgery).
Coronary CT Angiography, FFR-CT and stress CT myocardial perfusion for assessment of coronary artery disease in patients with severe aortic stenosis undergoing transcatheter aortic valve implantation. Prospective study aims to evaluate the utility of using an institutionally developed comprehensive non-invasive anatomical and functional evaluation of the coronary arteries in patients with severe aortic stenosis prior to undergoing TAVI.
Cardiac magnetic resonance tissue tracking strain patterns in left ventricular non-compaction cardiomyopathy. Retrospective study aims to describe myocardial strain patterns in left ventricular non-compaction cardiomyopathy using CMR tissue tracking and correlate with other clinical variables and patient outcome. 
Correlation between cardiac magnetic resonance tissue tracking strain and delayed gadolinium enhancement in patients with hypertrophic cardiomyopathy. Retrospective study aims to analyze the correlation between MRI derived myocardial strain value and left ventricular scar detected by delayed gadolinium enhancement.
Lillian Khor
Lillian Khor is a noninvasive general cardiologist with a Masters in Clinical Investigation from the University of Utah who is the Medical Director of the Preventive Cardiology and Cardiac Rehabilitation Program and collaborator within the Weight Management Program. She is passionate about primary and secondary prevention of cardiovascular disease and is involved multi-disciplinary research collaboration related to cardiac rehabilitation, skeletal muscle training in heart failure, and community education to improve awareness of heart disease. Her clinical research interest is in obesity associated heart failure and improving the diagnosis of it through echocardiography and point of care ultrasound and treatment through lifestyle, medical and surgical therapy.  She is also actively involved in quality improvement research on the effective delivery of cardiac rehabilitation to improve cardiovascular outcomes.
Dr. Nativi-Nicolau is an investigator in the field of heart failure with emphasis in cardiac amyloidosis. Amyloidosis is a rare condition were insoluble fibrils affect the function of multiple organs including the heart, kidneys, nerves and the gastro intestinal tract. Patients with amyloidosis have decreased survival and poor quality of life. Dr. Nativi-Nicolau's research group involves a multidisciplinary platform that perform clinical trials of disease modifying medications including amyloidosis stabilizers, gene silencers and monoclonal antibodies. His group participated in landmark ATTR-ACT trial which was the first study to demonstrate a significant improvement in survival in patients treated with amyloidosis stabilizers. His group is also interested in novel non-invasive techniques for early diagnosis of cardiac amyloidosis in order to provide early access to therapy and improve outcomes.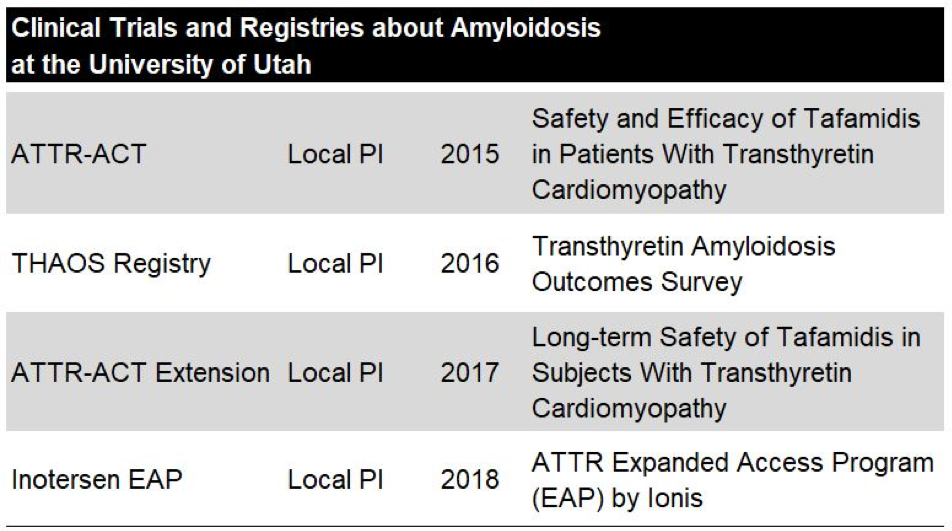 The Odelberg laboratory focuses on the role of the small GTPase ARF6 in inflammatory disease and cancer. ARF6 has been shown to play a role in both chronic and acute inflammatory diseases and conditions, including arthritis and sepsis, and in the establishment and metastasis of certain cancers, such as cutaneous and uveal melanoma. The activation of ARF6 helps drive these diverse conditions by promoting the trafficking of key signaling proteins to appropriate intracellular locations where signaling is enhanced. Blocking the function of ARF6 by gene knockout, RNA interference, or pharmacologic inhibition reduces trafficking and signaling of these key proteins and mitigates disease in animal models, thus making ARF6 a promising therapeutic target for several cancers and inflammatory conditions.
The laboratory has also focused on the cellular and molecular basis of regeneration in a type of salamander known as the newt. A newt has the remarkable ability to regenerate many organs and body structures, including its limbs, tail, heart ventricle, spinal cord, retinas, lenses, upper and lower jaws, and intestines. Studies from the laboratory have shown that a transitional extracellular matrix is formed during the early stages of regeneration and that this matrix instructs cell behaviors crucial to the regenerative response, such as cellular dedifferentiation, proliferation, and migration.
Selected Publications:
Zhu W, Shi DS, Winter JM, Rich BE, Tong Z, Sorensen LK, Zhao H, Huang Y, Tai Z, Mleynek TM, Yoo JH, Dunn C, Ling J, Bergquist JA, Richards JR, Jiang A, Lesniewski LA, Hartnett ME, Ward DM, Mueller AL, Ostanin K, Thomas KR, Odelberg SJ, Li DY. (2017) Small GTPase ARF6 controls VEGFR2 trafficking and signaling in diabetic retinopathy. J Clin Invest. 2017 Dec 1;127(12):4569-4582. PMCID: PMC5707163 Grossmann AH, Zhao H, Jenkins N, Zhu W, Richards JR, Yoo JH, Winter JM, Rich B, Mleynek TM, Li DY, Odelberg SJ. (2016) The small GTPase ARF6 regulates protein trafficking to control cellular function during development and in disease. Small GTPases. 2016 Dec 21:1-12.
Yoo JH, Shi DS, Grossmann AH, Sorensen LK, Tong Z, Mleynek TM, Rogers A, Zhu W, Richards JR, Winter JM, Zhu J, Dunn C, Bajji A, Shenderovich M, Mueller AL, Woodman SE, Harbour JW, Thomas KR, Odelberg SJ, Ostanin K, Li DY. ARF6 Is an Actionable Node that Orchestrates Oncogenic GNAQ Signaling in Uveal Melanoma. Cancer Cell. 2016 Jun 13;29(6):889-904. PMCID: PMC5027844 Grossmann AH, Yoo JH, Clancy J, Sorensen LK, Sedgwick A, Tong Z, Ostanin K, Rogers A, Grossmann KF, Tripp SR, Thomas KR, D'Souza-Schorey C, Odelberg SJ, Li DY. (2013) The small GTPase ARF6 stimulates β-catenin transcriptional activity during WNT5A-mediated melanoma invasion and metastasis. Sci Signal. 2013 Mar 5;6(265):ra14. PMCID: PMC3961043
Dr. Kevin Shah
Dr. Kevin Shah is a cardiologist who specializes in in heart failure, transplant cardiology, and mechanical circulatory support. He has multiple research interests and projects include the following:
The Cardiorenal Syndrome: Shah is investigating the mechanisms connecting acute or chronic dysfunction in the heart and how this leads to kidney dysfunction. Specifically, Dr Shah is collaborating with a team at the University to study the effects of fluid loading and administration of diuretics affects renal physiology through exosome studies (ERES-HF). Additionally, he is a co-investigator on a local substudy from the TRANSFORM-HF trial (Duke/Yale/NHLBI) to understand the impact of torsemide on plasma volume, extracellular water, and total body water.
COVID-19 and the Heart: Shah is working with a team of investigators at the University to identify risk factors for adverse cardiovascular outcomes as well as novel biomarkers of risk prediction in patients admitted with COVID19 infection.
South Asians and Cardiovascular Disease: Shah was a co-author on the 2018 American Heart Association Scientific Statement of Atherosclerotic Disease. He is developing an outreach program incorporating the Utah Wellness Bus and the India Cultural Center of Utah with the long term goal of identifying community members at risk for premature heart disease.
Dr. Rashmee Shah is a cardiologist, data scientist, feminist, and mother in the Division of Cardiovascular Medicine. She is interested in the interface between technology, advanced computational methods, and clinical implementation. Her research group, DRIVE (Data Driven Research, Innovation, and Education), focuses on creating computable phenotypes from the electronic medical record and other sources. Computable phenotypes use data, which is meaningless on its own, to create information, the clinical framework used in healthcare. Specifically, Dr. Shah has an interest in natural language processing to leverage rich descriptions founding in the clinical narrative. Computable phenotypes can be used in large scale studies, or "big data" analyses. Her prior experience includes clinical applications for machine learning and deep learning in cardiac surgery prediction, and phenotype development among atrial fibrillation patients.
Dr. Spitzer's research focuses on cardiac cellular physiology to include intracellular pH regulation, calcium handling and electrophysiology.
"In addition to practicing as a clinical cardiac electrophysiologist, Dr. Steinberg's research is primarily focused on leveraging large clinical datasets to explore outcomes among patients with heart rhythm disorders. His current area of interest, supported by a K23 grant from the NHLBI/NIH, explores patient reported outcomes (PROs) among patients with atrial fibrillation and heart failure, in order to understand heterogeneity of treatment effects in this patient population. This 5-year award makes use of infrastructure and expertise that is unique to the University of Utah (e.g., the mEVAL PRO system; Figure). Additionally, Dr. Steinberg is part of a team led by Dr. Angie Fagerlin, Chair of the Department of Population Health, exploring shared decision-making approaches to stroke prevention in atrial fibrillation. That work is funded by a strategically-focused research network grant from the AHA and PCORI, and will include collaborations with the Mayo Clinic, Stanford University, Boston University, Cleveland Clinic, Northwestern, and Vanderbilt."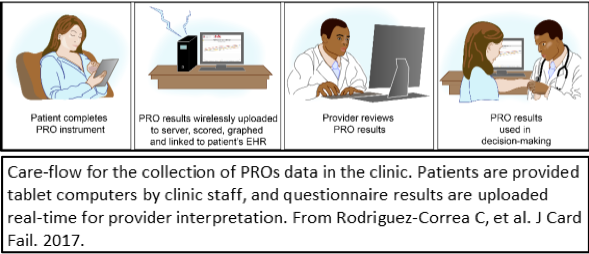 Anwar Tandar, MD, is currently involved in several clinical trials focusing on improving treatments for interventional cardiology patients. He also collaborates with many other cardiologists or cardiothoracic surgeons and also with neurology and pulmonary medicine in m any clinical trials. His involvements/clinical trials include the following:
AMULET Clinical trial: Left atrial Appendage Closure device (AMULET)- Abbot Medical. Site PI. Collaborate with Dr. Ravi Ranjan as co PI.
Gore-PFO Registry. Site PI.
Carillon Trial: Evaluation of coronary sinus device for the treatment of functional mitral regurgitation. Site PI, collaborate with Dr. Craig Selzman (CT surgery), Dr. Josef Stehlik (Hear Failure) and Dr. Frederick Welt (Interventional Cardiology).
Reduce-LAP-: iASD device for HFpEF-Corvia. Sub-PI. He collaborates with Dr. Ryan as the PI.
Portico Transcatheter Heart Valve Trial (Portico US study) - St. Jude Medical. Site PI.
ASSURED ASD Trial-New ASD Occluder device for ASD patients - Gore Medical. Co-PI—Collaboration with Pediatric Interventional Cardiology - Dr. Robert Gray.
Transcaval Access for Transcatheter Aortic Valve Replacement in Patients with no Good Options for Aortic Access. National Institute of Health-NHLBI. Site PI, collaborate with Dr. Robert Lederman, MD (PI).
Re-Dual PCI: A prospective Randomised (Closed)
Exemption Umbrella - Clinical Analyses in Cardiovascular Medicine. Co-PI. PI: James Fang.
Eric Tuday
Hypertension presents a major worldwide public health concern due to its high prevalence and the fact that it drives the progression of cardiovascular disease (CVD). While aggressive anti-hypertensive therapy for essential hypertension has significantly limited morbidity and mortality, isolated systolic (arterial) hypertension remains a major cardiovascular risk as we age. Age-associated increases in large artery (aortic) stiffness (LAS) is now recognized as playing a key role in the pathophysiology of isolated arterial hypertension. Increased LAS disproportionately increases central arterial pressure, creates systolic hypertension, and increases pulse pressure, a pathophysiology that is quite distinct from that of essential hypertension. Furthermore, increased LAS has been associated with the development or progression of congestive heart failure, coronary artery disease, chronic kidney disease and dementia. Interventions to date have been limited in their success in either treating or preventing age-associated increases in LAS, thus emphasizing the need for investigations into new strategies in addressing pathologic LAS.
I am a physician-scientist with a focus on vascular biology and mechanics. I am part of the Translational Vascular Physiology Laboratory located on the Salt Lake City VA Hospital Campus and I am affiliated with the Geriatric Research, Education and Clinical Center. Our laboratory is founded in vascular biology and is currently focused on investigating various aspects vascular stiffness and aging including projects regarding novel molecular players (non-coding RNAs), cell senescence, and dietary/exercise interventions. We are a multi-disciplinary team and work towards our common goal of understanding vascular biology.
Junco Warren (Junko Shibayama), PhD, is an Assistant Professor at the University of Utah with a research laboratory at the Nora Eccles Harrison Cardiovascular Research and Training Institute. She received her PhD from the State University of New York Upstate Medical University and then received postdoctoral training at the University of Michigan and University of Utah.
Dr. Warren's research focuses on understanding the mechanisms involved in metabolic reprogramming and cardiac energy deficits in the diseased and stressed heart. Her research over the last few years has used a multi-platform metabolomics approach, which provides a systems view of metabolic profile of diseased hearts. Her projects have two primary goals: 1) to identify the mechanisms and key regulators of global metabolic changes in the hearts of individuals with heart failure and diabetes and 2) to define the link between impaired cardiac energetics and electrophysiological modifications in diabetic cardiomyopathy.
Specialties: Cardiac metabolism, Mitochondrial energetics; Cellular electrophysiology
Awards: 
AHA predoctoral fellowship, 2005-2007
Young Investigator Award, Upstate New York Cardiac Electrophysiology Society Meeting, Syracuse, NY, 2005
NIH F32 NRSA postdoctoral fellowship, 2010-2013
American Heart Association BCVS Minority Travel Grant for Scientific Sessions, 2011
American Heart Association BCVS Outstanding Early Career Investigator Award, 2016
Weiquan (Wendy) Zhu, PhD
Weiquan (Wendy) Zhu, PhD, is an independent investigator at the University of Utah with a research laboratory at the Eccles Institute of Human Genetics. Dr. Zhu received her PhD from the National Center for Cardiovascular Diseases, Chinese Academy of Medical Sciences and Peking Union Medical College and then received postdoctoral training at the University of Utah.
Dr. Zhu has a broad background in molecular biology, biochemistry, and cell biology, as well as specific expertise in signaling cascades that are required for studying essential cellular responses in vascular biology and pathology. Her research focuses on understanding the nexus between inflammation, infection, and immune-related diseases, specifically examining whether activation of the small GTPase ARF6 acts as a common convergence point to regulate multiple inflammatory and angiogenic pathways and determining whether blocking ARF6 activation promotes vascular stability and can be used as a novel strategy to treat sepsis, cytokine storm related syndromes, and vascular eye disease.
Fellow Projects
Jad Al Danaf, MD, MPH
Jad Al Danaf, MD, MPH is a third year Chief Cardiovascular Medicine Fellow and is the Fellow-In-Training Representative of the American College of Cardiology's (ACC) chapter in the state of Utah. He grew up in the suburbs of Beirut, Lebanon and moved to the US for his public health and medical training. He is an aspiring Interventional Cardiologist with an interest in Critical Care Cardiology, and has been working on several research projects throughout his fellowship training. He is also very interested in medical education, wellness, mentorship, and being an active member within the ACC-Rockies Chapter. Some of his recent published work revolve around analyzing prescription patterns of high intensity statins, providing updates in device based therapies in HF, and ACC clinical decision making cases in the fields of pulmonary hypertension and Cardio-oncology. His active research projects include a review paper on long-term TAVI durability, reviewing and studying what is "the point of no return" for patients with severe AS and heart failure, and evaluating the utility of cardiac MRI in defining ischemic cardiomyopathy.
Michelle Bischoff
We hypothesize that there may be a MRI cardiac strain pattern that is characteristic of Hypertrophic Cardiomyopathy (HCM) patients that may show up regardless of the stage of disease. We collected demographics and outcomes data for nearly 200 HCM patients who underwent cardiac MRI; we also reviewed their cMRIs and collected circumferential, longitudinal, and torsional strain numbers for each segment of the heart. We also collected similar data for smaller groups of patients with hypertensive hypertrophy and normal hearts to use as controls. We are currently in the process of finalizing data collection and initiating analysis. 
Jon Harrison
With the continued development of cardiac ultrasound and cardiac magnetic resonance imaging (CMR) at the University of Utah we have initiated a number of research projects. 
Over the last few years, pocket-sized ultrasound devices have helped augment and enhance the accuracy of the physical examination. Instead of replacing the bedside exam, we are aiming to introduce the philosophy of utilizing bedside ultrasound as a means to enhancing the diagnostic value of a bedside history and physical examination. Our project focus is to train and confirm competency in the use of point of care ultrasound (POCUS) for a cardiac limited ultrasound examination (CLUE) without replacing the clinical physical examination or appropriate comprehensive echocardiogram. We are currently working with leaders in the field to finalize a curriculum for training cardiology fellows and volunteer faculty in the acquisition of key 7-10 standardized bedside images in under 10 minutes for assessing signs of past or present coronary ischemia, heart failure, aortic stenosis, pericardial effusion, pleural effusion, and intravascular volume overload.  We hope with the successful initiation in these advanced trainees we can expand this curriculum and resource to all clinicians in our facility.
Furthermore, the uses of CMR have continued to expand as the technology advances.  One project we are working toward builds upon prior data for the use of multiparametric CMR to non-invasively screen for acute cardiac allograft (ACAR) and myocardial perfusion reserve (MPR) obtained by perfusion CMR to detect cardiac allograft vasculopathy (CAV), both of which can cause significant morbidity and mortality following heart transplantation.  A second project aims to utilize magnetic resonance angiography (MRA) to expand the safe pre-transcatheter aortic valve replacement (TAVR) evaluation for all patients.
Andrew Walker
I am working with Dr. Rashmee Shah utilizing natural language processing to query the medical record and try to identify bleeding events on anticoagulation as compared to bleeding events identified by ICD codes.
Libo Wang
I am interested in understanding and incorporating appropriate use of technological advances at the bedside. Clinical and research interests includes point-of-care ultrasonography (POCUS) and its specific applications within cardiology and heart failure management, as well as mobile-device use amongst cardiology patients. Current investigations include assessment of pre-existing physical exam / ultrasonography in volume status with comparison to and validation of a new method in central venous pressure assessment by bedside ultrasound. I am also exploring real world patient use of wearable/mobile devices in atrial fibrillation detection/management, and characterizing this cohorts' presentation to cardiology clinics.
Michael Yin
Project 1). Percutaneous mechanical unloading simultaneously with reperfusion and myocardial salvage in experimental acute myocardial infarction: I am using animal (swine) model to determine the effects of simultaneous mechanical unloading (using Impella CP) on the size of infarct compared with reperfusion along and delayed unloading and reperfusion. Status: preliminary results generated.
Project 2). Acute changes in the left ventricular hemodynamics during trasncatheter aortic valve replacement assessed by real-time pressure-volume loops: I am comparing the acute changes in hemodynamics immediately before and after valve deployment in patients with severe aortic stenosis undergoing TAVR, using conductance catheters and a real-time pressure-volume loop acquisition system. We are especially interested in the differences in the hemodynamics between D1 and D3 severe AS patients. Status: manuscript based on description of acute hemodynamics changes in 21 patients with D1 severe AS submitted; now recruiting D3 severe AS patients now to compare to D1 severe AS patients.
Project 3). Reverse remodeling with centrifugal (HM3) vs axial-flow (HMII) LVAD: I am using the Utah Cardiac Recovery's database (echocardiograms) to compare differences in the long-term functional and structural changes induced by mechanical unloading between patients with HeartMate 3 and HeartMate II.  Status: Abstract submitted to ISHLT 2020; awaiting more data from other collaborative sites to produce a manuscript. 
Project 4). Assessment of right ventricular function using comprehensive 18-segment echocardiographic strain analysis in patients undergoing left ventricular assist devices: I am analyzing segmental strains (18 segments in total) obtained from a RV dedicated protocol (RV inflow, RV outflow, over-rotated 4 chamber) on all the pre-LVAD echocardiograms, and identifying if segmental RV strain can predict acute RV failure following LVAD. Status: 20 patient recruited, abstract presented at ASE 2019, manuscript pending recruitment of more patients.
Project 5).  Global geographical variation in rates of cardiac recovery and left ventricular assist device explanation in chronic heart failure: insights from the International Registry for Mechanically Assisted Circulatory Support: I am analyzing the IMACS registry to identify regional (Americas Vs Europe Vs Asia-Pacific) variations in the rate of cardiac recovery in patients with LVADs, and identify predictors of recovery in each global region. Status: abstracted submitted to ISHLT 2020; manuscript writing is underway.
Eleni Tseliou MD, PhD
Eleni Tseliou MD, PhD is a first year Cardiovascular Medicine Fellow and a Physician Scientist Training Program Candidate. She grew up in Greece and moved to the US for her public health and medical training. She is interested in Heart Failure and Cardiac Regeneration, and has been working on several research projects throughout her PhD and medical training. Some of her published work includes cardiac stem cell in vivo and in vitro characterization, design and performance of small animal studies that laid the ground for ongoing clinical trials. She has also published studies on cardiac derived exosomes as tools for cardiac regeneration. She is currently working on projects that focus on mechanisms of myocardial recovery post mechanical support devices in cardiogenic shock and advanced heart failure patients.