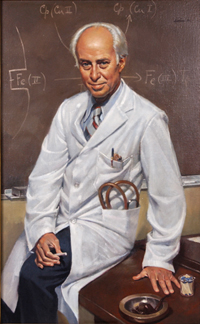 Dr. Cartwright received his M.D. from The Johns Hopkins University School of Medicine in 1943 and while a medical student and house officer began research with Dr. Wintrobe on a variety of nutritional anemias. In 1944 he was recruited to Utah as chief resident in Internal Medicine and began research on the anemia of chronic disease and the use of nitrogen mustard in lymphomas. This was interrupted by service in the U.S. Army in China. On his return in 1947, he was appointed Chief of Hematology and resumed his research on nutritional disorders and the role of copper and iron in hematopoiesis. He became an internationally recognized authority on the pathobiology and management of both Wilson's disease and hemochromatosis.   His meticulous studies of both diseases became the foundation for the University's world renowned genetics research program.  In addition to instigating what would become the School of Medicine's popular laboratory diagnosis course, Dr. Cartwright began a tradition of skiing every Wednesday afternoon, teaching fellows and house officers on the slopes of Alta Ski Resort in the Wasatch Mountains just east of Salt Lake City. Dr. Cartwright rose through the ranks to professor and was selected as chair of the Department of Internal Medicine in 1967, a position he held until 1980.  In 1980, he died unexpectedly of as a result of a myocardial infarction. He published more than 230 papers and received many awards for his excellence as a teacher, mentor and scientist.
Dee-Cartwright Endowed Research Fund
The Division of Hematology and Hematologic Malignancies in the Department of Internal Medicine is pleased to announce the establishment of an endowed research fund in honor of Dr. George E. Cartwright, the first chief of the Division Hematology and Hematologic Malignancies and the second chair of the Department of Internal Medicine. The Division is grateful to Candace Cartwright Dee, Dr. Cartwright's daughter, and her husband Tim Dee, for their generous gift to establish this fund that recognizes Dr. Cartwright's legacy as a renowned investigator in hematology. During his career, Dr. Cartwright's research aided countless patients while his mentorship inspired generations of hematologists. The Dee-Cartwright Endowed Research Fund will honor his heritage by expanding the range and deepening the impact of hematology research at University of Utah. Consistent with Dr. Cartwright's holistic view and the universal role of hematology within medicine, the fund will support research efforts related to both benign and malignant and hematologic conditions, providing critical support for early investigators, and seed money to foster the development of research projects until they garner federal support.