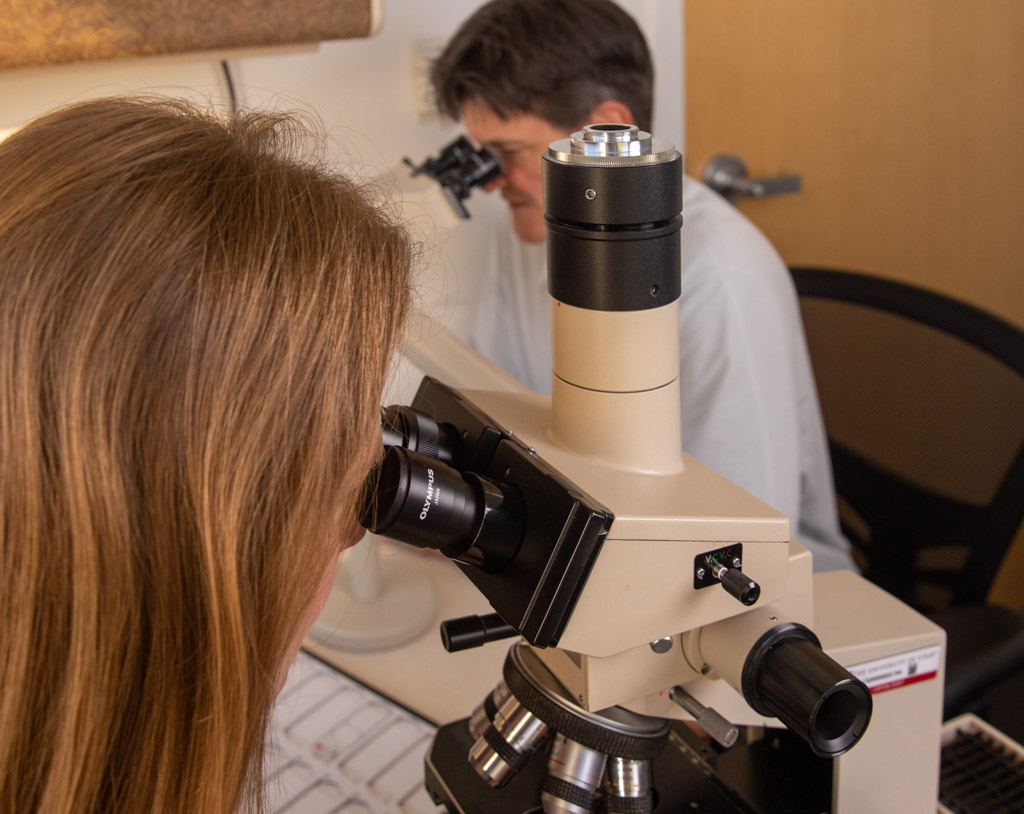 Dermatopathology Services
The Dermatopathology Laboratory offers comprehensive microscopic diagnosis for nail, hair, and skin conditions. Tests are performed on skin and tissue specimens.
The Dermatopathology Laboratory at the University of Utah is attended by Board Certified Dermatopathologists who have experience evaluating patients at the University of Utah Health Care Clinics in addition to interpretation of histopathologic findings in submitted specimens. They also provide consultative services on previously evaluated specimens for second opinions and performance and/or evaluation of special tests/studies as well as specimen processing not otherwise available to a clinician. Their expertise covers a wide range of neoplastic and inflammatory skin and mucosal diseases to aid Dermatologists, Dentists, Oral and Maxillofacial Surgeons, and other specialists in patient care.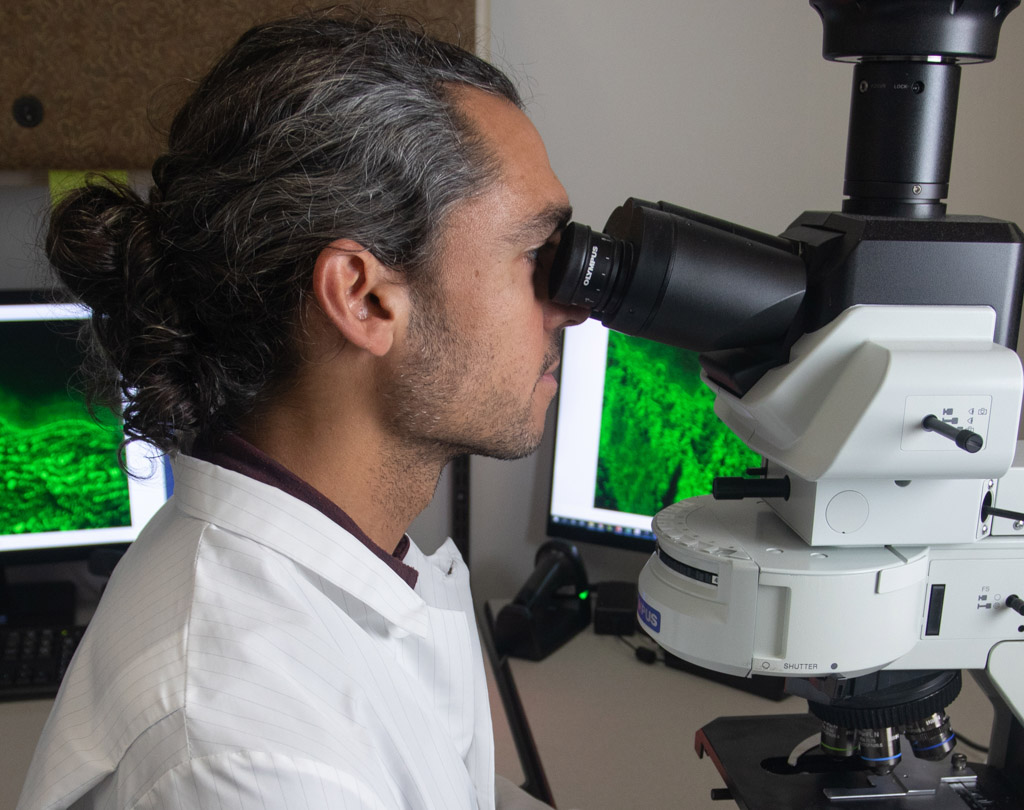 Immunodermatology Services
Immunodermatology testing is essential for the correct diagnosis and treatment of many diseases affecting epithelial organs including skin, mucous membranes, gastrointestinal, and respiratory tracts. Tests are performed on blood and tissue specimens. The Immunodermatology Laboratory at the University of Utah, with its Board Certified Immunodermatologist Physicians, is committed to providing reliable, rapid, and comprehensive diagnostic testing.
The Immunodermatology Laboratory is part of the Department of Dermatology Laboratory Services at the University of Utah, closely affiliated with the Dermatopathology Laboratory and the Oral Pathology Laboratory. We welcome all requests from clinicians seeking immunodermatology testing to aid in the diagnosis and monitoring of immune-mediated diseases.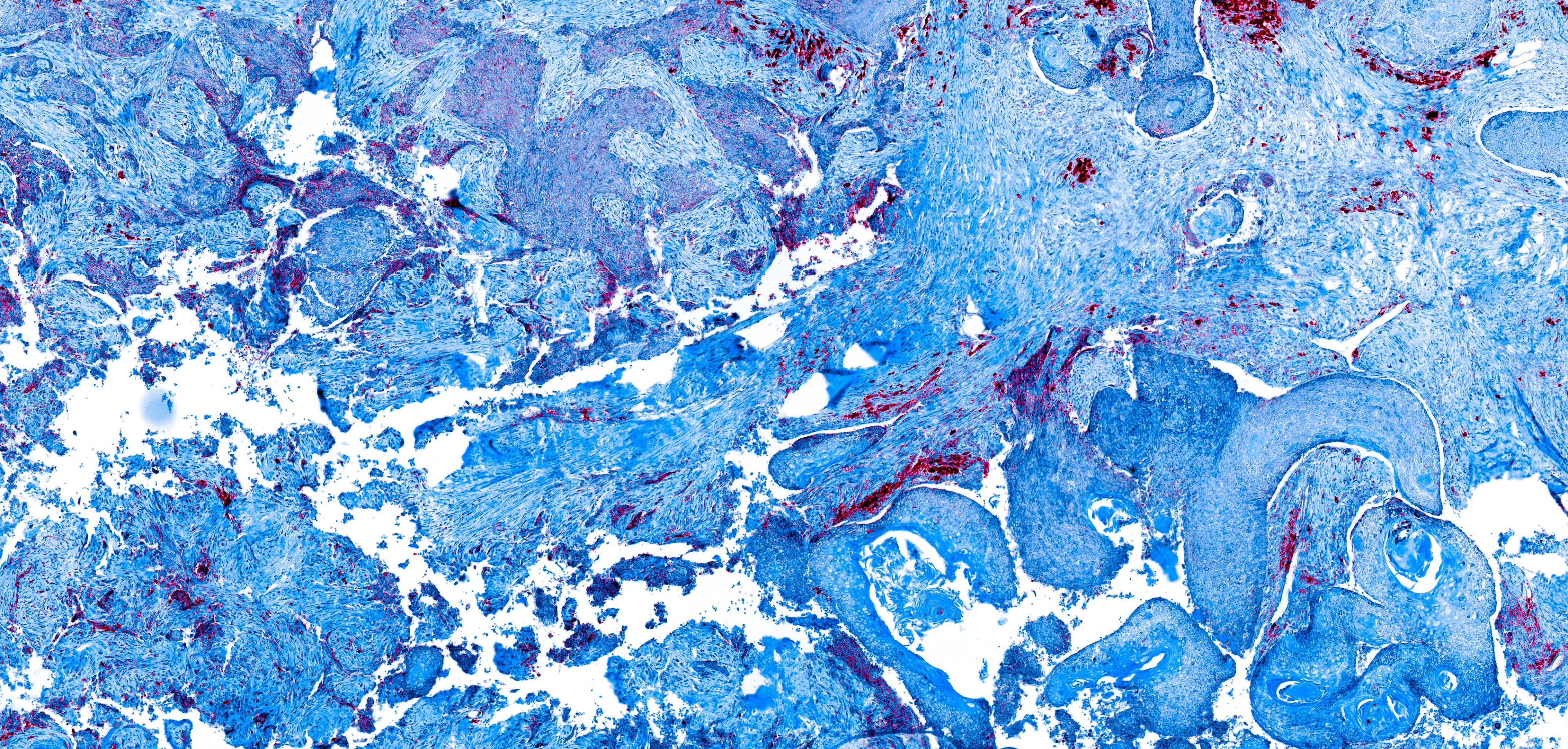 Oral and Maxillofacial Pathology Services at the University of Utah include specimen processing, comprehensive microscopic diagnostic evaluations, and consultative review on previously evaluated specimens for second opinions and performance and/or evaluation of special tests/studies. Biopsy specimens, including hard and soft tissues from the oral and maxillofacial complex, are evaluated by an Oral Pathologist. Oral and Maxillofacial Pathology Services are closely linked with Dermatopathology Laboratory Services for technical support and to provide extensive immunohistochemistry testing and cooperative consultative assessments.
Experts in the Field with 25 Years of Experience
The Laboratory team is comprised of industry recognized experts. Drs. John J Zone and Kristin Leiferman, who have individually create benchmarks within the industry, lead teams that are comprised of equally accomplished individuals. Learn more about Drs. Mazdak Khaligi, Margaret Cocks, Melanie Kuechle, David Wada, Patricia Vitale, Anneli Bowen, Keith Duffy, Scott Florell, and Jamie Zussman.
Faculty
Academic Institution
The University of Utah Health's School of Medicine combines excellence in teaching, research, and clinical expertise to train tomorrow's physicians for the rapidly changing world of medicine. With a faculty of more than 1,000 physicians and researchers and 23 clinical and basic science departments.  The UHealth School of Medicine is amongst the Nation's Best.
University of Utah
Electronic Medical Records (EMR) Interfacing
The Laboratory Services team uses an EMR system to reduce paper and increase efficiency for our clients. This also enables us to maintain accurate records that are easily accessible for referral reporting or linking to historical cases.   Our goal is to make it as easy as possible for your team to interface with ours so that we become an accessory to your practice.
UHealth's EMR
Digital Pathology
To support the evolving needs of our clients it has become prevalent that we adopt a Digital Pathology interface to better communicate.   This technology enables our experts to share their interpretations easily through digital examples.  The efficiency measures of this practice will improve our overall productivity measures.