Intern Year
Intern year is spent entirely on Pediatrics, who started an X+Y schedule in 2020. Our "X+Y" curriculum (3 weeks traditional rotation + 1 ambulatory week) allows for a guaranteed week of outpatient and academic experience each month, while preserving time during the rest of the month for dedicated inpatient or elective experiences. During this "Y" week, residents spend 4-5 half days in their longitudinal outpatient experience (LOE) or continuity clinic. Other longitudinal experiences make up the remainder of the time during Y weeks, including courses on advocacy, subspecialty pediatrics, and individual or small group work on quality improvement or research.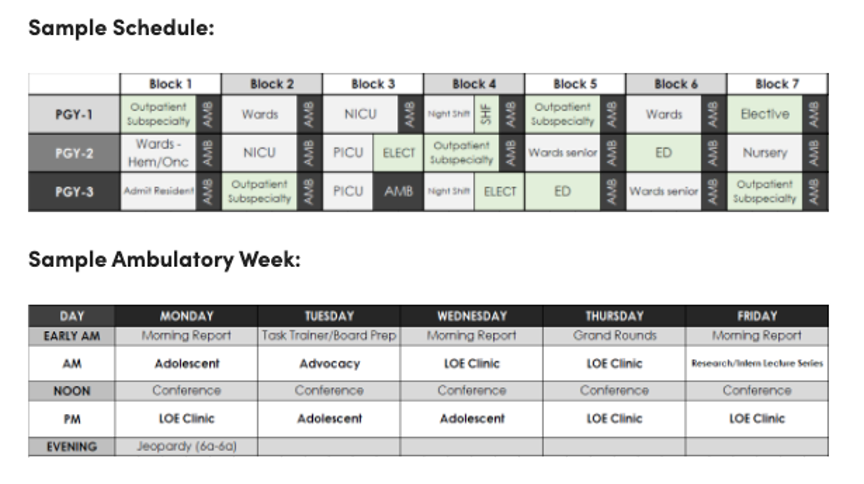 PGY 2 Year
Our residents start their second year on June 24, with an orientation to general psychiatry. The triple board residents have three pediatric continuity clinics per month and one mental health integration clinic per month, as rotation allows. There is one full day of didactics per week on adult psychiatry, and ½ day per week on child psychiatry.
SAMPLE SCHEDULE
July
Inpatient Adult Psychiatry (IP Adult)
Aug
IP Adult
Sept
Crisis Psychiatry
Oct
Night Shift / IP Adult
Nov
Adult Neurology
Dec
Child and Adolescent Inpatient Psychiatry (CAP IP)
Jan
IP Adult
Feb
CAP IP
Overlap
CC/Study
Block
Lahey
Block
NICU/WBN
May
CAP C-L
June
CAP C-L
CC/Study: Extra continuity clinic and study elective
Lahey: Heme/oncology wards
NICU/WBN: Well baby nursery senior and neonatal intensive care month
CAP C-L: Child consultation/liaison service at Primary Children's Hospital
PGY 3 Year
July - December on pediatrics and child psychiatry:
| | |
| --- | --- |
| Resident |   |
| Block 1 | CAP Day Treatment |
| Block 2 | CAP Day Treatment |
| Block 3 | Pediatric Ward Senior |
| Block 4 | Pediatric ED |
| Block 5 | PICU |
| Block 6 | Pediatric Elective |
| Overlap | Study/CC |
| Jan - June: See Below |   |
While on pediatrics, Residents will return to the X+Y scheduling, and have 4 pediatric X blocks, 4 pediatric Y weeks, and elective time.
PGY 3-4, January - December on Adult Psychiatry
During this continuous year, the triple board residents will be able to do a variety of outpatient and consultative experiences. The following are required:
Outpatient Addiction experience
"Super Call" supervisory experience
Resident Continuity Clinic at HMHI outpatient clinic
The following are elective opportunities:
Outpatient and telemedicine through the VA health center
The "Blue Clinic" MHI experience at the VA
Adult inpatient consult-liaison
Adult Mental Health Integration
Huntsman Cancer Institute at the University of Utah outpatient C-L
HIV clinic outpatient C-L
Telemedicine with rural community mental health
Psychotherapy elective
During the PGY 3/4 adult psychiatry year, there will be two pediatric continuity clinics per month and two pediatric MHI clinics per month. There is one day per week of psychiatry didactics.
PGY 4 Year
Jan - June on Pediatrics
X+Y scheduling with the following blocks: Selective, Ward Senior, ED/Urgent Care, Elective, Behavior and Development.
The residents will have two pediatric continuity clinics per month, two pediatric MHI clinics per month, and 1/2 day of psychiatry didactics per week.
PGY 5 Year
12 months Outpatient child psychiatry
During this year, the residents will have general child psychiatry outpatient continuity clinic at three to four half days per week. They will have one to two days per week of MHI experiences, and two pediatric continuity clinics per month. There is ½ day per week in the HMHI HOME program, caring for children and adults with neurodevelopmental disorders. In addition, there are electives that provide exposure to such populations as preschool children, substance abusing and at-risk teens, traumatized children, and rural psychiatry/tele-psychiatry opportunities.
Pediatric Continuity Clinic
During the PGY 1-3 years, residents work in either South Main Clinic, which is a predominantly underserved Spanish-speaking population or the University Pediatric Clinic, which is a university-based clinic where your patient experience ranges from treating refugees to the children of professors and other university employees.
During the PGY 4-5 years, many residents stay in their continuity clinic. However, you have the option of choosing a subspecialty continuity clinic as well. During PGY 4 year, each triple boarder spends ½ day per month doing mental health integration in their continuity clinic, and 3 half-days per month during the PGY 5 year.