Catch up with Dr. Brigid O'Holleran (resident 2012-2017)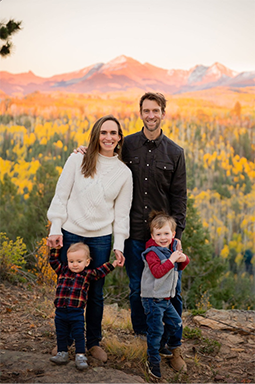 I was a general surgery resident at the University of Utah from 2012 - 2017. During those formative years, I developed a broad surgical skill set and made lifelong friendships. From there, I sought a career as a rural general surgeon in a mountain community, so I could enjoy a varied surgical practice and a lifestyle rooted in family and the outdoors. Thanks to the references of my mentors Dr. Courtney Scaife and Dr. Ed Nelson, I was recruited to Durango, Colorado by a University of Utah surgical alum, Rob Wrona. He convinced me that it was possible to have a busy and fulfilling surgical practice and enjoy a work-life balance that involves time in the mountains every day.
Now in my sixth year of practice at Mercy Medical Center in Durango, I find it extremely rewarding to practice surgery in a place where I feel deeply connected to my community and can see the direct impact I have on my community members. I live in the San Juan Mountains hundreds of miles from the nearest tertiary care center, so I feel grateful that my training prepared me for the breadth of surgeries I perform including bread and butter general surgery, trauma surgery, breast surgery, and robotic surgery. I am the Trauma Medical Director for our level 3 trauma center and have enjoyed serving in a variety of leadership positions in the hospital and local EMS agencies.
I wouldn't be able to achieve the happiness and work-life balance I feel here without my best friend and husband, Matt. We met when I was a resident and make a good team when it comes to tackling life's adventures. While I feel passionate about my career and the outdoors, my greatest joy in life is being a mother. Matt and I have two sons, Liam (3) and Hudson (1). They have my heart. We love hiking, biking, camping, and skiing. We are grateful to have access to world class mountain biking trails from our backyard. Our doodles Charlie and Luna tag along for most of our adventures too. It's worth mentioning that I got Charlie as an 8-week-old puppy when I was a third-year resident, and it was the best crazy thing I have ever done. We also recently added a barn cat to our crew. Our son named him Spicy Muffin and he likes to go camping and hiking with us.
While Colorado is my home, I will always feel connected to my University of Utah family. The voices of mentors like Ram Nirula, Courtney Scaife, Ed Nelson and others still echo in my head when I am in the operating room or addressing a complicated surgical problem. These leaders helped shape me into the surgeon I am today.