About the John A. Moran Eye Center
The John A. Moran Eye Center is the largest vision research and treatment center in the Mountain West, with more than 60 faculty members, 10 satellite clinics, and 17 research laboratories and centers. Physicians provide comprehensive care in all ophthalmic subspecialties, making the Moran Eye Center a major referral center for complex cases with over 153,000 patient visits and about 8,000 surgeries annually.
The Moran Eye Center operates as part of the University of Utah Hospital and provides ophthalmic care for the Salt Lake Veterans Administration Medical Center. The Moran Eye Center, Veterans Hospital, and the Primary Children's Hospital serve as the principal training locations for our residents and fellows.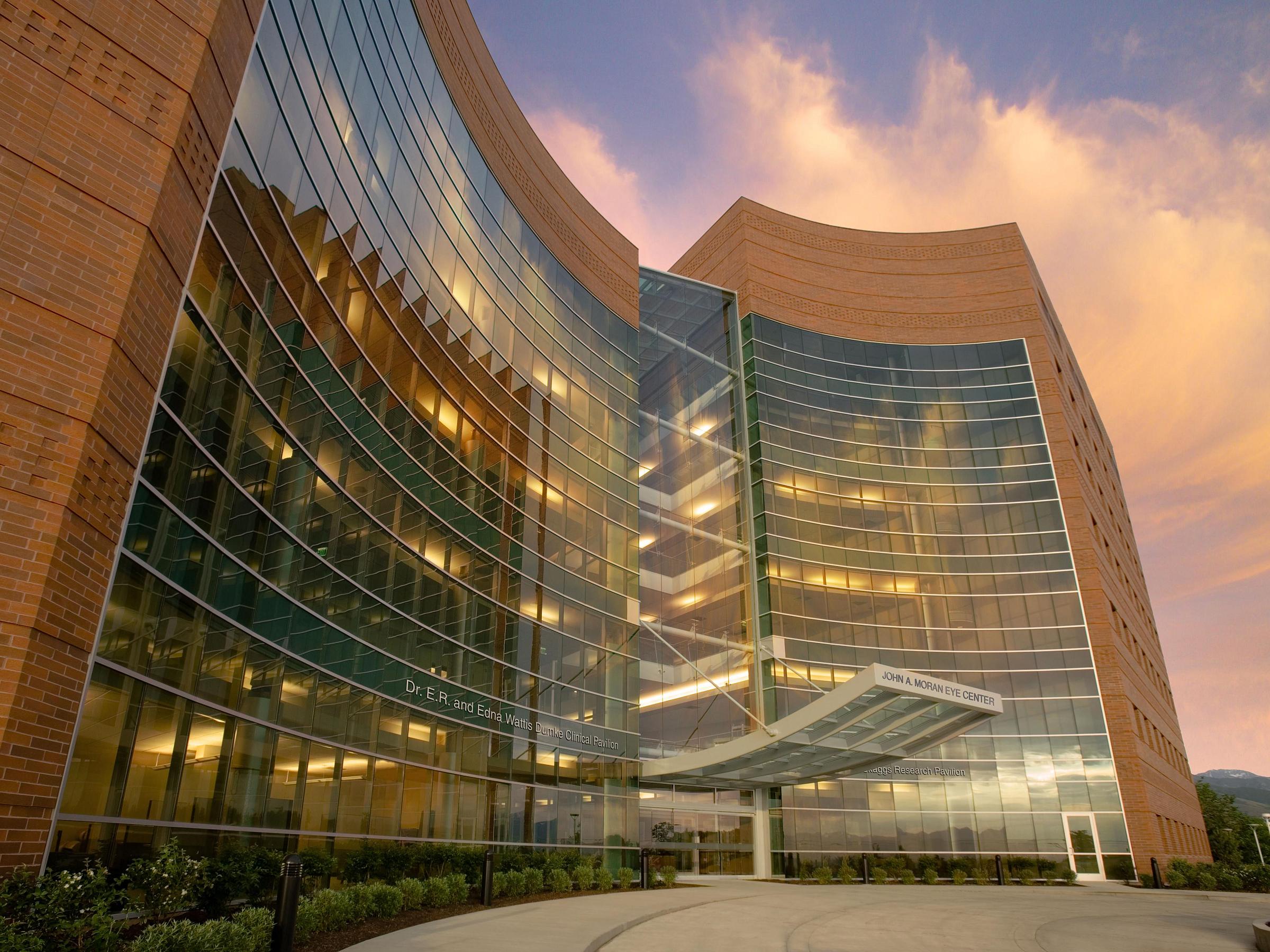 Moran Eye Center Programs and Research Centers
A nonprofit, independent laboratory that performs basic, in-depth scientific research on intraocular lenses. In addition, the Center provides services and education to surgeons, clinical ophthalmologists, their patients, and intraocular lens manufacturers worldwide.
Established in 2009 to more quickly and cost-effectively turn scientific discoveries into clinically effective diagnostics and therapies for blinding eye conditions, the SCTM is currently focused on finding better treatments for age-related macular degeneration under the direction of Gregory S. Hageman, PhD.
Nearly 80 million people are living with glaucoma, a blinding disease that will rob them of their eyesight. That number is projected to rise to 112 million people by 2040. Directed by Iqbal "Ike" K. Ahmed, the newly created Alan S. Crandall Center for Glaucoma Innovation seeks to reverse this trend by leveraging unique resources found only at the Moran Eye Center. The Crandall Center is leading the way to better diagnostics, safer and more effective therapies and surgical devices, a deeper understanding of glaucoma and its genetics, and expanded access to care.
The Utah Retinal Reading Center (UREAD) seeks to contribute to the characterization of manifestation and progression of ophthalmic diseases, focusing on the evaluation of treatment response to innovative therapeutic strategies. Using multimodal imaging technology, UREAD specializes in the standardized and systematic analysis ("grading") of retinal imaging data within multicenter observational studies and interventional trials.
This model program trains doctors, nurses, and other eye care professionals in more than 25 countries. We bring the most promising international surgeons to Utah for intensive training and send our own American residents abroad. At medical camps in the field, Moran surgeons restore sight to hundreds of patients in a single week, while also helping local trainees gain experience.
The John A. Moran Eye Center enjoys a fruitful relationship with the University of Utah's Utah Population Database, one of the world's richest sources of in-depth information on genetics, epidemiology, demography, and public health information.
This state-of-the-art facility serves the community and the Intermountain region by encouraging people to pledge and ultimately donate their eyes at death. The Eye Bank evaluates, recovers, processes and distributes corneas to qualified ophthalmic surgeons for transplantation and supplies eye tissue for a variety of research and educational projects.