PARCKA Pilot Grant Award Program
The goal of the PARCKA Pilot Grant Award Program is to enable faculty and trainees to obtain information, data, and results that can help them to prepare for major research grant submissions to the National Institutes of Health, Veterans Affairs, and other agencies or to initiate new directions in addiction-related clinical care, education, or advocacy activities. The PARCKA Pilot Grant Award Program is intended to assist junior faculty or trainees or more senior faculty or trainees who are exploring new addiction-related topics in anticipation for larger grant awards.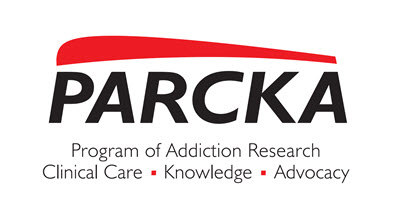 TITLE: University of Utah's opioid-sparing protocol for post-cesarean pain management for dyads affected by opioid and other substance use disorder: maternal, post-cesarean pain-related and infant outcomes
Principal Investigators: Torri Metz, MD, MS and Marcela Smid, MD, MA, MS 
Co-Investigators: Theresa Kurtz, MD and Elizabeth Charron, PhD
ABSTRACT: Poor post-cesarean pain management is associated with adverse perinatal outcomes and few evidence-based practices exist to guide interventions particularly for individuals with opioid use disorder. Many institutions have developed their own pain management strategies for this population. The University of Utah is part of the Buprenorphine for Opioid Use Disorder and Cesarean Outcomes (BRONCO) Consortium, a five-institution collaborative. The BRONCO Consortium aims to compare pain management strategies across these five institutions to inform a larger trial to determine optimal pain management strategy for pregnant individuals with OUD delivering via cesarean. We have completed data abstraction for those 108 individuals with OUD who received the University of Utah's opioid-sparing protocol, which was implemented in 2018. This project aims to further compare post-cesarean pain score and opioid usage during delivery hospitalization among three groups of individuals who delivered at the University of Utah via cesarean (2014-2022): 1) individuals with OUD/SUD who received the opioid sparing protocol (2018-2022) 2) individuals with OUD/SUD who did not receive the opioid-sparing protocol (2014-2022) and 3) matched control individuals without OUD/SUD (2014-2022). The results of this study will help to inform the planned R01 submission on pain management strategies for postcesarean pain management for individuals with OUD.
The PARCKA Pilot Grant Award Program (PGAP) provides grant awards to enable faculty and staff to initiate novel initiatives and research activities within the scope of PARCKA. The mission of PARCKA is to promote and provide addiction related research, clinical care, knowledge and advocacy across the University of Utah, the local community, the state, and the nation.
Applications for the 2024-2025 Award Cycle are now being accepted! Find out how to apply below!
Wednesday, October 18, 2023: Email to PARCKA@hsc.utah.edu indicating your intention to apply. This email should include the presumptive title, key faculty involved, and 2-3 sentences regarding the presumptive proposal.
Friday, December 1, 2023: Proposals due via email to PARCKA@hsc.utah.edu. The email should include a single .pdf file of all the elements of the application.
Thursday, February 1, 2024: Funding decisions communicated to applicants.
Current faculty or mentored trainees of 1) University of Utah, 2) University of Utah Health, and the 3) VA Salt Lake City Health Care System.
Please contact PARCKA Administration to help you prepare your proposal at PARCKA@hsc.utah.edu. The following is required in this 3-page (11-point font, single spaced, 0.5-inch margins) proposal:
Cover Page. Provide the project title, key faculty [Principal Investigators (PI) and co-investigators] names and affiliations and contact information of the PI. The Cover Page is NOT included in the 3-page limit.
Abstract Page. Provide a 250-word brief description of the proposal. The Abstract is NOT included in the 3-page limit)
Background. Describe the project's significance and contribution to a critical area relevant to PARCKA.
Specific Aims and Approach. Describe the objectives and the specific activities and approaches that will be carried out to meet these objectives (including addressing potential challenges).
Methods and Outcomes. Describe the methods and anticipated outcomes.
Data Sources. Describe the existing sources of data or specimens relevant to the project, availability of these data sources, and the research team's experience with them.
Need for PARCKA Pilot Grant Award funding. Describe why you need funding to inform your future, larger projects.
Research Team and Relevant Experience. Describe the key members of the research team (including mentors, co-investigators, and/or staff and their organizations), their roles, and their relevant expertise and experience in this area of research and/or evaluation. Cross campus, interprofessional, and interdisciplinary teams of applicants are strongly encouraged.
Timeline. Provide a brief description (or a Gantt chart) outlining the projected timeframe for key project activities and deliverables.
Format. All submission documents should be free of spelling and grammar errors and follow appropriate fonts, no headers/footers, etc.
Additionally, please provide:
References (NOT included in the 3-page limit).
Budget. Provide a summary budget table and budget justification for the PARCKA Pilot Grant Award Program proposal. See below for budget considerations. (NOT included in the 3-page limit).
PI Biosketch. Please include the Principal Investigator's current NIH or VA biosketch. (NOT included in the 3-page limit).
Biosketch of PI's Mentor. If this is to be a mentored award, please include the mentor's or mentors' current NIH or VA biosketch(es). This is only required if applicant is considered a mentored scholar at time of application. (NOT included in the 3-page limit).
Co-investigator(s) biosketch (if applicable). If a co-investigator is providing substantial and key expertise to the proposal, please include a current NIH or VA biosketch. (NOT included in the 3-page limit).
The budget may be up to 12 months for a maximum of $7,500 and should be used only for the work needed to accomplish the specified objectives and outcomes. No cost extensions will be allowed. Funds cannot be used to support faculty salary. Funds will be delivered to the awardee's department and should remain internal to the University of Utah or VA Salt Lake City Health Care System. Subcontracts /contractors will not be allowed. If staff time is required and the applicant does not have dedicated/named staff, PARCKA can potentially allocate staff to complete the work proposed. Please discuss the budget with PARCKA prior applying. This PARCKA Pilot Grant Award Program will not fund any indirect expenses.