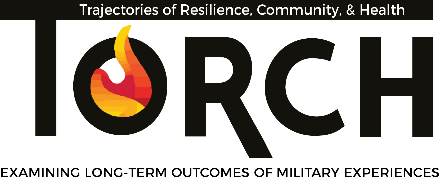 The Trajectories of Resilience, Community, and Health Lab is dedicated to improving Veterans' lives by conducting targeted research that produces meaningful, actionable and goal-driven results. Our team examines the long term outcomes of military experiences. The research, education, and evidence-based programs our team produces can enhance the quality of life experienced by veterans, service members, and their families.
TORCH, led by Dr. Mary Jo Pugh has many achievements including:
The most comprehensive data repository on Post-9/11 Veterans
Uncovered the trajectories of comorbidity of the most prevalent health conditions in deployed Veterans
Studied one of the largest cohorts of pre and post 9/11 military caregivers
Produced the only study of health outcomes in Veterans with penetrating TBI
Identified the link between mild TBI and epilepsy in deployed Veterans
Identified increased mortality of post 9/11 Veterans with Epilepsy
TORCH investigators conduct research funded by the Department of Veterans Affairs, the Department of Defense, and the National Institutes of Health. This interdisciplinary approach enables our team to better understand the health outcomes of military personnel and veterans.