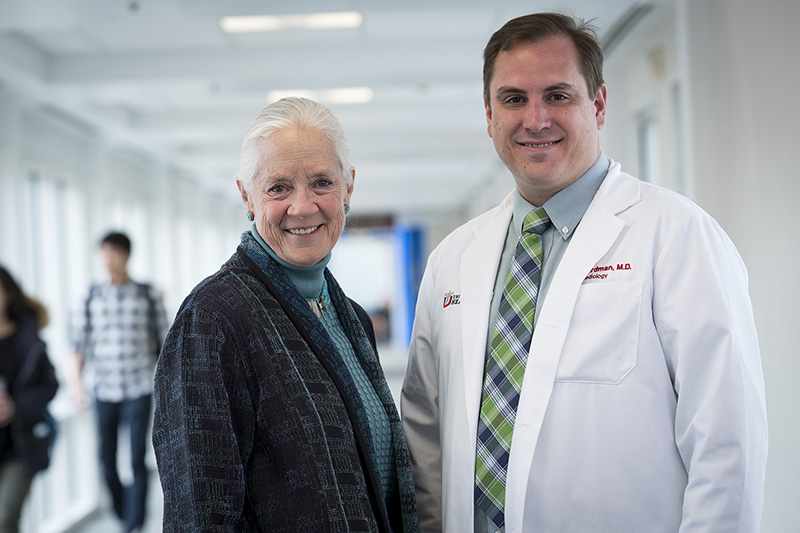 Department of Radiology and Imaging Sciences faculty members, Anne Osborn, MD, and Rulon Hardman, MD.
By Kirsten Mallik
"Good science is not sudden bursts of brilliance and insight," says Dr. Anne Osborn, internationally-recognized professor of neuroradiology at the University of Utah, and benefactor of the Anne G. Osborn and Ronald E. Poelman Endowed Chair for Young Clinician Investigators in Radiology. "Most of the time it's sustained, intense effort maintained over a long period."
Dr. Rulon Hardman is the remarkable young faculty member just awarded this chair, and he agrees. "Most programs don't realize that important research takes time," he says. "I'm so appreciative of this opportunity."
The Work of Opportunity
Osborn's late husband Ronald Poelman was not a scientist himself but certainly shared this belief, living it from a very young age. Every morning of his high school career, Poelman got up at 3am to work a four-hour shift at a bakery before class. It was the Great Depression, and he was the eldest son of Hendrik and Ella Poelman, poor European immigrants determined to give their six children opportunities they never had themselves, especially college. Knowing that education was the key, Hendrik and Ella had moved to just inside the district boundary to make sure their children could attend the well-regarded public East High School. The only house they could afford was so small that Ron and his brothers had to sleep outside on a screened porch, year-round.
"He used to say 'it was adventuresome in the summertime, and character-building in the wintertime,'" laughs Osborn, Poelman's wife of 29 years. "Ron never stopped working. He ended up graduating valedictorian of his class and going on to college and law school at the U." It was the fulfillment of the opportunity his parents had worked so hard to provide, and both Poelman and Osborn (who also attended public schools in Indiana before going to Stanford for her undergraduate and medical degrees) became generous philanthropists and lifelong advocates for public education.
By the time Poelman passed away in 2011, they had extended their support throughout the University of Utah, from the Colleges of Fine Arts and Humanities to the School of Medicine. Osborn and Poelman were lead organizers of three endowed chairs in Osborn's own Department of Radiology, including one chair eventually awarded to Anne herself: the William H. and Patricia W. Child Presidential Endowed Chair Honoring Pioneering Utah Women in Medicine. The pair also spent many years building up an Endowed Professorship in the Department of English and named it after Ron's parents Hendrik and Ella, the first ones to show him just how powerful an education could be.

Ron Poelman and Anne Osborn, MD., photo by Mike Huckman, 2010.
A Personal Gift of Time
In 2014, Osborn endowed a fourth chair in her home Department of Radiology, and for the first time, it carried Ron and Anne's own names: the Anne G. Osborn and Ronald E. Poelman Chair for Young Clinician Investigators in Radiology. Not only was it a lasting memorial to Ron, it reflected an understanding of the challenges faced by young physician-scientists in the early stages of their career, a stage she remembers well.
"There's just no time in clinical medicine," she says. "You have to be in clinic, in the reading room, in the operating room, every minute. If you can have another half or full day at a time when you're working on major projects that can define your career, it makes such a huge difference."
In Osborn's case, a generous donor made a gift to the department that provided her some time to work on writing a neuroradiology reference text. For over a year, she woke up at 2am and wrote for four hours before going into work at the hospital. That book turned into Diagnostic Neuroradiology - or, as it is known to radiologists all over the world, "The Red Book", one of the most influential and bestselling imaging textbooks of all time. Osborn donated her royalties back to the department to set up more chairs that could support her colleagues. "It was a great privilege, to have that time," she said. "It was important to me to give back."
The Inaugural Chairholder: Dr. Rulon Hardman
After two years, the Anne G. Osborn and Ronald E. Poelman Chair for Young Clinician Investigators in Radiology finally found its inaugural holder – Dr. Rulon Hardman. He is a specialist in the exploding field of Interventional Radiology (IR), the art of minimally invasive, image-guided procedures ranging from biopsies to implants to precisely targeted therapy. Hardman had studied biomedical engineering as a University of Utah undergraduate before attending medical school, and he was quickly drawn to IR because of its focus on patient care, its fast pace, and its demand for creative problem-solving. An interest in research followed immediately as he noted how slowly the innovations of interventional radiologists were recognized, despite providing valuable solutions to major surgical problems. The obstacle, he concluded, was a lack of research: interventional radiologists were not scientifically testing these ideas themselves. "Research is the only way to prove to the community that our creative solutions actually work," Hardman says.
Choosing the Harder Path
For his residency, Hardman chose the prestigious but challenging Holman Research Pathway at the University of Texas in San Antonio, a combined residency/PhD curriculum designed by the American Board of Radiology for only "the most exceptional trainees." Hardman remembers it as an incredibly tough period, as he balanced a full clinical load with learning scientific study design and intensive federal grant protocols. "You definitely feel like you're juggling all the time," he laughs. He persevered, driven by a passionate belief that his specialty could solve some of medicine's most persistent problems.
Hardman came to the University of Utah as a full faculty member in 2014, and quickly established himself as an exceptional physician and collaborator – an important quality in a specialty that demands creative problem-solving. He has a particular interest in the challenge of diagnosing prostate cancer, which traditional biopsies have a lot of trouble detecting. He's become a leading provider of new solutions like MRI-guided prostate biopsies, attracting patients from all over the country. And with the gift of time that the Anne G. Osborn and Ronald E. Poelman Chair will provide, Hardman will be able to pursue many of the new ideas, techniques and treatments that have emerged from his growing experience with patients. "You have to see research as part of being a good clinician," he says.
Elevating Others
In addition to advancing his own projects, Hardman hopes to eventually establish a more lasting framework for research in his interventional radiology group. He describes ideas for building a culture that encourages science, for being a mentor who helps trainees develop their own research ideas and design studies. In other words, he hopes to become kind of scientific role model he wishes he'd had himself, back as a resident in Texas. "It goes beyond one person," says Hardman. "We'll be trying to elevate everyone to reach their research goals."
It's an ambitious generosity of spirit that resonates with Anne Osborn, and that Ron Poelman would certainly have appreciated too. "I hope his career will bloom and flourish," Osborn says. "I'm so pleased with the selection."