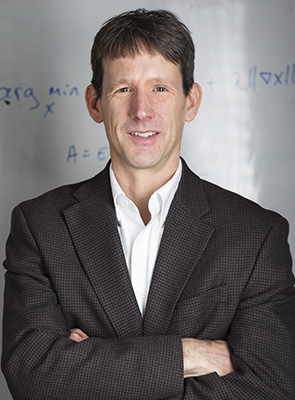 By Ed DiBella
Utah has a long history of significant contributions to the MRI field, and new work is highlighted each year at the The International Society for Magnetic Resonance in Medicine (ISMRM) conference. The ISMRM is the premier conference for researchers in the field of magnetic resonance, with over 6000 attendees. The 25th annual ISMRM Meeting and Exhibition was held April 22-27, 2017 in Honolulu, Hawaii, and the University of Utah Department of Radiology and Imaging Sciences made a strong showing. Notably, we had 36 presentations, including an invited educational talk, 5 oral presentations, and a power pitch talk (top 3% of abstracts).
One of the highlights was the Utah dinner that we held at a Japanese-Hawaiian restaurant. Over 35 current faculty/students and alumni from Utah joined for this multi-course feast. It was a pleasure to catch up with alumni and socialize with all of these colleagues.
Next year, the conference will be held in Paris - if you're an alumnus and plan to attend, we'd love to connect with you. Drop me a line to make sure you get an invite to next year's dinner.
Pictures of the dinner: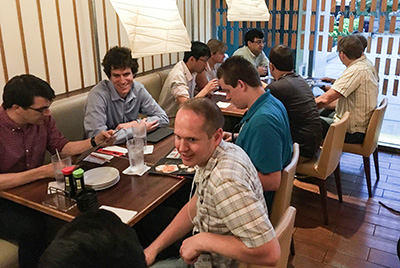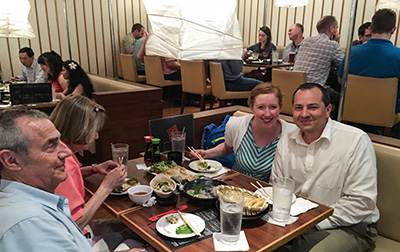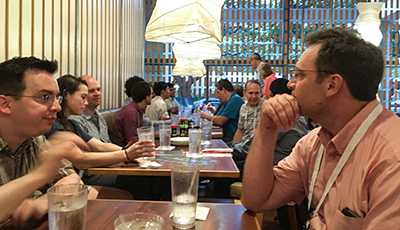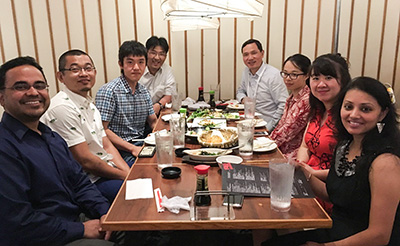 List of Utah Presentations (First Author Listed) at ISMRM 2017
Monday, April 24, 2017 (10 Abstracts)
5947 - Traditional Poster - 900 Acquisition, Reconstruction & Analysis (8:15-10:15)
19F imaging with physiologic motion using UTE sequence with randomized spokes ordering
Bijaya Thapa
2733 - Electronic Poster - 200 Cardiovascular (9:15-10:15)
Ungated free-breathing late gadolinium enhancement imaging with a radial simultaneous multi-slice acquisition
Ganesh Adlurlu
#3808 - Electronic Poster - 300 Body: Breast, Chest, Abdomen, Pelvis (9:15-10:15)
MR renography shows that serum-clearance methods overestimate GFR in patients with ascites
Chris Conlin
#3899 - Electronic Poster #3808 - 300 Body: Breast, Chest, Abdomen, Pelvis (9:15-10:15)
Optimization of inversion-time sampling for precise estimation of renal perfusion with ASL
Chris Conlin
#5030 - Electronic Poster - 200 Cardiovascular (9:15-10:15)
-pass myocardial perfusion and T1 mapping results perfusion and T1 mapping results
Devavrat Likhite
#2076 - Electronic Poster - 200 Cardiovascular (9:15-10:15)
Optimized 2D radial CAIPIRINHA for cardiac perfusion
Ye Tian
#6923 - Electronic Poster - 200 Cardiovascular (9:15-10:15)
Quantitative 3D myocardial perfusion at systole and diastole with a dual echo arterial input function
Jason Mendes
#7582 - Electronic Poster - 300 Body: Breast, Chest, Abdomen, Pelvis (9:15-10:15)
Full 3D high-resolution BOLD imaging of the human placenta with prospective navigation and 2D spatially selective excitation
Glen Morrell
#2728 - Oral - 100 Neuro (16:15-18:15)
Estimation of microstructure measures in stroke subjects with a rapid DSI acquisition
Ganesh Adluru
#7267 - Oral - 100 Neuro (16:15-18:15)
Determinants of Symptomatic Intracranial Atherosclerotic Plaque Enhancement on 3D DANTE T1-SPACE
Vessel Wall MRI and Relationship to Recurrent Stroke or TIA
Adam de Havenon
Tuesday, April 25, 2017 (7 Abstracts)
#7262 - Electronic Poster - 900 Acquisition, Reconstruction & Analysis (8:15-9:15)
Development of 3D UTE reconstruction software using Python Language
Eun-Kee Jeong
#5324 - Traditional Poster - 1000 Diffusion (13:45-15:45)
Signal behavior of Ultra-High-b radial DWI (UHb-rDWI) signal in diferent tract of the cervical spinal cord
Bijaya Thapa
#4136 - Traditional Poster - 1000 Diffusion (13:45-15:45)
A Study on Total-Variation Regularization for Model-Based Reconstruction in DTI
Kazem Hashemizadeh
#2732 - Power Pitch - 200 Cardiovascular (16:15-17:15)
Ungated myocardial perfusion imaging with complete left ventricular coverage using radial simultaneous multislice imaging
Ganesh Adlurlu
#3090 - Electronic Poster - 600 MR Spectroscopy (17:15-18:15)
Improvement in 31P CSI voxel tissue segmentation
Xian-Feng Shi
#4749 - Electronic Poster - 600 MR Spectroscopy (17:15-18:15)
Decreased tNAA concentration in female college basketball players with mild depression/anxiety symptoms
Xian-Feng Shi
#2732 - Electronic Power Pitch Poster - 200 Cardiovascular (18:15-19:15)
Ungated myocardial perfusion imaging with complete left ventricular coverage using radial simultaneous multislice imaging
Ganesh Adlurlu
Wednesday, April 26, 2017 (12 Abstracts)
#5457 - Electronic Poster - 100 Neuro (8:15-9:15)
Correlation of microstructure differences in diffusion MRI scans with Fugl-Meyer assessment scores in stroke subjects
Kyler Hodgson
#3254 - Oral - 1200 Interventional MRI (8:15-10:15)
Dependence of T2* Relaxation Time of Cardiac Cryo and RF Lesions on Time after ablation: A New Approach to Non-contrast MRI of Cardiac Ablation Lessions
Eugene Kholmovski
#5115 - Electronic Poster - 100 Neuro (9:15-10:15)
A time efficient, high resolution 3D vessel wall MRI (vwMRI) of the head and neck vessels in a single scan
Seong-Eun Kim
#7370 - Electronic Poster - 100 Neuro (9:15-10:15)
High resolution volumetric 3D-SoS MPRAGE detection of carotid intraplaque hemorrhage
Scott McNally
#913 - Traditional Poster - 100 Neuro (13:45-15:45)
Investigation on Optic Neuritis with DTI and Understanding Its Underlying Pathology using Monte Carlo Simulation
You Jung Lee
#5113 - Traditional Poster - 100 Neuro (13:45-15:45)
Ultra-High B Di usion Imaging of Cervical Spinal Cord in Multiple Sclerosis
You Jung Lee
#4850 - Electronic Poster - 300 Body: Breast, Chest, Abdomen, Pelvis (13:45-14:45)
Free breathing prospectively navigated renal BOLD for improved SNR and T2* accuracy
Glen Morrell
#3749 - Electronic Poster - 400 Musculoskeletal (16:15-17:15)
A quantitative relationship between R2* and deoxyhemoglobin levels in calf muscle
Kexin Hao
#3996 - Traditional Poster - 1200 Interventional MRI (16:15-18:15)
Dynamic anti-aliasing imge reconstruction for localized thermal therapies
Henrik Odeen
#783 - Traditional Poster - 1200 Interventional MRI (16:15-18:15)
Effects of ultrasound transducer ground plane configuration on SNR in MR guided focused ultrasound therapies
Emilee Minalga
#5213 - Traditional Poster - 1200 Interventional MRI (16:15-18:15)
Detection of temperature induced viscoelasticity changes using MR acoustic radiation force impulse imaging
Lorne Hofstetter
#7409 - Traditional Poster - 1300 Engineering (16:15-18:15)
Ladder and Overlapped Phased Array Coil Comparison for Neck Imaging at 3 Tesla
Michael Beck
Thursday, April 27, 2017 (6 Abstracts)
#6353 - Traditional Poster - 200 Cardiovascular (8:15-10:15)
Multi echo sliding interleaved projection reconstruction (SLIPR) of the carotid artery
Jason Mendes
#4964 - Traditional Poster - 200 Cardiovascular (8:15-10:15)
Motion Insensitive 3D Multiple Echo Inversion Recovery Stack of Star(ME IR SOS) technique for measurement
of T2* in Intraplaque Hemorrhage(IPH)
Seong-Eun Kim
#3929 - Oral - 1200 Interventional MRI (13:00-15:00)
Image-registered whole mount histology technique for validation of MRgFUS therapies
Allison Payne
#3994 - Oral - 1200 Interventional MRI (13:00-15:00)
Efficiency improvement in multi-point MR acoustic radiation force impulse imaging
Henrik Odeen
#7474 - Electronic Poster - 1200 Interventional MRI (13:00-14:00)
Using MR Thermometry to Assess In Vivo Targeting Accuracy of a MR-guided Focused Ultrasound Device (MRgFUS) Equipped with Tracker Coils
Sara Johnson
#1082 - Electronic Poster - 1200 Interventional MRI (13:00-14:00)
In Vivo Evaluation of a Multi-echo Pseudo-Golden Angle Stack of Stars Thermometry Method
Bryant Svedin