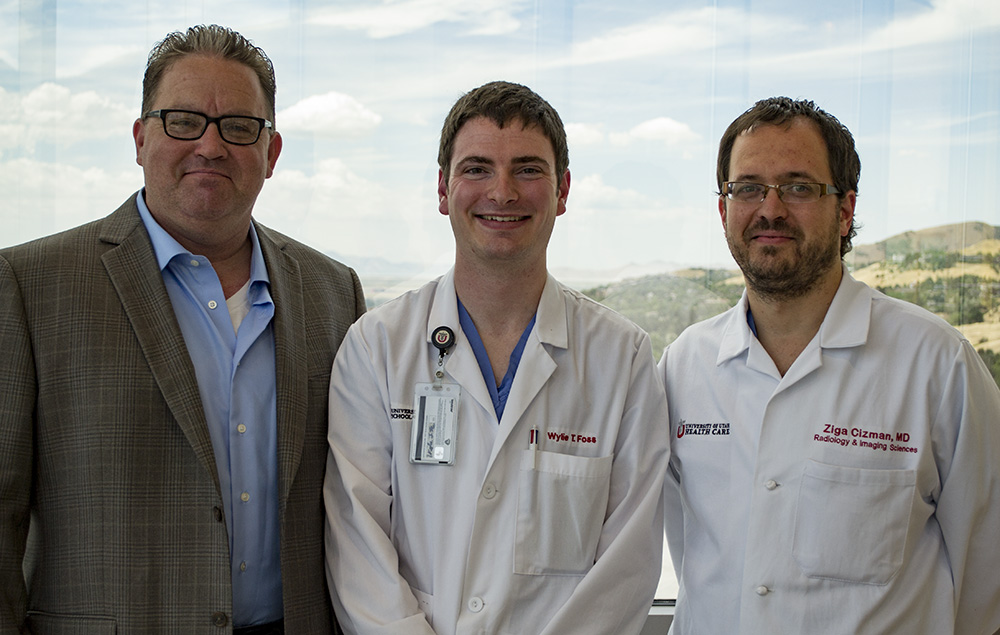 Left-to-right: Mark Houskeeper from Perseon Corporation, Wylie Foss, the inaugural Perseon Scholar, and Ziga Cizman, MD, interventional radiology faculty and immersion program director.
By Kirsten Mallik
Before he started a four-week immersion with University of Utah Health's Interventional Radiology team, 4th year medical student Wylie Foss didn't have the clearest notion of what the specialty was. He had completed two years of tough medical coursework, and rotated through the standard third-year disciplines: neurology, family medicine, pediatrics, surgery, and more – but interventional radiology (IR) "was always this mythical entity," as he describes it. "When physicians couldn't do anything else for a patient, they'd just say, 'let's call IR and see what they can do.' They were always the last best hope for our toughest patients."
However, with a background in materials science research, engineering, and a love for complicated problems, other mentors had long suggested he might be a strong fit for this growing field. So when the opportunity rose to spend a month embedded in Utah's busiest IR team, he jumped on it.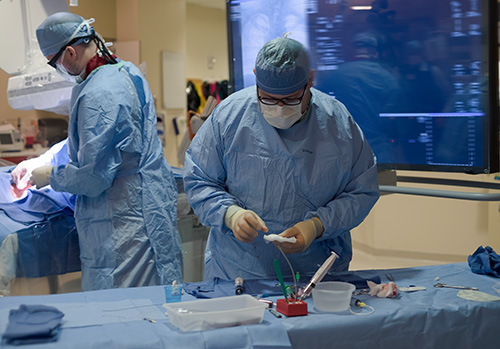 A busy interventional radiology team at the University of Utah.
It was a challenging four weeks.  There were dozens of technical terms and techniques to master, 6-hour procedures, and long weekends on call. Simple cases took sudden left turns, requiring an entire medical team to improvise in lock step. It is a lot for anyone to absorb, as interventional radiology covers a wide range of image-guided procedures: ranging from MRI-guided biopsies to non-invasive treatments for patients too weak to withstand more conventional surgery. IR physicians treat nearly every part of the human body, working closely with diagnostic and surgical teams across the entire hospital. Patient cases are intricate and unpredictable, requiring an entrepreneurial creativity than can run contrary to the rigid protocols defining so many other specialties. And Wylie was right in the middle of it all.
After a month, what did Wylie think? "It blew me away. It absolutely cemented for me that this is what I want to do with my life."
"That's all we could ever want to hear!" laughs Mark Houskeeper, a representative from the scholarship's sponsor, Perseon Corporation. As the manufacturers of standard microwave ablation devices, Houskeeper and other Perseon representatives spend a lot of time in IR suites, providing technical support and refining their technology as physicians come up with new needs and challenges.  Like physicians, they see firsthand how quickly the practice of interventional radiology evolves, and know how hard it is for medical school curriculums to keep up.  When the University of Utah Health IR faculty presented the idea of a summer immersion experience for motivated medical students, Perseon enthusiastically agreed to underwrite a scholarship for it.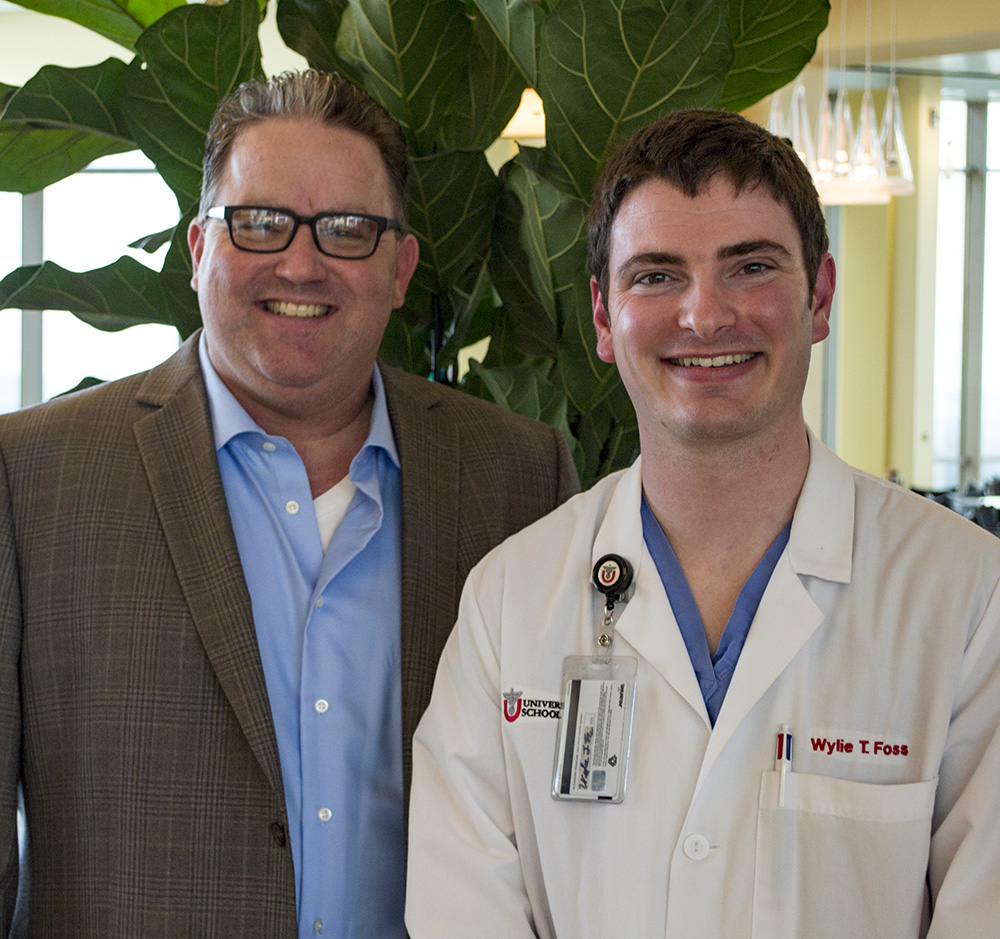 Mark Houskeeper (Perseon) and Wylie Foss.
This support allows the University of Utah to invite medical students from all over the country to apply to be a Perseon Scholar, without concern for their ability to afford travel, supplies, and housing. 
"Interventional Radiology is a field that truly pushes the envelope of patient care," says David Chen, CEO of Perseon Corporation. "Of course we want the very best and brightest medical students to choose it. This immersion experience provides totally unique exposure to this specialty we care so much about, and we are proud to sponsor it here at the University of Utah."
After this pilot summer, our IR faculty will consider how to best expand the Perseon Scholar program, perhaps making the immersion longer or having more than one scholar at a time. One thing they have learned is that there is no need to hold back. "Wylie did exceptionally well," says Dr. Ziga Cizman, program director. "Everyone took him under their wing. In a very short time, he became a true member of the team."
As for Wylie Foss himself, he will return to his final year of medical school with a very clear idea of his next steps, and a new passion for IR. "This may sound unexpected, but you can feel pretty vulnerable as a medical student," he admits. "You have to make so many major decisions about your future without ever really feeling prepared to make them. I'm so grateful – and actually humbled - that Perseon and the U have decided to invest in me, help me figure out how I can have the most impact, and what I want to be."