By Michael Mozdy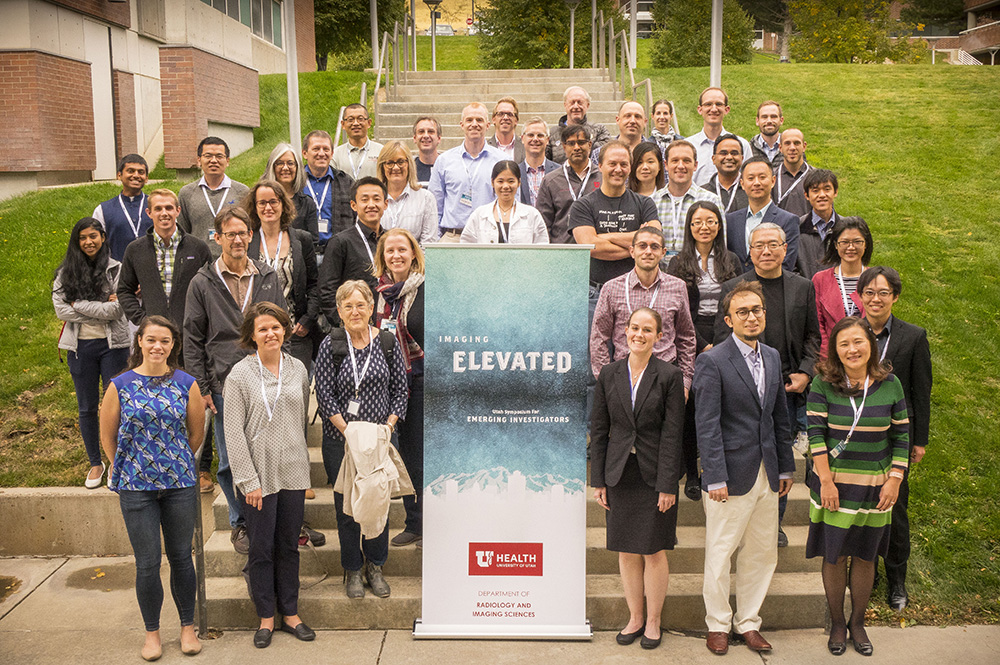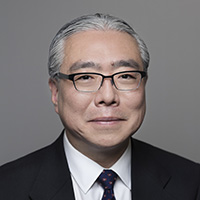 Satoshi Minoshima, MD, PhD
On a crisp day at the tail end of September, the Department of Radiology and Imaging Sciences hosted fourteen excellent young researchers from across the country. After an early breakfast, the director of the Utah Center for Advanced Imaging Research (UCAIR), Ed DiBella, PhD, introduced the audience of 50 to the Radiology and Imaging Sciences Chairman, Satoshi Minoshima, MD, PhD. Minoshima welcomed the invited presenters to the symposium and wove a story of the history of radiology research – a relatively young field of medicine. He demonstrated how the field has experienced periodic moments of innovation every 20-30 years when the field jumps forward in technology and techniques. "We're due for another period of non-linear advancement, much like how CT and MRI were developed initially," declared Minoshima. "You are the generation of researchers," he continued, "who can usher in this exciting time and direct the future of our field."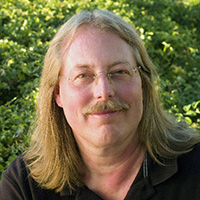 Chris Johnson, PhD
Minoshima then introduced guest keynote speaker, Chris Johnson, PhD, the founding director of the Scientific Computing and Imaging (SCI) Institute at the University of Utah. Johnson proceeded to astonish the audience with example after example of how SCI programmers and faculty have accomplished amazing visualizations of complex data sets, collaborated with researchers around the world, and provided free, open-source visualization software to all. His presentation detailed a number of radiology and medicine-related projects and served as an inspiration to the audience and presenters.
What followed was a rapid-fire day of 20-minute presentations that spanned a range of imaging modalities (PET, MRI, CT, etc.), diseases, techniques, and solutions to challenging issues. Unlike most meetings that tend to focus on just one field (e.g., MRI techniques), the presenters found themselves wading through sometimes unfamiliar territory when listening to each other. All fourteen of them delivered engaging and knowledge-packed presentations.
The result of the cross-pollination: presenters and audience alike were pleasantly surprised by the connections and common threads they found.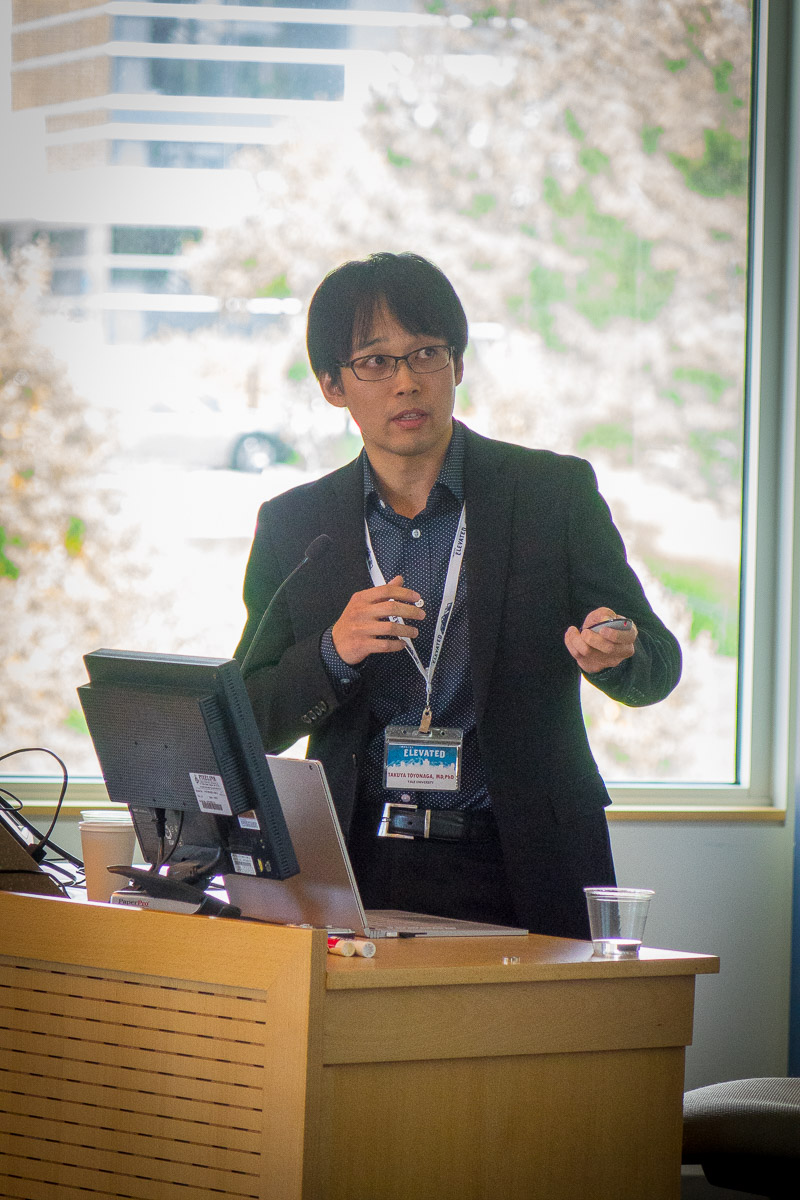 "It's so great to hear the mixture of talks from different areas of research," exclaimed Grace Gang, PhD, who came to present from Johns Hopkins University.
Everyone agreed. As he started his talk at the podium in the afternoon, Steve Humphries, PhD, from National Jewish Health in Denver stated, "It seems like we can essentially fill in the blank with any of our modalities and we're all finding solutions to the same or similar challenges."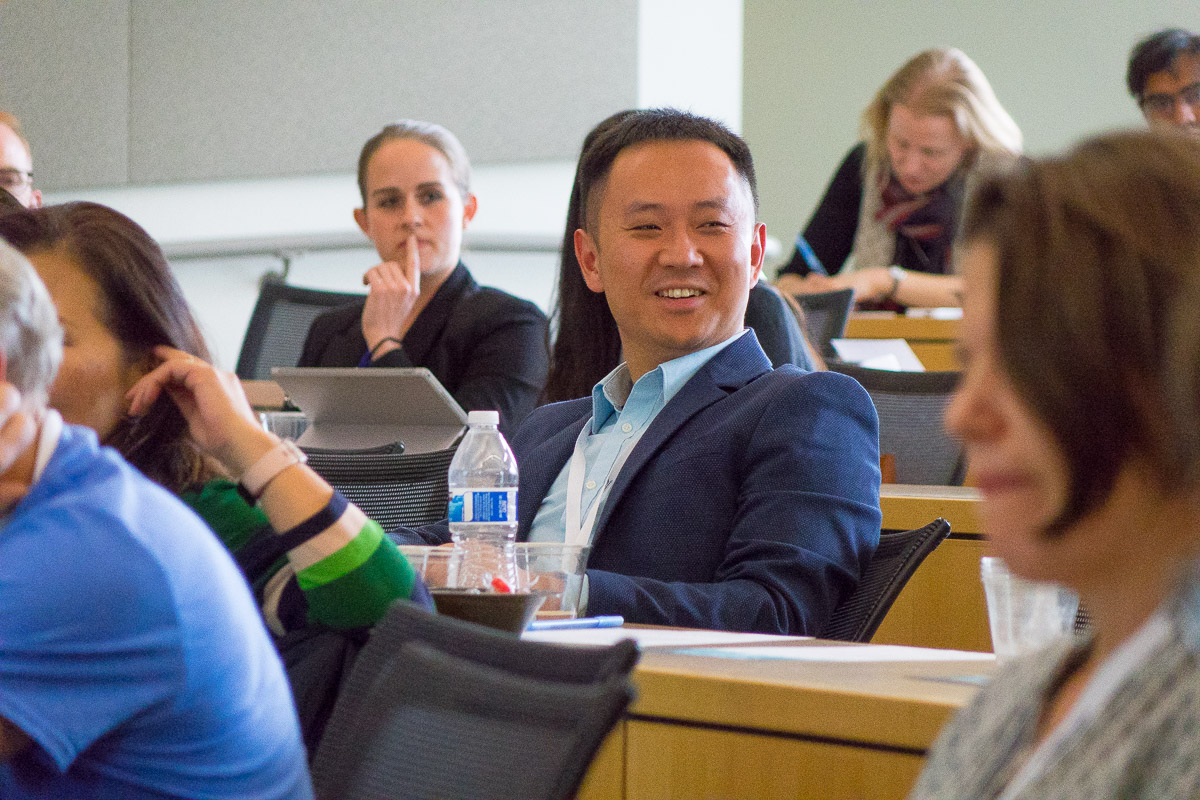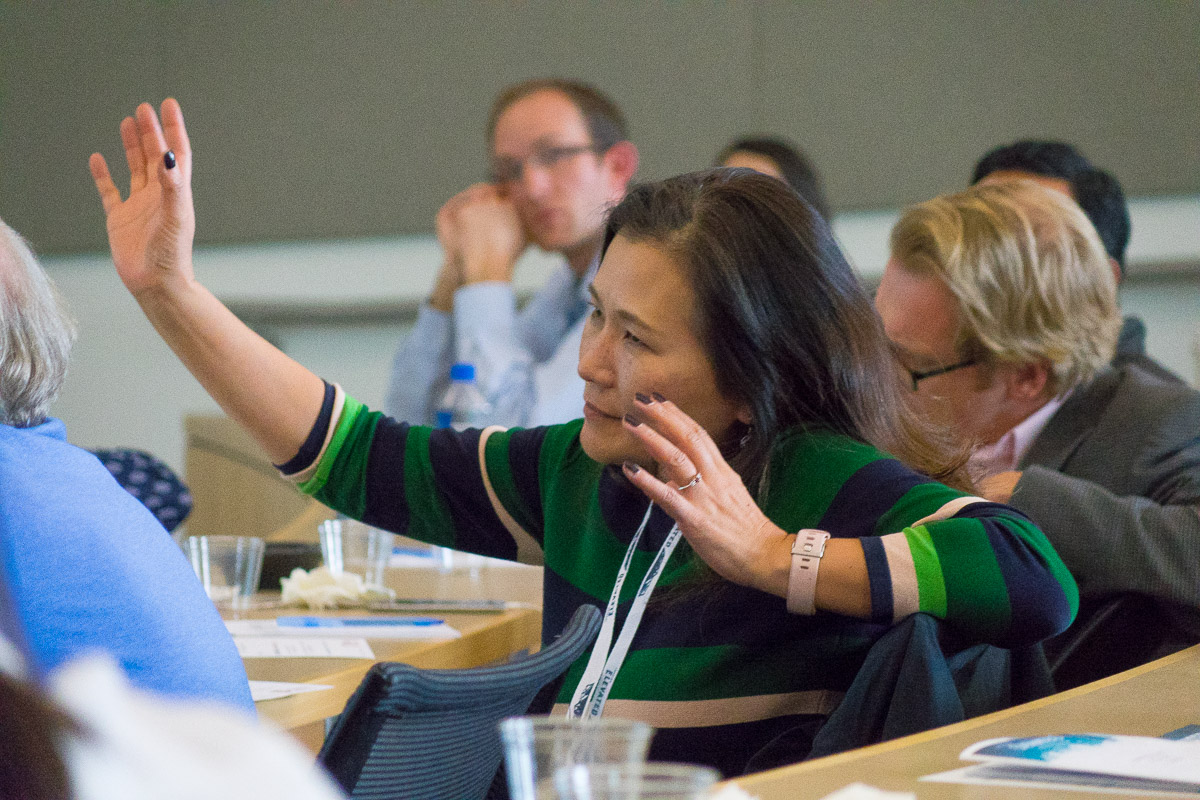 At the end of the day, Radiology and Imaging Sciences Assistant Professor Jeff Zhang, PhD, conducted an idea-gathering session with everyone present. The power of having great ideas back-to-back was evident as they identified a number of trends, ideas, and problems needing solutions, including:
Using quantitative imaging biomarkers to define disease
Using machine learning and artificial intelligence to improve image quality and solve other nonlinear mathematical challenges with image reconstruction
Incorporating motion correction into clinical applications of all imaging modalities
Increasing the speed of scans and lessening scan time to make scans more affordable and comfortable for patients
Combining the varied and powerful data we collect in new, meaningful ways – new visualizations and metrics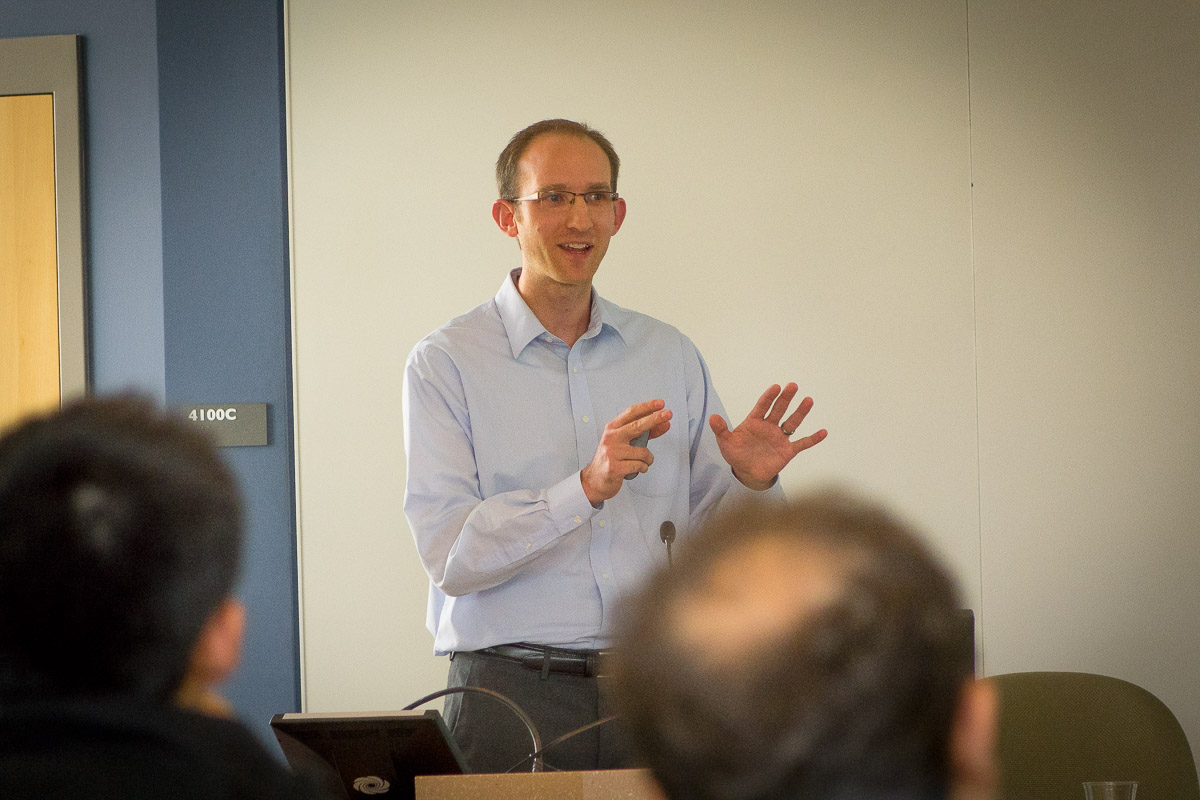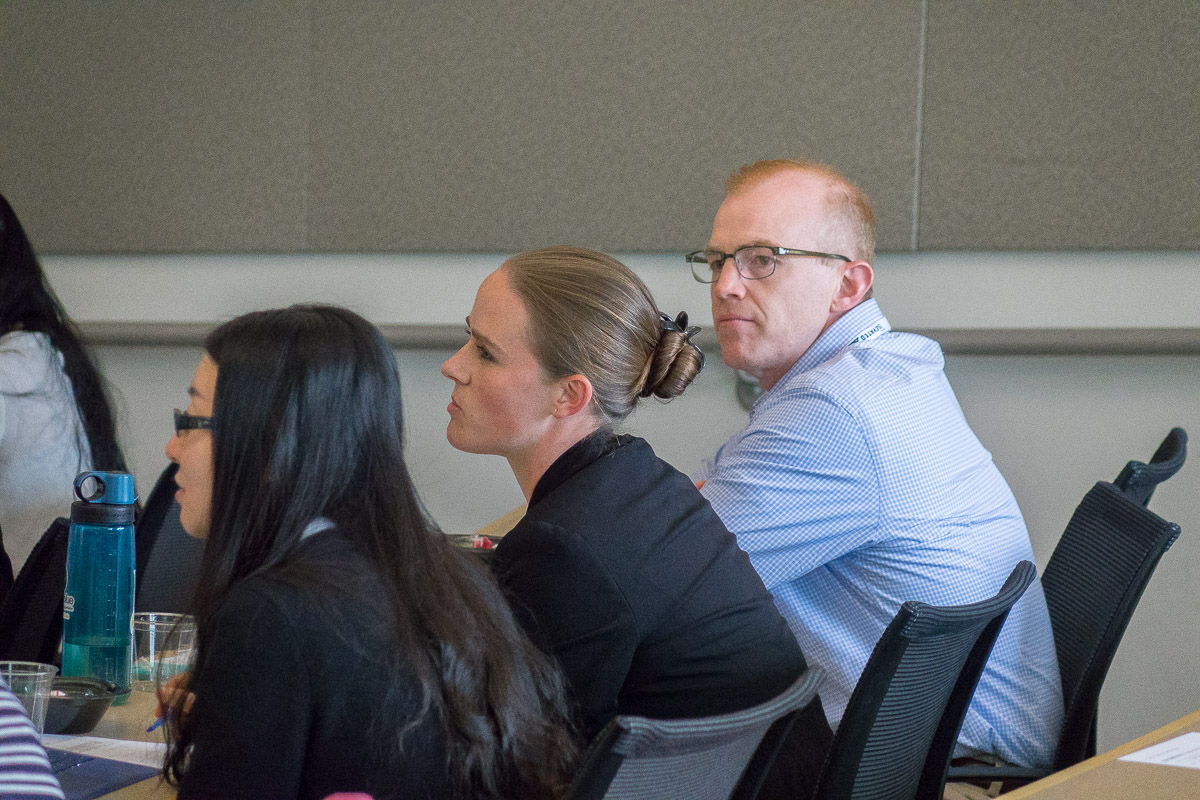 The presenters arrived in Salt Lake on Thursday, September 28th, and starting the next morning, they were immersed in all that Utah has to offer. They toured UCAIR and the hospital, meeting with diverse faculty and discussing ongoing projects. After lunch at the Point restaurant at the Huntsman Cancer Institute, they headed to Park City where they enjoyed a guided tour of the Olympic Park and a jaunt in downtown Park City on a picture-perfect autumn day. They finished their first day with Radiology faculty dinner groups, grouped by research interests, at three of Salt Lake's best restaurants. This first day of the symposium experience was designed to demonstrate the breadth of science, culture, and natural beauty that exists here in Utah.
Zhang, the chair of the Imaging Elevated planning committee, was thrilled with how well the symposium went. "From start to finish, the participants were engaged in meaningful activities," he relates. "Both our faculty and the invited speakers have told me how valuable this gathering of minds has been."
Minoshima puts a finer point on it: "Utah's culture is innovation and entrepreneurship. Utah is the perfect place for this type of open exchange of ideas that stimulates collaboration and progress in scientific endeavors," he asserts. "That is our goal – to create a forum for the best new investigators to come together and share ideas alongside our faculty in order to move forward the field."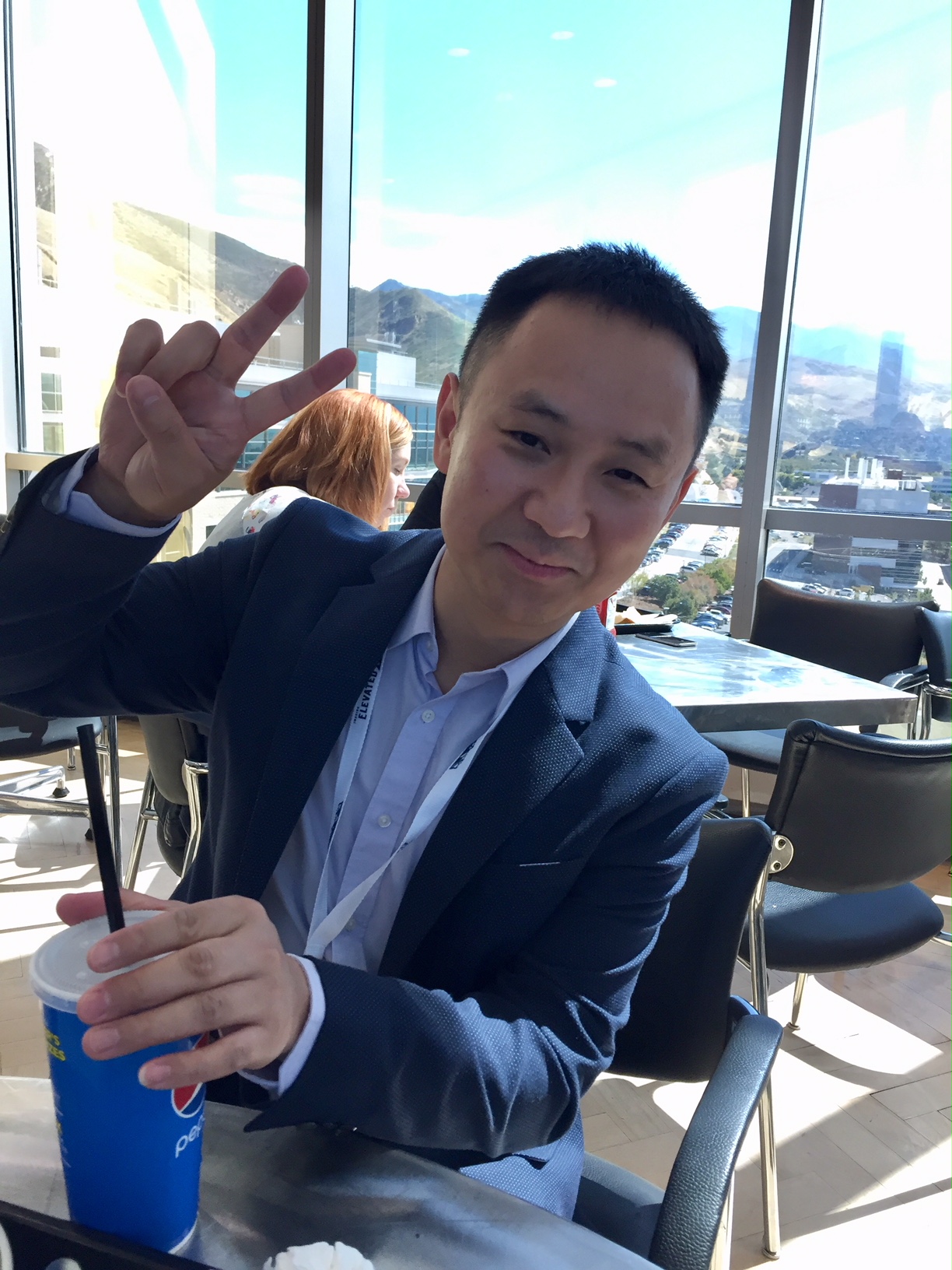 Along with Cardinal Health, one of the founding sponsors of Imaging Elevated was Philips Health Care, and the Director of their Clinical Research Board, Matthew Rielly, PhD, attended the Saturday symposium. "It was inspiring to hear how these rising star researchers are embracing the most recent technologies and innovations," said Rielly. "The Imaging Elevated symposium provides a unique opportunity to share deep insights and make connections with institutions and leading scientists across the US to advance imaging technology and achieve a more confident diagnosis."
Minoshima and Zhang plan to continue Imaging Elevated annually, and faculty throughout the department of Radiology and Imaging Sciences are already brainstorming candidates for next year's crop of presenters.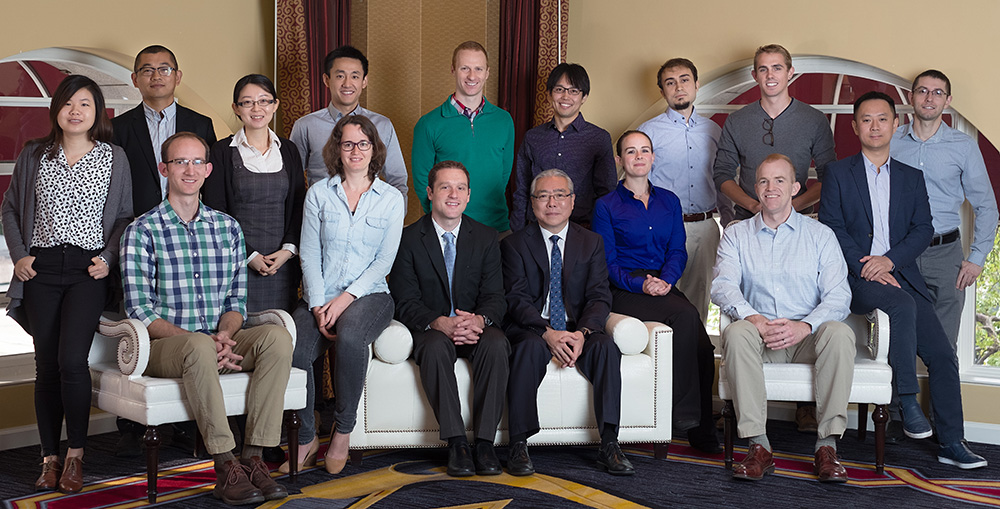 Symposium presenters: (standing, left-to-right) Zhengwei "Jenny" Zhou (Cedars Sinai), Lei "Jeff" Zhang, PhD (University of Utah), Grace Gang, PhD (Johns Hopkins), Yihuan Lu, PhD (Yale), Feliks Kogan, PhD (Stanford), Takuya Toyonaga, MD, PhD (Yale), Berkin Bilgic, PhD (Harvard), John Hoffman (UCLA), Jesse Hamilton (Case Western Reserve); (seated, left-to-right) Jared Nielsen, PhD (Harvard), Stefanie Hectors, PhD (Mount Sinai), Benjamin Larimer, PhD (Harvard), Satoshi Minoshima, MD, PhD (University of Utah), Megan Stewart (University of Michigan), Steve Humphries, PhD (National Jewish Health), Li Feng, PhD (NYU).
Below is a quick look at the 2017 presenters and their topics. Visit the Imaging Elevated website for more information about the symposium.
Feliks Kogan, PhD, from Stanford University discussed using brand-new PET/MRI technology to examine osteoarthritis, where his group has demonstrated interactions between cartilage and bone on a molecular level.
John Hoffman from UCLA described a new "pipeline" of automated image analysis that can be performed on large batches of data with just a few pushes of a button, saving an incredible amount of repetitive task-hours.
Jesse Hamilton from Case Western Reserve University described a new fast, quantitative MRI technique called MR Fingerprinting where they are identifying quantitative differentiators on T1 and T2 maps not evident on normal scans. This is an example of new biomarkers that are being used to diagnose and characterize disease.
Yihuan Lu, PhD, from Yale University explained his new non-rigid motion correction model that maps how every voxel moves over time in PET scans, independent of one another, resulting in dramatically improved image quality.
Grace Gang, PhD, from Johns Hopkins University described her task-driven image quality improvement analytical model that seeks to quantify image quality and allow researchers to adjust system design and optimization based on the imaging task, anatomy being scanned, equipment, etc.
Berkin Bilgic, PhD, from Harvard University described a number of cutting-edge MRI techniques in order to make MRI faster, more accurate, and less noisy, including 3D acquisition, acquiring and reconstructing images at the same time, 3D MR Fingerprinting, and using machine learning for intractable problems like motion and noise.
Li Feng, PhD, from NYU explained a new paradigm for MRI where clinicians can perform a rapid, continuous, and comprehensive scan using golden-angle sampling and then reconstruct for whatever image they want after the data has been gathered.
Zhengwei "Jenny" Zhou from Cedars-Sinai Medical Center discussed her research in using machine learning to speed up the scan and reconstruction time of an MRI scan that measures pH called Chemical Exchange Saturation Transfer (CEST). She is looking to combine this technique with MR Fingerprinting to provide new quantitative data sets to characterize disease.
Megan Stewart from the University of Michigan described a faster, less hazardous "green" radiochemistry approach to creating radiotracers for PET studies.
Benjamin Larimer, PhD, from Massachussets General Hospital/Harvard explained how he has developed a PET imaging agent for monitoring the effectiveness of immunotherapy treatments by tracking the presence of Granzyme B, which is positively correlated with T-cell response in treated tumors. Other imaging approaches do not distinguish positive or negative response simply by examining the physiology of the tumor, so this molecular approach is the first to be able to track tumor response at a molecular level.
Stefanie Hectors, PhD, from Mount Sinai Health System described how multiparametric MRI combined with genomics may provide better diagnosis and characterization of cancers.
Steve Humphries, PhD, from National Jewish Health discussed his efforts to quantify pulmonary fibrosis – he has shown a correlation between machine-learned quantification screen of CT scans and actual disease progression as measured by standard tests.
Jared Nielsen, PhD, from Harvard University presented his efforts to create personalized medicine by gathering in-depth longitudinal data on fewer patients rather than moment-in-time data on many patients. He is looking to combine genetic data that is known to affect brain morphology with other activity like movement, diet, sleeping patterns, mood, voice recordings, and more to get a fuller picture of people with autism spectrum disorder.
Takuya Toyonaga, MD, PhD, discussed a new PET radiotracer for Alzheimer's Disease, this tracer is a new marker of synaptic density and may be more useful to clinicians because changes in synaptic density are most closely related to the moment in time when Alzheimer's Disease impacts daily life.