By Michael Mozdy
Patients take for granted that the scan their doctor orders is done seamlessly and perfectly every time. But not every radiologic scan is routine, and accomplishing them requires some very specialized knowledge. Scans like CT, MRI, nuclear medicine, and fetal ultrasound need an advanced radiologic technologist to perform them.
At the same time, we are committed to providing an exceptional patient experience with every encounter, so we seek out not only knowledgeable, but personable and caring radiologic technologists. Filling the 216 technologist jobs in our system with quality personnel becomes a challenge.
"At one point, we were paying for traveling temp technologists to come in," explains MRI Manager Nicole Cottam, "some would stay for 6 weeks, some for 6 months. They weren't always the best fit, and inevitably they would leave once we had them trained."
That's why, 15 years ago, we began our own post-primary radiologic technologist training program.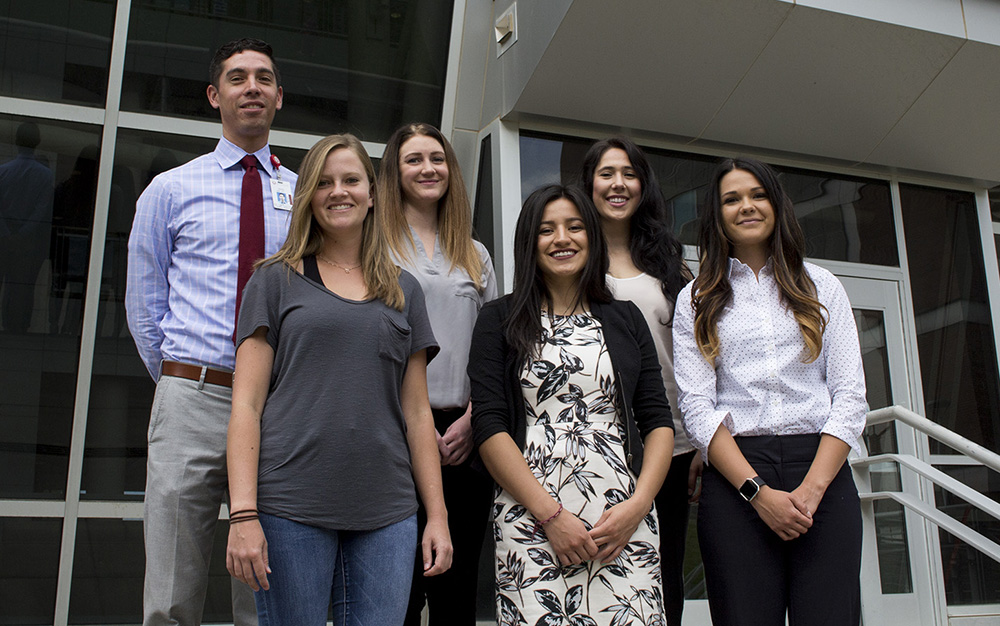 Otto Casal, Education Director for the Radiologic Technologist Training Program with a cohort of students in June 2017.
The Rise of Advanced Technology and a Technologist Shortage
Students most often begin with an Associate's degree program that prepares them in x-ray technology. The next step is to pass the American Registry of Radiologic Technologist's certification exam. Many jobs exist for technologists with this level of training. Those wanting to work in CT, MRI, or nuclear medicine, however, need an advanced certification (called "post-primary") in their specialization of choice.
It's easy to forget how recently CT and MRI technology has entered into medicine – just the late 1970s. At this time, all technologists were trained for primary certification only. Indeed, our Radiology Department trained technologists at this time. When Marlene Johnson became the director of this program in the late 1980s, she converted it into the associates-degree granting program at Salt Lake Community College (SLCC) in order to offer students a degree in addition to their certification.
By the 1990s, CT and MRI images were getting dramatically better as the technology and science advanced. They became commonplace diagnostic tools in hospitals, and by the 2000s, clinicians couldn't imagine making accurate diagnoses without highly sophisticated exams on these machines.
So, by the early 2000s, there was a shortage of technologists who understood how to use specialized CT, MRI, and nuclear medicine equipment. The Chair of the Department of Radiology, Edward "Steve" Stevens, M.D., wanted to train radiologic technologists again, only this time in post-secondary certification in order to help meet the demand. 
Johnson was hired back from SLCC. She developed the existing programs for MRI and CT and made the small nuclear medicine program into a bachelor's degree program. "Within a year," she declares, "we could place all of our students into positions – our technologists and doctors were training them and they were ready to go."
Training in the Hands of Practicing Experts
Unlike online programs offered by other colleges, our training program is rooted in a mix of classroom training and hands-on experience alongside practicing technologists. Otto Casal, the current director of the program, stresses that the value of this model: students experience the practical application of the didactic classroom material and they can come back to the classroom to ask questions about what they experienced in the clinic.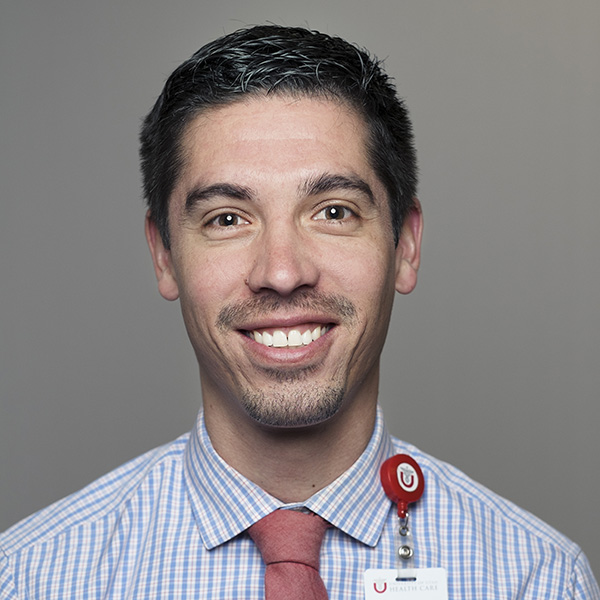 Otto Casal, Education Director for the Radiologic Technician Post-Primary Certification Program
The advantage for students is that they get to learn within a complex system that is in the top 10 in the nation for quality. "They learn scans that they wouldn't have the opportunity to see in really any other program," declares Casal. For instance, our neurology and orthopedic specialists use exams and positions that you won't find in a typical neuro clinic or urgent care clinic. Not many places in Utah will provide an MRI for people with a pacemaker, neural stimulators, or vagal stimulators, but we have very specific protocols for these people to keep them safe. We're a Trauma 1 center and a major brain attack institution with ongoing cutting-edge research, so our protocols are advanced and specific.
This clinical experience is so important that the classroom-to-clinic mix in the case of the CT program is 4 hours of classroom time to 24 hours of clinic time every week over six months. Students begin by shadowing a practicing certified technologist, but progress to performing scans alongside them. When the student can finally perform a scan independently and perfectly, the training technologist can "pass off" on that specific competency on the student's way to certification. Students must complete a minimum of 25 (out of a possible 59) procedures and record a total of 125 repetitions within those 25 procedures to be eligible for their board examination.
The classroom material prepares them for the exam, but more than that, it teaches important concepts about radiation and physics to keep patients and technologists safe. Topics include safety, MR and CT basics, quality assurance, understanding MRI sequences, MRI parameters and tradeoff, MRA (magnetic resonance angiography), CTA (computerized tomography angiography), and advanced imaging. As the only academic medical center between Denver and Sacramento, our system offers students unparalleled strength in instruction and classroom subject matter. 
Ulrich Rassner, MD, is a practicing neuroradiologist in our system with special interest in MRI physics and MRI safety. He has taught student technologists since the genesis of the program in the early 2000s. "An important emphasis for our physics education is that the students not only learn how to operate the scanner, but also how the images are generated, how to fine tune the scan parameters, and how to recognize and address image artifacts," he says. Rassner teaches the MRI and CT students alongside  experienced technologists, each bringing a slightly different perspective to the teaching.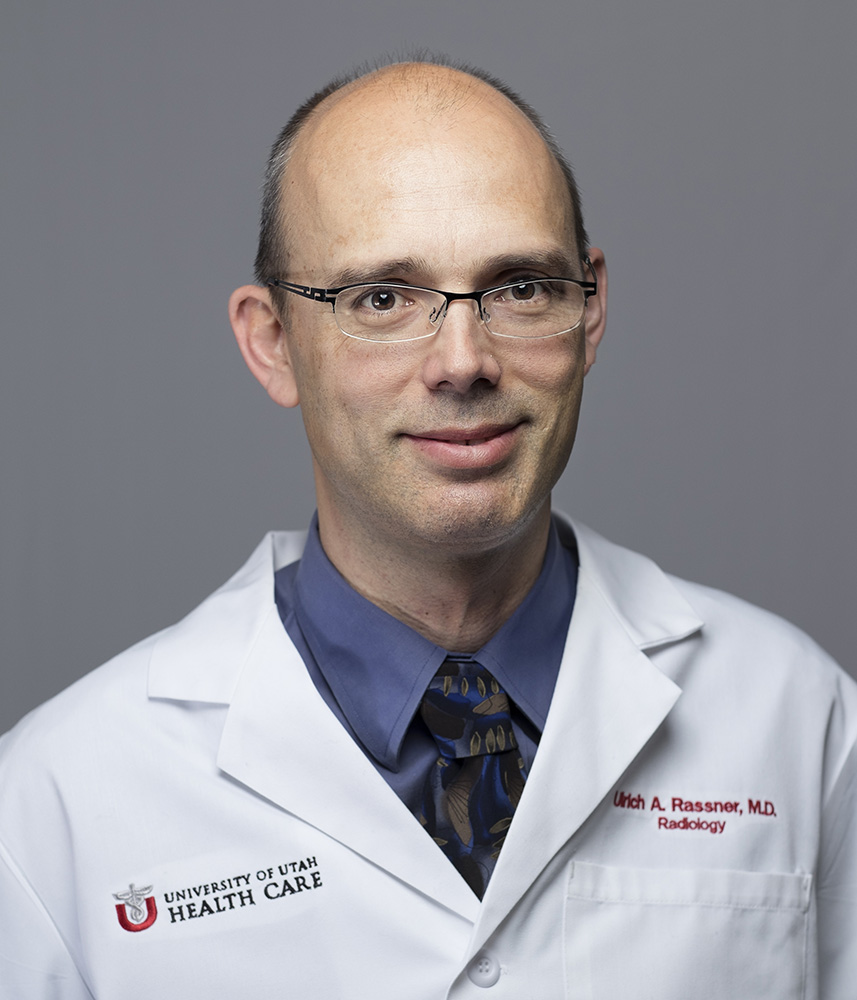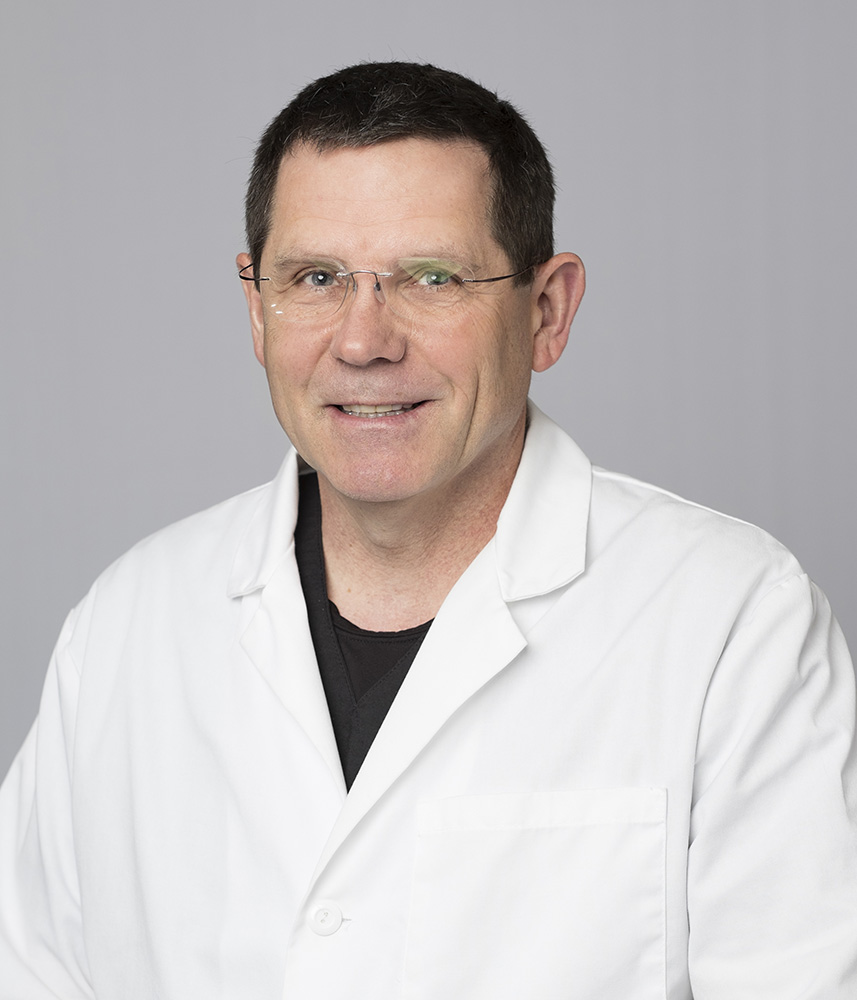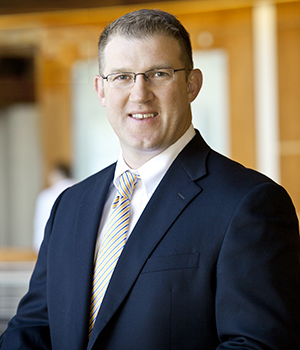 Instructors Ulrich Rassner, MD, Henry Buswell, and Pete Jenkins, PhD
Another key instructor is Henry Buswell, the MRI Research Manager for the Department of Radiology and Imaging Sciences. Buswell has 30 years of experience as an MRI radiologic technologist and manages all of the tricky, experimental work done by our researchers. This has given him a deep, almost preternatural understanding of how MRI machines work and what contributes to image quality. He passes this knowledge on to students, giving them insight into the more unique types of scans our system performs.
Buswell humbly points to yet another strong instructor: "Students have the opportunity to meet and be instructed by one of our research physicists. Rock Hadley, Ph.D., head of the Coil Lab, has the expertise in designing and building MRI RF (radiofrequency) coils that detect MRI signals. This rare experience allows the student to see firsthand the internal workings of the RF coil and how significant it is for MR images."
The nuclear medicine technologist training program is anchored by Pete Jenkins, PhD, faculty member of the Deparment of Radiology and the Diagnostic Medical Physicist for University of Utah Hosptials and Clinics. Jenkins is recognized by the State of Utah as a Qualified Expert who has the authority to inspect all radiographic equipment in our health care system and ensure that it complies with all regulations and is fit for use. Jenkins imparts his deep knowledge about systems and safety to nuclear medicine and CT technologist students.
In addition to other technologist instructors, Casal, himself a certified nuclear medicine technologist, instructs classes in ethics, legal considerations, instrumentation, and procedures.
As if hands-on experience in a top-notch clinical system and instruction from true experts wasn't enough, the final advantage for students is that cohort sizes are small, allowing for a very personalized experience. The CT and MRI programs each have five to six students per cohort and the nuclear medicine program is capped at five.
"We have so much to offer," emphasizes Casal, "and it's great to be able to expose students to as much as we can."
The Six-Month Interview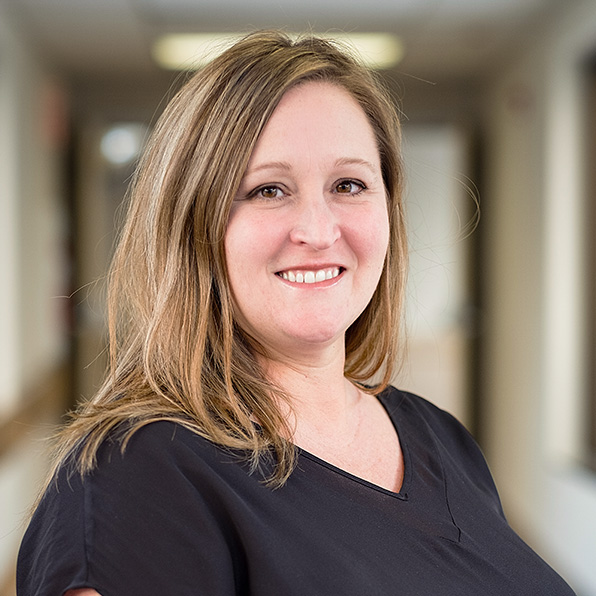 Nicole Cottam, MRI Manager for Univeristy of Utah Hospitals and Clinics
The training program has clear benefits for our system, too. "We get to have a six-month interview process," says Cottam. "We can evaluate their work ethic and how they handle pressure. It's also great because they get to know our protocols."
The job market for radiologic technologists continues to boom around the nation, and well-trained technologists with a post-primary certification are highly sought after. Graduates of our program have a 100% pass rate on the board certification in their specialty, so they're clearly receiving a great education. Out of this crop of qualified candidates, our CT, MRI, and nuclear medicine managers have the opportunity to recruit for any open positions.
"If I see someone good, I don't let them get away," raves Saeed Matinkhah, CT Manager. "Probably 60-70% of our current employees have gone through the program," he adds. Cottam, for her part, recently hired four out of the six graduating students from a single cohort.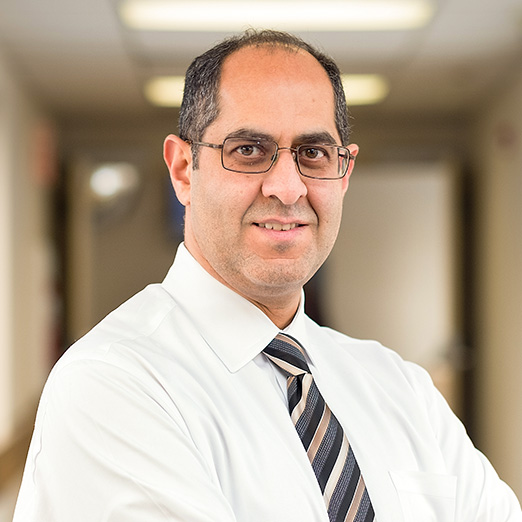 Saeed Matinkhah, CT Manager for University of Utah Hospitals and Clinics
Casal has been working hard to expand the training program to include an ultrasound certification and one in the increasingly complex area of interventional radiology. He would also like to see a return of the primary x-ray certification, this time as a bachelor's degree program, so that we could train all levels of radiologic technologists here at the University of Utah.
In the meantime, students and hiring managers alike are finding a huge amount of value in the training program. "It has truly changed the way we approach the role of radiologic technologist at our institution," declares Lisa Bakhsheshy, Administrative Director of Clinical Radiology.
Both Casal and Johnson credit visionary leadership and a highly supportive administrative group in Bakhsheshy and Kirk Mosher. It took a team of professionals dedicated to providing a unique value to students that feeds back to our system, making it stronger both in the teaching and the recruiting.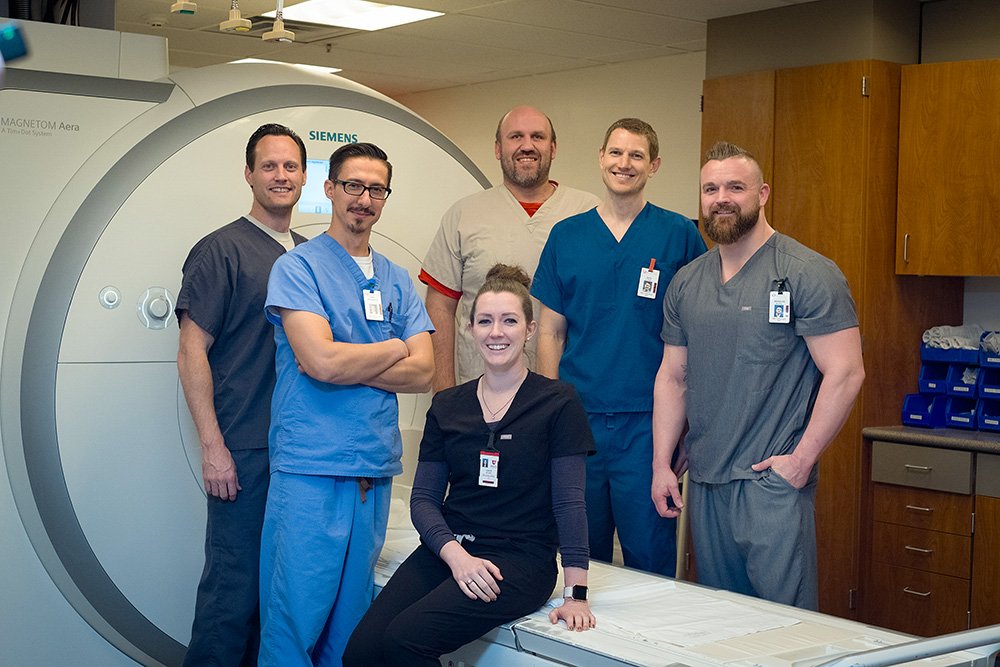 MRI technologists and graduates of the post-primary certification program. Standing, left-to-right: Matt Monson, Enis Mehinovic, Karl Bohman, Nathan Nielsen, Brandon Johnson. Seated: Carlie Anderson.
For more information as well as instructions for applying, visit our Radiology Technology Training Program web pages.