By Kirsten Mallik
Started by Utah neuroradiologist H. Ric Harnsberger in 1996, the Head and Neck Imaging Conference at the University of Utah has a global reputation for excellence, attracting nearly a quarter of its attendees from outside the United States. Some have been coming to this conference and its sister conference on Brain and Spine Imaging for nearly fifteen years.
Sixteen University of Utah Department of Radiology and Imaging Sciences alumni attended this year's conference, which was held March 19-23, 2018. They joined their colleagues from around the world for five days of immersive training in neuroradiology.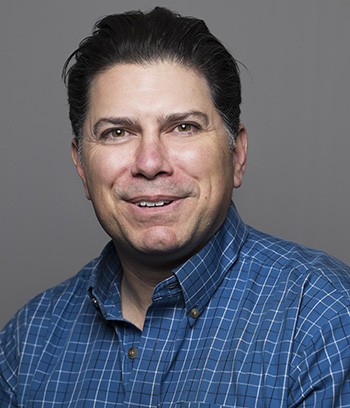 Richard H. Wiggins III, MD, Professor of Radiology and Imaging Sciences, Director of Imaging Informatics, and Chair of the Utah Head and Neck Conference.
 "Our goal is to provide the best head and neck imaging conference experience that a clinician can get anywhere in the world," says Utah neuroradiology faculty Rick Wiggins, MD, who began managing the conference in 2002. Morning sessions offer didactic lectures covering all anatomic areas of the head and neck, while afternoons explore imaging challenges, protocols, and diseases with highly interactive case reviews. By the end of the week, participants have discussed hundreds of individual case examples – an increasingly rare opportunity in a field where clinical volumes are only getting heavier.
The conference's unique "confexting" feature allows attendees to text questions in real time to presenters, who address them as a panel discussion after each set of presentations. Once this system was implemented, Wiggins and the other neuroradiology planners saw submitted questions jump from 42 to 324 over five days. Now – along with the famously good food – it's an integral part of the conference culture.
In a world where there are so many options for continuing medical education (CME) credits, why does the Utah Head and Neck imaging conference remain to popular?  Many attendees cite Utah's reputation for teaching excellence and its famous faculty. Others appreciate the density of the content and the efficiency of reviewing so much in just five days.
"I think what stands out is that you see lots of cases and basic image interpretation skills that apply immediately to your practice with imaging anatomy and pathology," says Wiggins. "And an educational teaching experience that you just can't get elsewhere."
Many of the 16 former neuroradiology fellows and residents came back to present at the conference, and current fellows also lead case discussions. With families in tow and a traditional Wednesday night dinner, it has become a Utah head and neck imaging reunion.
"Inviting our fellows back also helps extend and expand our mentoring relationships," says Wiggins. "As they go further in their careers, we learn as much from them as we can teach them. These relationships stay important no matter how many years go by."
Or, as Remy Lobo (Fellow '17) put it, bouncing his newborn son in between lectures, "This place is my family. There's just no better place in the world to do neuroradiology than the University of Utah."
Alumni in Attendance
Booth Aldred, MD (RES '15, FEL '17)
Paul Asmar, MD (RES '97, FEL '98)
Sarah Cantrell, MD (FEL '16)
Phil Chapman, MD (FEL '00)
Brian Chin, MD (FEL '11)
Davidson, H. Christian, MD (RES '95, FEL '98)
Justin Cramer, MD (RES '14, FEL '16)
Mark R Halverson, MD (RES '12)
Bronwyn Hamilton, MD (FEL '03)
Troy A Hutchins, MD (FEL '08)
Craig M Johnson, MD (FEL '17)
Sirisha T. Komakula, MBBS (FEL '10)
Nicholas Koontz, MD (RES '14)
Luke Ledbetter, MD (RES '14)
Remy Lobo, MD (FEL '17)
Scott McNally, MD (RES '11, FEL '13)
Kevin Moore, MD (RES '98, FEL '00)
Nicholas Pierson, MD (RES'13, FEL '14)
Edward P Quigley, MD, PhD (RES '06, Fel '08)
Ulrich A Rassner, MD (RES '05, FEL '07)
Steven Voron, MD (FEL '97)
Blair Winegar, MD (FEL '16)
Stephen C. Yoest, MD (FEL '97)
Richard Wiggins, MD (FEL '00)
Brad Wright, MD (RES '15, FEL '17)