Participants and committee for the 2018 Imaging Elevated Symposium. Standing, from left: Ganesh Adluru (Faculty Co-Chair), Jerzy Szablowski (Caltech), Gabriel Fine (Faculty Co-Chair), Matthew Alexander (Faculty Co-Chair), Satoshi Minoshima (Department Chair), Chris Sandino (Stanford), Mathias Unberath (Johns Hopkins), Jean-Dominique Gallezot (Yale), Lorne Hofstetter (University of Utah). Seated, from left: Anwar Nunez-Elizalde (UC Berkeley), Jason Bini (Yale), Jon Tamir (UC Berkeley), Hersh Sagreiya (Stanford), Jose Guerrero Gonzalez (University of Wisconsin). Not pictured: Audrey Fan (Stanford) and Julius Chapiro (Yale).
By Michael Mozdy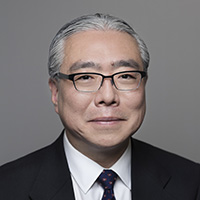 Satoshi Minoshima, MD, PhD
On a beautiful fall day at the end of September, the Department of Radiology and Imaging Sciences hosted twelve excellent young researchers from across the country. After an early breakfast, the director of the Utah Center for Advanced Imaging Research (UCAIR), Ed DiBella, PhD, introduced the audience of 75 to the Radiology and Imaging Sciences Chairman, Satoshi Minoshima, MD, PhD. Minoshima welcomed the invited presenters to the symposium and wove a story of the history of radiology research – a relatively young field of medicine. He demonstrated how the field has experienced periodic moments of innovation every 20-30 years when the field jumps forward in technology and techniques. "We're due for another period of non-linear advancement, much like how CT and MRI were developed initially," declared Minoshima. "You are the generation of researchers," he continued, "who can usher in this exciting time and direct the future of our field."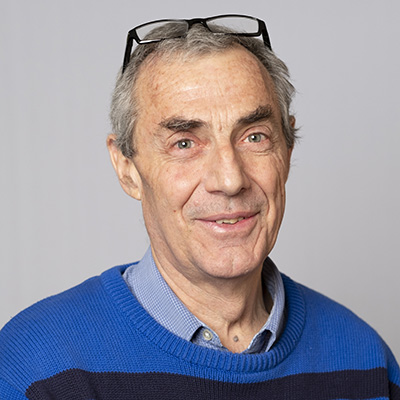 Dennis Parker, PhD
Minoshima then introduced the morning keynote speaker, Dennis Parker, PhD, a renowned UCAIR researcher at the University of Utah. Parker described a number of research moments during his distinguished career that were both rewarding and humbling during his often humorous address.
What followed was a rapid-fire day of 15-minute presentations that spanned a range of imaging modalities (PET, MRI, CT, etc.), diseases, techniques, and solutions to challenging issues. Unlike most meetings that tend to focus on just one field (e.g., MRI techniques), the presenters found themselves wading through sometimes unfamiliar territory when listening to each other. All twelve participants delivered engaging and knowledge-packed presentations.
The result of the cross-pollination: presenters and audience alike were pleasantly surprised by the connections and common threads they found.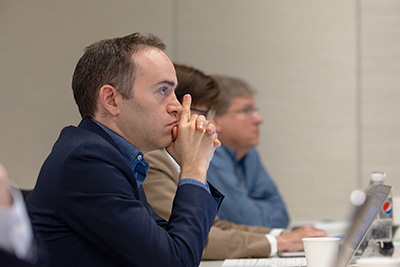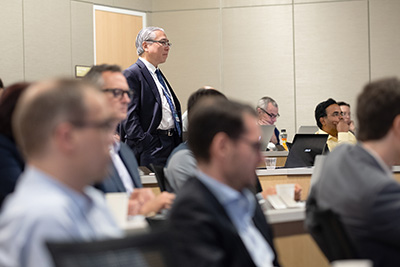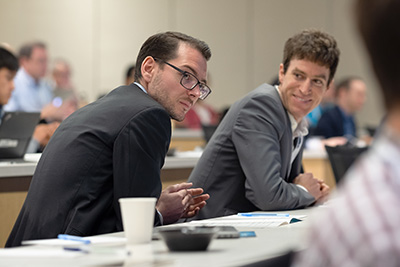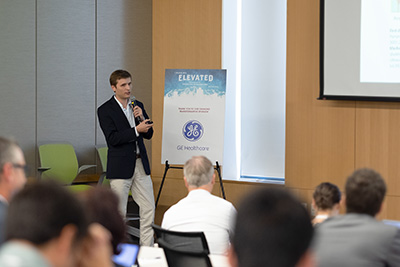 See a talk-by-talk description of the symposium day here.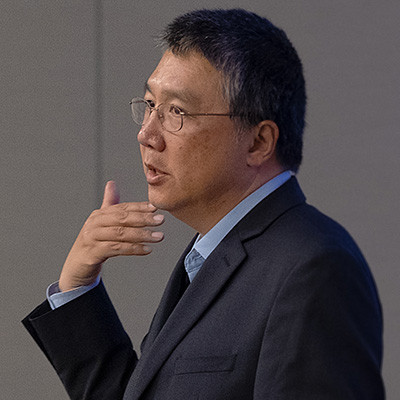 Homer Pien, PhD
The afternoon keynote featured Homer Pien, PhD, the Chief Scientific Officer for Philips Healthcare. Pien described the state of artificial intelligence as it is being incorporated into today's radiology products. He demonstrated how Philips' software intelligently recognizes the type of scan and body part in order to help radiologists and technologists accomplish their work more efficiently.
One highlight of the afternoon was the Exhibit Hall, where UCAIR and SCI researchers demonstrated projects and technology they have been working on. From virtual reality headsets to demonstrations of multi-tracer PET imaging, symposium participants were treated to an hour of great conversation and exploration.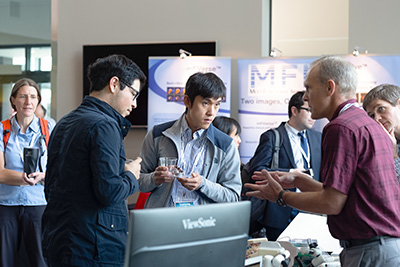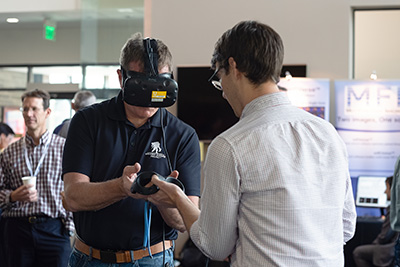 At the end of the day, Radiology and Imaging Sciences Assistant Professor Matthew Alexander, MD, PhD, conducted an idea-gathering session with everyone present. The power of having great ideas back-to-back was evident as they identified a number of trends, ideas, and problems needing solutions. It was a nice venue for faculty, emerging investigators, and industry representatives to collectively discuss and brainstorm. 
The Diamond Transformative Sponsor for this year's symposium was GE Healthcare. Bram Stolk, PhD, representing GE, actively participated in Q&As with the participants during their talks, and shared his perspective on the rapidly changing state of imaging sciences research.
Siemens Healthineers was this year's Platinum Sponsor, and Siemens MRI physics scientist, Bradley Bolster, PhD attended the symposium. Philips Healthcare was a Gold Sponsor, and Stryker Medical and Cardinal Health were both Silver Sponsors. Minoshima spoke about how appreciative he was for the support of industry sponsors, "It's really wonderful that we can have open dialogue and idea sharing between academic researchers and industry researchers," he said. "Radiology is a field that moves so rapidly in part thanks to the strong openness of industry manufacturers to improve their products with the direct input of academic researchers around the world."
A Productive Weekend
The presenters arrived in Salt Lake on Thursday, September 27th, and starting the next morning they were immersed in all that Utah has to offer. They toured UCAIR, met with diverse faculty to discuss ongoing projects, and then headed to Park City where they enjoyed a guided tour of the Olympic Park and a jaunt in downtown Park City on a picture-perfect autumn day. They finished their first day with Radiology faculty dinner groups, grouped by research interests, at three of Salt Lake's best restaurants. This first day of the symposium experience was designed to demonstrate the breadth of science, culture, and natural beauty that exists here in Utah.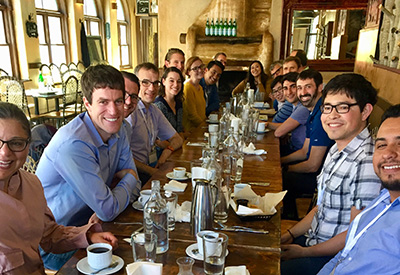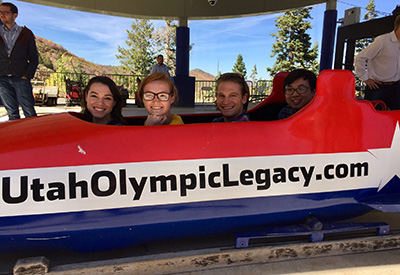 See more pictures of the symposium weekend here.
Minoshima explains that beyond our natural beauty in the state, we have much to offer researchers: "Utah's culture is innovation and entrepreneurship. Utah is the perfect place for this type of open exchange of ideas that stimulates collaboration and progress in scientific endeavors," he asserts. "That is our goal – to create a forum for the best new investigators to come together and share ideas alongside our faculty in order to move forward the field."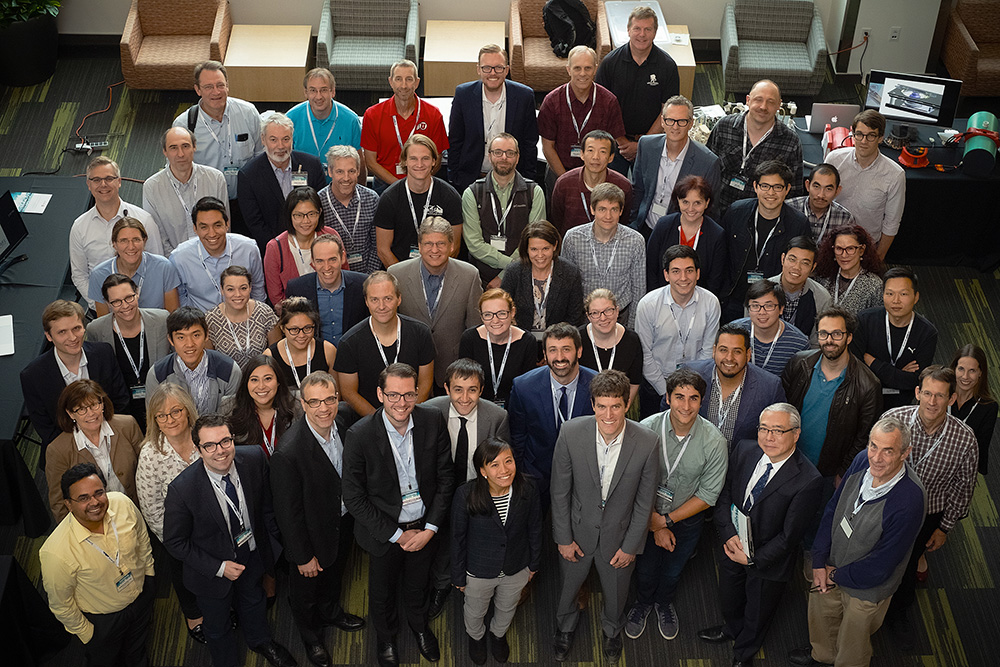 Below is a quick look at the 2018 presenters and their topics. Visit the Imaging Elevated website for more information about the symposium.
Bini, Jason, PhD (Yale), "Dopamine and Cortisol – Novel Imaging in Diabetes and Obesity"
Chapiro, Julius, MD (Yale), "Liver Cancer Imaging 2.0: Why Artificial Intelligence Will Not Replace Us"
Fan, Audrey, PhD (Stanford), "PET/MRI to accurately measure brain blood flow and oxygenation"
Gallezot, Jean-Dominique, PhD (Yale), "Kinetic Modeling and Reconstruction of Parametric PET Images"
Gonzalez, Jose Guerrero (University of Wisconsin), "Challenging Assumptions of NODDI, a Biophysical Modeling Method of Tissue Microstructure"
Hofstetter, Lorne (University of Utah), "Toward improved cancer therapies: quantifying tissue stiffness with MR shear wave imaging"
Nunez-Elizalde, Anwar (UC Berkeley), "Predictive models of BOLD responses to short films"
Sagreiya, Hersh, MD (Stanford), "The robot will see you now: challenges and opportunities with ultrasound applications to machine learning in radiology"
Sandino, Chris (Stanford), "Enabling faster cardiac MRI exams via deep learning-based image reconstruction"
Szablowski, Jerzy, PhD (Caltech), "Noninvasive Gene Therapy for Brain Disorders - Acoustically Targeted Chemogenetics"
Tamir, Jon, PhD (UC Berkeley), "Shuffled MRI: Accelerated, Single-Scan, Multi-Contrast Imaging"
Unberath, Mathias, PhD (Johns Hopkins), "Augmenting Reality: The Quest for Improved Intuition and Ergonomics in Minimally-invasive Surgery"