By Michael Mozdy
Radiologists work during the day when many imaging studies are performed for people in our outpatient clinics. Yet patients come to University Hospital and the Veterans Administration Hospital emergency rooms throughout the night as well. MRI and CT scanners are used all 24 hours in a day and constantly produce images during night. These images are interpreted by radiology fellows and residents, overseen by attending radiologists.
Our department strategized for some time, knowing that as the volume of after-hour imaging studies grew something more permanent and sustainable should be done. Our leadership wants to ensure the quality of these interpretations and prevent radiologist burnout.
In 2018, Dr. Minoshima, Chair of the Department, created the Acute Care Imaging (ACI) section. His focus was to recruit faculty who could meet the demands of after-hour emergency and trauma work and have the knowledge of multiple subspecialties to ensure expert study interpretation for any type of imaging encountered. He was looking for someone who was creative, collaborative, and energetic to lead this section.
Patrick Kobes, DO, was hired as the inaugural section chief for ACI. Kobes (pronounced KO-bays) fell in right away with the challenge presented by a diverse work environment – he is no stranger to diverse circumstances. Kobes was born in Holland, and he and his American mother moved around the world with his Dutch father, an executive for Philips consumer electronics. Kobes spent his youth in Holland, Japan, Hong Kong, and Singapore. He then moved to the USA, went to college in upstate New York and worked for GE for four years doing wind energy work before going to medical school. He credits his engineering and technical background for leading him to radiology, where he could use technology to diagnose complex problems in the body.
Kobes worked as a critical care technician (like a paramedic) throughout his college years, and he views the emergency environment as exciting and important work. He embraced the challenge of building a new ACI section, coordinating with other section chiefs and the residency program, and creating a new paradigm for the shifts ACI faculty would work. Six months later, the ACI section has four full-time faculty and a plan for utilizing all residents during their rotations.
"I've received nothing but support from department leaders, section chiefs, faculty and residents," Kobes reports. "Change is constant and it's great to work in such a collaborative environment where new ideas and concepts are being tried, revised and implemented everyday," he adds.
Kobes details the requirements for a radiologist to make a good ACI faculty member: be precise diagnosticians across multiple subspecialties of radiology, have a keen attention to detail, and be able to work in a fast-paced environment when physicians need their studies to be interpreted quickly. Three other radiologists who fit the bill have joined the section: Brad Wright, MD, Hediyeh Baradaran, MD, and Dell Dunn, MD. Kobes has nothing but glowing words for the faculty in his section.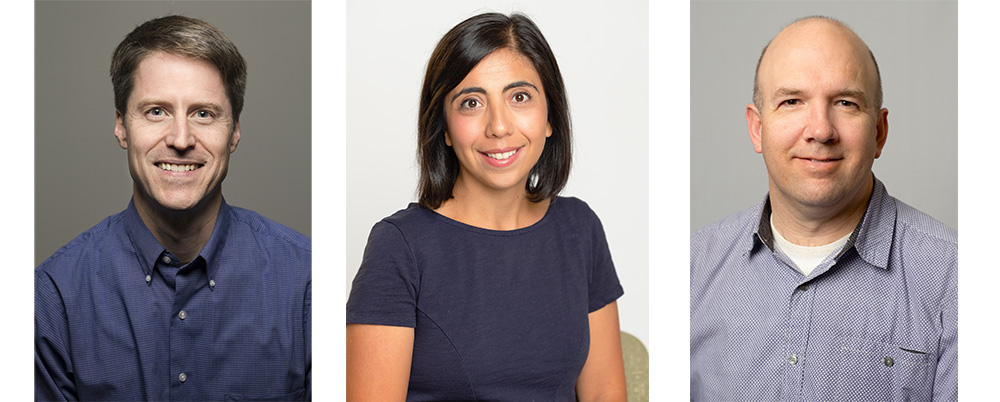 ACI faculty (left-to-right): Brad Wright, MD, Hediyeh Baradaran, MD, and Dell Dunn, MD.
The ACI faculty work in 2-week blocks. Since the after-hours emergency work is demanding physically and mentally, they alternate this with a block in their subspecialty or the VA. Kobes adopted this model so that ACI faculty don't get burned out and have the ability to carry out a family life, too. Consistent with the University of Utah ethos, a positive work/life balance is important to Kobes and Minoshima.
The new ACI section has made life better for faculty throughout the department. "It's important for all ACI faculty members to be familiar with what each sub-specialty provides on a daily basis to render appropriate after-hours coverage," notes Kobes.
"Our faculty can sleep better at night knowing that there is excellent coverage for the studies that are ordered at all hours," explains MSK Section Chief Megan Mills, MD. "What's more, Patrick is great to work with and we have ongoing discussions about quality efforts from the various sections that he can champion in his section so the department is well connected and consistent."
As he looks to the future, Kobes has several goals: creating a curriculum for residents and fellows in emergency radiology, starting an ACI radiology fellowship, and constantly re-evaluating the organization's needs for quality, round-the-clock coverage.
He has a ton of energy for the work and great momentum moving forward. He credits the department chair for making all of this possible. "I appreciate Dr. Minoshima's vision and how he wants to improve quality subspecialty care in our system," says Kobes. "The University of Utah is awesome because our department is constantly evolving and open to positive changes."
For his part, Minoshima is excited with the progress of the ACI section. "Patrick is a wonderful leader for this section," praises Minoshima, "and I know that he will be able to bring about more and more positive value of imaging for our system."
We look forward to the future of a robust Acute Care Imaging program to meet the demanding 24/7/365 work at our tertiary care center.