Left-to-right: Matthew Alexander, MD, John Rolston, MD, PhD, Michael Good, MD, Dennis Parker, PhD, Larry Bybee, Chelsie Goble, Viola Rieke, PhD, Allison Payne, PhD.
By Michael Mozdy
On a warm July Friday evening, guests gathered in the Natural History Museum of Utah to learn about a life-changing new treatment offered at University Hospital. Many of the guests were physicians from around the Salt Lake region, looking for new ways to help their patients with essential tremor.
It's estimated that 1 in 12 people over the age of 65 have essential tremor, a debilitating neurological disorder that causes uncontrollable shaking, especially in the hands. Severe cases of essential tremor make it impossible to drink a cup of water or sign your name, much less perform daily work that involves your hands. Medications can be effective in some people, but they are classes of drugs like blood pressure medicines (beta blockers), tranquilizers and epilepsy drugs. The only surgical treatment has been deep brain stimulation, where a long needle is implanted into the brain, targeting the thalamus; an implanted pacemaker-like device then sends electric impulses to the thalamus to control the tremor.
A new, noninvasive treatment has recently been approved by the FDA, however, and it promises durable control of the tremor with just one treatment, with minimal side effects. A concave transducer with hundreds of piezo elements humming with electricity focuses the ultrasound waves those elements produce into a spot the size of a grain of rice. This spot is many inches away from the device, and can be positioned exactly so that it ablates, or burns, the region of the brain responsible for the tremor. All of this happens inside an MRI machine, which is busy scanning the patient's brain to ensure that the procedure is safe and effective.
Satoshi Minoshima, MD, PhD, the Anne G. Osborn Chair of Radiology and Imaging Sciences, approached William Couldwell, MD, the chair of Neurosurgery about this new treatment. Together, the two chairs decided to invest in the new technology that makes this intracranial treatment possible.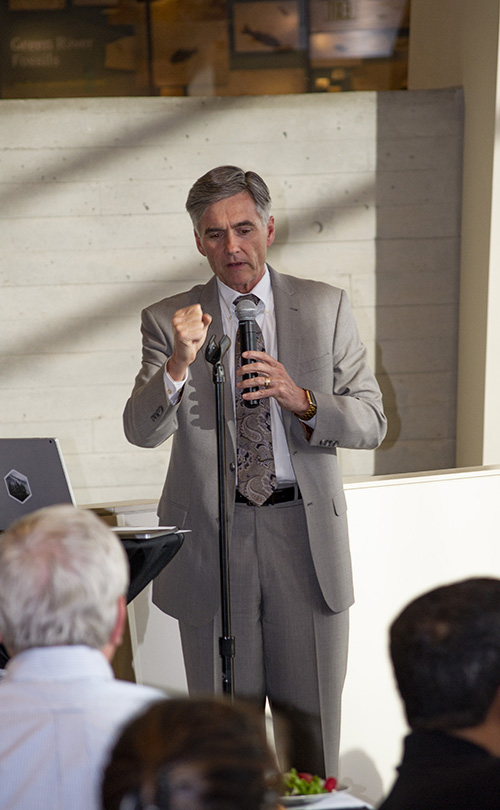 Michael Good, MD, Senior Vice President for Health Sciences, Dean of the School of Medicine, and CEO of University of Utah Health.
"Radiology is the engine that drives medical advances," claims Minoshima, "and this is one more example of how we can help innovate in coordination with other areas like Neurosurgery to advance patient care." 
This important synergy between departments in the School of Medicine was highlighted by Senior Vice President for the Health Sciences, Michael Good, MD, who opened the evening's educational event. Good recalled days when lithotripsy was first developed and the great advances that have been made since then. "I'm proud to work in a system with such great collaboration between departments and willingness to be innovative," states Dr. Good. "Our focus continues to be better patient care, as this new treatment demonstrates, and to push the boundaries of what is possible for the benefit of our patients, whenever we can," he adds.
After Dr. Good, the audience heard from the physicians who are responsible for actually performing the HIFU treatment: John Rolston, MD, PhD, and Matthew Alexander, MD. Rolson is a neurosurgeon and leads the interdisciplinary team of physicians who examine and prepare patients as they consider the treatment. He explained that several factors in addition to a formal diagnosis must be met in order for patients to be candidates for the treatment, including a skull density measurement.
Alexander is an interventional neuroradiologist, and in addition to spearfishing for blood clots and performing other delicate neurovascular interventions, he partners with Rolston in performing the intracranial HIFU treatment. Alexander, as an expert radiologist, monitors the treatment in real time as MRI images provide feedback about positioning of the ultrasound beam and the temperature change of the area being ablated.
The doctors treat the area carefully and methodically, ensuring that they are in the right spot and providing just enough energy to create the desired change.
Importantly, they check in with their patients throughout this process, periodically retracting the bed on the MRI machine and having the patient draw a spiral and sign his or her name. This real-time record of improvement as the treatment progresses is incredible to behold.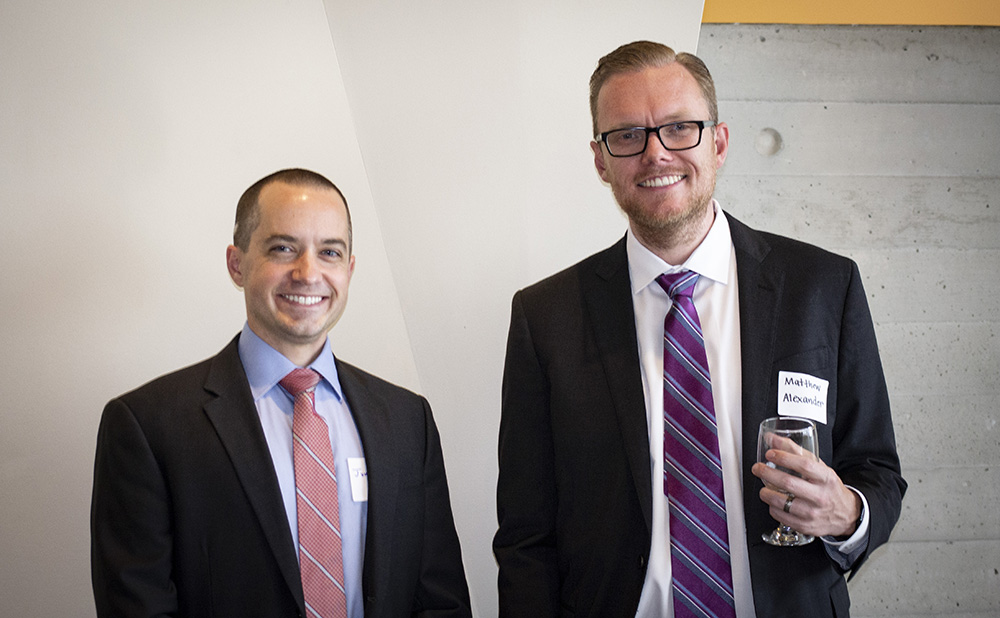 John Rolston, MD, and Matthew Alexander, MD.
What Do Patients Experience?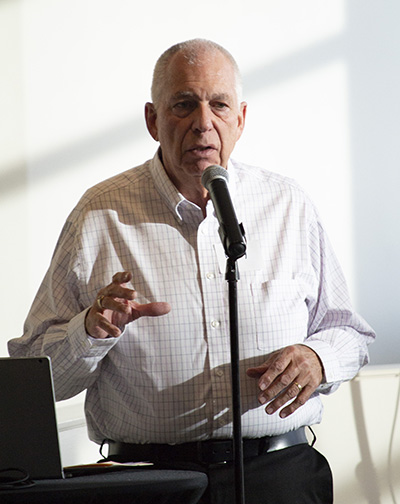 Larry Bybee, a patient
Perhaps the highlight of the evening was hearing from one of the patients who received this treatment at the University of Utah. Larry Bybee is a resident of St. George, UT, and is a woodworker and piano player in his retirement. He recalled that essential tremor crept into his life in a way that he didn't even notice - a common occurance for those with essential tremor. It wasn't until his wife pointed out his shaking hands that he took notice. 
Before long, his shaking became more pronounced and uncontrollable. He couldn't drink a glass of water without spilling it.
Bybee is clear that the HIFU treatment was a success: "It changed my life," he said, "no more tremor." He did experienced some temporary side effects after the treatment, which Rolston and Alexander counsel patients to expect. Bybee related that he almost felt like he was having a stroke the day after the procedure. At the dinner, the care team explained that this is normal and resolves in a matter of weeks. Bybee was proof of this: six weeks after his treatment on the evening of the dinner, his side effects had completely resolved and he had no tremor in his affected hand.
Bybee's willingness to share his experience was appreciated by all who attended. Many people - from physicians to other attendees with essential tremor - approached him at the end of the event to thank him and ask him further questions.
A Streamlined Process for Patients to Access the Treatment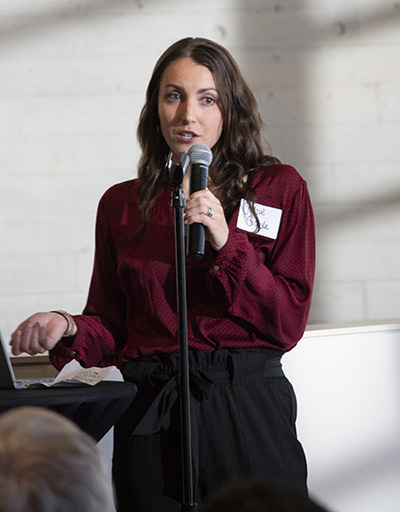 Chelsie Goble, RN, MSN
Chelsie Goble, RN, MSN, finished the presentations by describing the process and flow for patients to access the treatment. This was a key portion of the evening, geared to helping physicians who might refer patients to the unique treatment, since the University of Utah is the only facility between Stanford and the Mayo Clinic to offer it.
Goble also explained how her role is to help communicate to patients and referring providers every step of the way, helping to take away the anxiety of not knowing where they are in the process. She also takes care of scheduling their Neurology "work-up" appointments prior to the procedure, the treatment itself, and the follow-up visit with Dr. Rolston.
Below is the patient access flow chart:
Ongoing MRI Research by our Experts
One of the reasons Minoshima wanted to invest in this treatment was that our MR researchers have been steadily improving the technology that makes these systems work. In fact, veteran researcher Dennis Parker, PhD, was the first to demonstrate and publish the technique for using MRI to measure a change in temperature - something that is a very important safety measure for patients when determining when the treatment is complete. The presenters recognized the ongoing contributions our researchers are making to HIFU systems, including the one used for this essential tremor treatment. Researchers recognized include Parker, Viola Rieke, PhD, and Allison Payne, PhD.
By all accounts, the evening was a great success in introducing the region to our new intracranial HIFU treatment for essential tremor. If you or someone you know would like more information about the treatment, please contact Chelsie Goble at 801-213-0997 or email NeuroFUS@hsc.utah.edu.
More images from the event: