By Michael Mozdy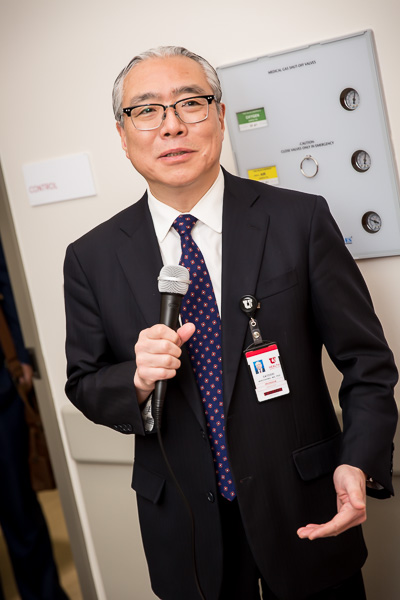 On February 13, 2020, the Department held an open house in conjunction with University of Utah Hospitals and Clinics to let staff and visitors tour three levels of new spaces dedicated to the Department of Radiology and Imaging Sciences. On the first floor our radiologists have new reading rooms and consultation space to explain findings to physicians throughout the system. The second floor is a new patient check-in and prep/recovery area for Interventional Radiology (IR) and staff work and break areas. The third floor boasts three new IR operating suites, including the first-in-nation installation of the Siemens ARTIS "icono" biplanar angiography system, as well as an IR reading room and control room.
Hospital leaders Gordon Crabtree, CEO, Dan Lundergan, COO, and Alison Flynn Gaffney, MHA, Executive Director for Service Lines, Ancillary & Support Services, joined Satoshi Minoshima, M.D., P.h.D., Anne G. Osborn chair of the Department of Radiology and Imaging Sciences for the event.

Our new Siemens ARTIS "icono" biplanar angiography system.
The IR area provides new imaging technology in a centralized location to improve patient care. "Interventional radiology is not just diagnosing patients based on images," says Minoshima. "We actually treat patients using minimally invasive techniques." Not long ago, Interventional Radiology was somewhat isolated from other services in University Hospital. Now, it is located in close proximity to the Emergency Room and Intensive Care Unit for life-saving procedures.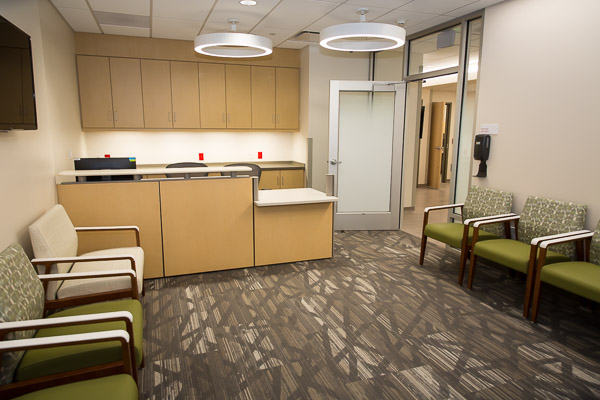 The new IR patient check-in area on the second floor.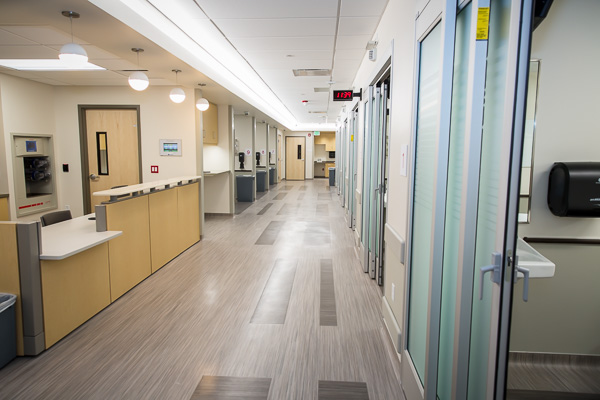 The new IR patient prep and recovery area on the second floor.
The first floor of the new space consists of five reading rooms where radiologists receive and interpret nuclear medicine, MRI, X-ray, and CT scans. Each room is dedicated to a different specialty: Abdominal, Cardiothoracic, Neuroradiology, Musculoskeletal, and Nuclear Medicine. "Our new space centralizes the radiologists in one place to help with communication as well as convenience for physicians wanting to consult," says Craig Benning, D.O. and Fellow of Abdominal Radiology. The reading rooms are also utilized by Acute Care Imaging faculty, who practice outside of normal business hours. Faculty in Breast Imaging use reading rooms in facilities where mammography is done such as Huntsman Cancer Institute, Farmington, Sugar House, and South Jordan.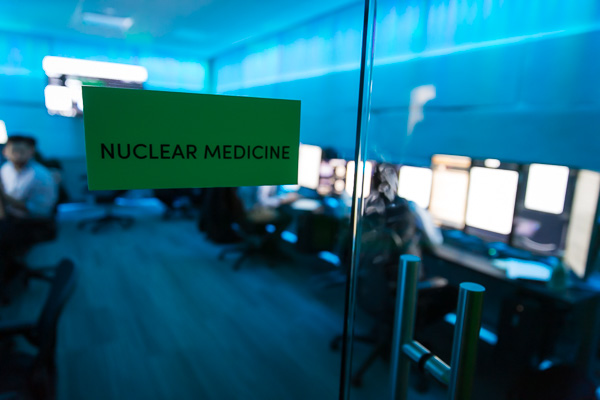 A new colorful yet low-light reading room on the first floor.
The multi-year project converted space that was not even part of a building - it was a seldom-used and oddly-shaped external patio in between buildings for which they had to dig down several levels to sink girders and build from the underground-up. Now it reaches four stories, with the fourth floor area "shelled" for future use.
"It's a triple-win situation," says Minoshima. "First, we are better meeting patient satisfaction and quality goals because of the better proximity of IR to other critical hospital services. Second, we have created a better work environment for staff and faculty. Third, we are meeting efficiency and integration goals set by our School of Medicine and Hospital administrations."
Other photos from the event: