By Michael Mozdy
When Alison Flynn Gaffney, MHA was ten years old, she was struck by a car, shattering her right leg. "I was unconscious for 3 days and when I woke up and healed, I had to learn to walk all over again," she remembers. "I had to finish 6th grade via VHS tape," she adds with a laugh. She can't remember the actual accident but does remember all of the people who took care of her – from EMS professionals to nursing, rehab and her physicians. This experience, while horrifying and difficult, instilled in her gratitude and the recognition of how important health care professionals are. She knew that she wanted to be one when she grew up. (It came second only to her dream of being Dorothy Hamill, but she figured being a figure skating superstar was not in the cards.)


Flynn-Gaffney as a child growing up just north of New York City, in Yonkers.
Sure enough, after college she started in health care part-time as a unit clerk. She then worked in infection control, administration, surgical services, and inpatient and ambulatory units. She felt drawn to children and wanted to be a pediatric ICU nurse. "When I got to my clinical evaluation, I realized I was likely to be arrested – I would want to take every child home and care for them," she states, deadpan. "You see, I am a crier, even just watching a Hallmark commercial. I believe maintaining emotional connections is a strength, but I realized I would be taking every patient home with me in my head with me because I would be too involved."
Flynn Gaffney made a switch and moved to the business side of healthcare where she felt she could better influence outcomes. Many years were spent in operations, administration and leading clinical and non-clinical teams. She has also spent half her career to date in consulting, primarily focusing on supply chain, finance, and performance improvement.  Almost 30 years later, she is now the Executive Director for Service Lines, Ancillary & Support Services. She actually started at University of Utah Health in 2017, being responsible for perioperative, imaging, lab, and ancillary services. In 2019 her responsibilities were expanded. Currently, close to 2,000 employees report up to her.
One of the areas Flynn Gaffney oversees is Imaging, meaning all of the hospitals and clinics employees who perform radiologic scans at the facilities in our system, as well as the managers and administrative team in radiology. There is a sizeable budget attached to imaging that includes staffing as well as the expensive capital equipment such as MRI, CT, and PET-CT, which have not just a purchase cost but annual maintenance costs. Managing all of these costs has traditionally been a bit of a challenge because the School of Medicine Department of Radiology and Imaging Sciences must present a budget to the Hospitals and Clinics administration along with every other School of Medicine Department. There were, in fact, two completely separate budgets, strategies, and long-range plans that needed to be reconciled annually between the School of Medicine department and the Hospitals and Clinics, as is common for academic medical centers.
This is not the case anymore. Satoshi Minoshima, MD, PhD, the Anne G. Osborn Chair of Radiology and Imaging Sciences, operationalized a new integrated structure with the Hospitals and Clinics administration a few years ago. Flynn Gaffney and Minoshima have been successfully operating under this shared governance, cleverly nicknamed IMAGER (Integrated Management and Governance for Enterprise Radiology).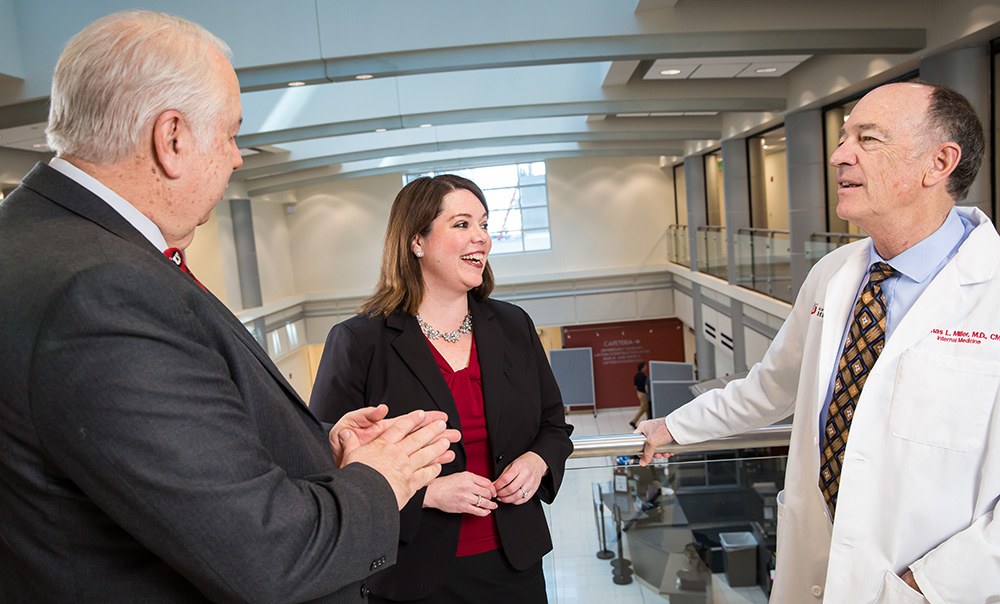 Left to right: Gordon Crabtree, CEO for University of Utah Hospitals and Clinics, Alison Flynn Gaffney, and Tom Miller, MD, Chief Medical Officer.
Flynn Gaffney is a vital partner for Minoshima and Administrative Director Kirk Mosher as IMAGER continues to develop. She appreciates the benefits of the shared governance structure. "IMAGER is a unique opportunity for our organization to see how we can do business differently," she says. "It helps us make the best decisions as to where the most appropriate technology is needed, and it helps guide us as a system and support all of our areas like neurology, trauma, cardiac care, oncology, and more."
She admits that we're just beginning to see where it can lead us. "IMAGER was a toddler when I got here and now we're a in middle school," she relates. She notes that they will align with the overall system strategy but sees opportunities to create new community outreach efforts. Imaging is the beginning step for making a patient diagnosis. As such, "we are at the beginning of the patient experience," she notes, "and are vital to our patient outcome." The questions she asks: Are we making it convenient for patients? Are we meeting them where they are?
Flynn Gaffney's views on the integrated nature of imaging in the healthcare experience is an extension of the mantra that she uses with all of her work teams: One Team, One Mission. "Simply put," she explains, "you can't do your job without another person." That makes knowing the people you work with very important. She opens the team meetings with her 12 direct reports with a 15-minute educational session led by a different team member each time. It can be on anything, such as a book they recently read. "It always helps us professionally, even if it's not about healthcare," she reports. Just as important, they practice their public speaking and they get to know one another as people, not just cogs in the business machine.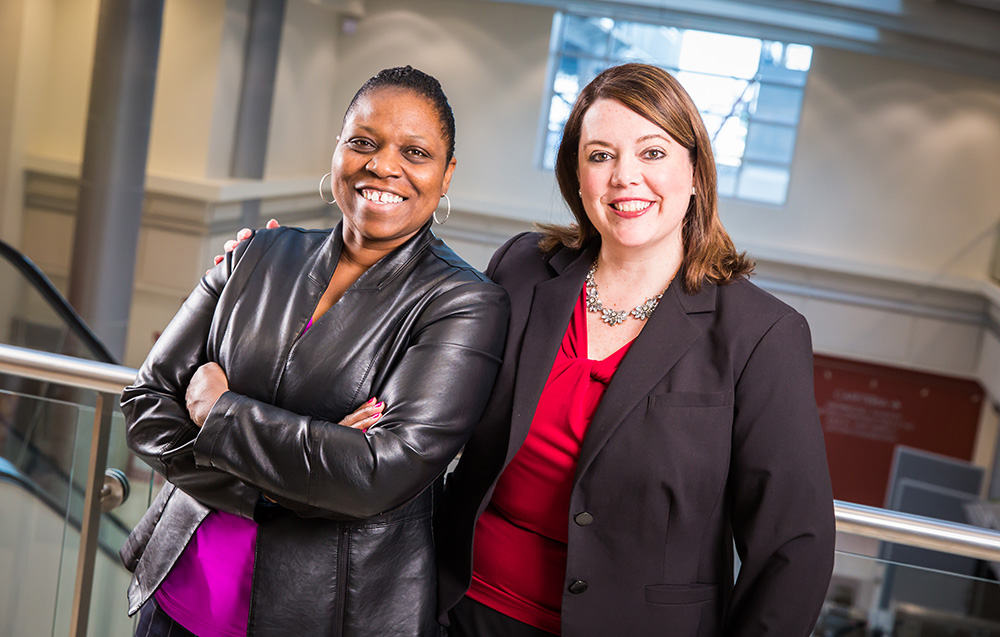 Alison Flynn-Gaffney (right) and administrative assistant, Yvette Robinson.
Flynn Gaffney also spends time on the "front line." She has washed dishes and done other work alongside her employees. "It's helped me stay connected, learn about people, their lives and families, and what keeps them at U of Utah Health," she says. She makes it a point to ask them their opinions on what's going well and what needs improvement.
Such a team-oriented partner is a great boon for the Department of Radiology and Imaging Sciences. "I greatly appreciate the time and effort from senior leadership in the Hospitals and Clinics," says Minoshima. "Alison, in particular, is an extremely smart and engaged partner. Plus, she really knows how to see projects through to completion."
For her part, Flynn Gaffney is also happy to be working at University of Utah Health. One of the reasons she chose to come here was the diversity she encounters in an academic medical setting. "I find the banter of opinions, science, operational and business data invigorating," she states. "It has been a transition coming here from NY, but I have felt nothing but welcome and energy focused toward figuring out how to figure it out."