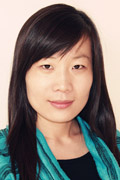 Title:
Development of a Domain Analysis Model for Electronic IRB Systems: A Feasibility Study
Date:
May 7th Tuesday, 10AM
Location: 
HSEB 2958
Bio:
Shan He earned her B.S. in Computer Science at Jilin University, China in 2005 and M.S. in Computer Science at Peking University, China in 2008. She did a one-year internship at IBM China Development Lab from 2006 to 2007. During her first year of study in the Department of Biomedical Informatics, Shan worked part time at 3M Health Information Systems HDD group. She then worked as a research assistant in the FURTHeR project from 2009 to 2011. She went to Heidelberg University, Germany for one semester under an exchange scholar program in the academic year 2011-2012. Shan's research interests include health data and system integration, information modeling and standardization.
Abstract:
Clinical research plays a vital role in producing knowledge valuable for understanding human disease and improving healthcare quality. Human subject protection is an obligation essential to the clinical research endeavor, much of which is governed by federal regulations and rules. Institutional Review Boards (IRBs) are responsible for overseeing human subject research to protect individuals from harm and to preserve their rights. Researchers are required to submit and maintain an IRB application, which is an important component in the clinical research process that can significantly affect the timeliness and ethical quality of the study. As clinical research expands in both volume and scope over recent years, IRBs are facing increasing challenges in providing efficient and effective oversight. The Clinical Research Informatics (CRI) domain has made significant efforts to support various aspects of clinical research through developing information systems and standards. However, information technology use by IRBs has not caught much attention from the CRI community. This dissertation project analyzed over one hundred IRB application systems currently used at major academic institutions in the United States. The varieties of system types and lack of standardized application forms across institutions are discussed in detail. The need for building an IRB domain analysis model is identified. In this dissertation, I developed an IRB domain analysis model with a special focus on promoting interoperability among CRI systems to streamline the clinical research workflow. The model was evaluated by a comparison with five real-world IRB application systems. Finally, a prototype implementation of the model was demonstrated by the integration of an electronic IRB system with a health data query system. This dissertation project fills a gap in the research of information technology use for the IRB oversight domain. Adoption of the IRB domain analysis model has potential to enhance efficient and high-quality ethics oversight and to streamline the clinical research workflow.