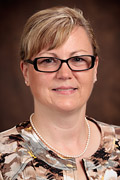 Beginning in January 2015, Biomedical Informatics Associate Professor Jennifer Garvin will begin her second two-year term on the Content Committee for the IHTSDO (http://www.ihtsdo.org/). This organization determines global standards for health terminology that is an essential part of improving the health of humankind. Garvin commented "it is truly an honor to be elected to an international standards organization, especially one that is at the core of improving health outcomes and the effectiveness and efficiency of health care organizations around the world."
The University of Utah has been involved in the development of SNOMED CT, the most comprehensive and precise clinical health terminology product in the world that is owned and distributed around the world by The International Health Terminology Standards Development Organization. Through this program both structured data and a controlled medical vocabulary that are Electronic Medical Records (EMR) features enable meaningful sharing and use of clinical information. http://www.ihtsdo.org/news-articles/building-the-business-case-for-snomed-ct.
Congratulations Jennifer.