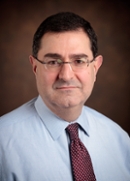 The American Cancer Society estimates at more than 18,000 the number of cases of acute myeloid leukemia (AML) diagnosed in the United States in 2014 with more than 10,000 AML-related deaths. Cures are achievable in a minority of patients, depending on prognostic factors, but at the cost of significantly toxic therapies that often include stem cell transplantation. Except for acute promyelocytic leukemia, no new chemotherapeutic agent has had a major impact on AML survival since the development of current treatment protocols around 40 years ago.
The Shami lab focuses on the development of novel drugs for the treatment of AML. The lab discovered the anti-cancer activity of arylated diazeniumdiolates, a class of targeted nitric oxide-generating compounds that is being developed with the Keefer group at the NCI. The Shami lab developed a nanoscale formulation for the lead compound of this class, JS-K. JS-K is now at an advanced stage of pre-clinical development with initial clinical trials aiming at treating patients with relapsed/refractory AML.
The Shami lab is also working on the development of dithiocarbamate/metal chelates for the treatment of AML. Work is ongoing to screen different nanotechnology approaches in order to formulate the lead candidate from this class in order to complete its pre-clinical development.
Other ongoing projects in the Shami lab include the study of the non-anticoagulant heparin derivative ODSH for the treatment of AML in combination with standard chemotherapy as well as the development (in collaboration with the Kopecek group) of novel antibody-mediated targeted therapies for AML and chronic lymphocytic leukemia.
Besides the lab, Dr. Shami conducts clinical trials for AML and myelodysplastic syndromes that aim at developing new treatment strategies for the treatment of these diseases. Trials Dr. Shami has been and is involved in range from Phase I first-in-human studies to Phase III randomized trials.