By Michael Mozdy
This year's Imaging Elevated Symposium was held in late September, not October, but that was the smallest of the changes for our department's flagship meeting. First, the organizers decided to merge the UCAIR research symposium with Imaging Elevated this year, meaning that the symposium highlighted just as many emerging investigators from inside our department as those from external institutions. Second, it was held over two half-days, Friday, September 20th and Saturday, September 21st, instead of one long day. Third, the program included a slate of impressive keynote speakers, two new "Follow the Patient" sessions, and all emerging investigators presenting in the power pitch+poster format.
Despite these structural differences, the symposium provided the same exciting, multimodal, multidisciplinary discussions of scientific ideas and approaches. 


The annual Imaging Elevated photo displays some of the great attendance at the event. This year, well over 125 people attended the symposium.
Wide-Ranging Keynotes
Michael Good, MD, our Senior Vice President for Health Sciences, Dean of the Medical School, and CEO of Univeristy of Utah Health, kicked off day one with a personal talk about his journey of innovation as an anesthesiologist at the University of Florida. He regaled the audience with both humorous anecdotes of the years developing simulation devices as well as pearls of wisdom he gained from these experiences. 
Also on Friday, Ruth Carlos, MD, a radiologist from the University of Michigan, presented a vigorous review of financial burden and access to care as it applies to clinical radiology services. 

The three keynote presenters: Michael Good, MD (left), Ruth Carlos, MD (middle), and Min Xian, PhD (right).
Finally, on Saturday Min Xian, PhD, a computer science researcher at the University of Idaho, presented several interesting projects related to AI as it applies to breast cancer scans. In particular, he discussed automatic segmentation of ultrasound images using AI.
Focused Panels on Patient Pathways
This year, two multidisciplinary panel sessions "followed a patient" through a specific set of concerns. The first was a breast cancer discussion, where our Breast Imaging Chief, Phoebe Freer, MD, joined her perspective to that of a surgeon, oncologist, health care value specialist, and MRI researcher:
Is Screening Effective, What's the Cost?  -Ruth Carlos, MD, MS, FACR, University of Michigan, JACR Editor in Chief
Mammography, then What?  -Phoebe Freer, MD, Section Chief for Breast Imaging
What Modalities Help Determine Surgical Treatment?  -Cindy Matsen, MD, Assoc. Professor, Surgery
Oncology: Monitoring Needs.  -Anna Beck, MD, Professor, Division of Oncology
Noninvasive HIFU, Patient Perspectives.  -Allison Payne, PhD, Research Faculty


The Breast Cancer Panel: (left-to-right): Payne, Carlos, Freer, Matsen, Beck.
The second panel closed out the symposium on Saturday and was focused on metastatic abdominal cancer. Clinical radiology faculty Tom Winter, MD, and Kathryn Morton, MD, were joined by researcher Jeff Yap, PhD and oncologist Vaia Florou, MD:
Best and Worst Aspects of Liver Scans.  -Tom Winter, MD Professor, Abdominal Imaging
An Oncologist's Wish List.  -Vaia Florou, MD, Assistant Professor, Division of Oncology
Theranostics.  -Kathryn Morton, MD, Section Chief for Nuclear Medicine
Better Tumor Metrics.  -Jeffrey Yap, PhD, Research Associate Professor, Experimental Therapeutics


Metastatic Abdominal Cancer Panel: (left-to-right) Winter, Yap, Morton, Florou.
Power Pitch Presentations
Perhaps the heart of Imaging Elevated is the chance for emerging investigators from across the continent to converge on Utah for a weekend of idea sharing and presentations. This year, we hosted 7 out-of-state participants and 7 residents and graduate students from the University of Utah, each of whom was invited to present a 3-minute oral presentation and answer questions at their poster during an extended poster session. All of the presenters were engaging and shared intriguing ideas from labs across the country (and Canada!).
Below are photos of the presenters from the symposium, and you can see the titles of their presentations here.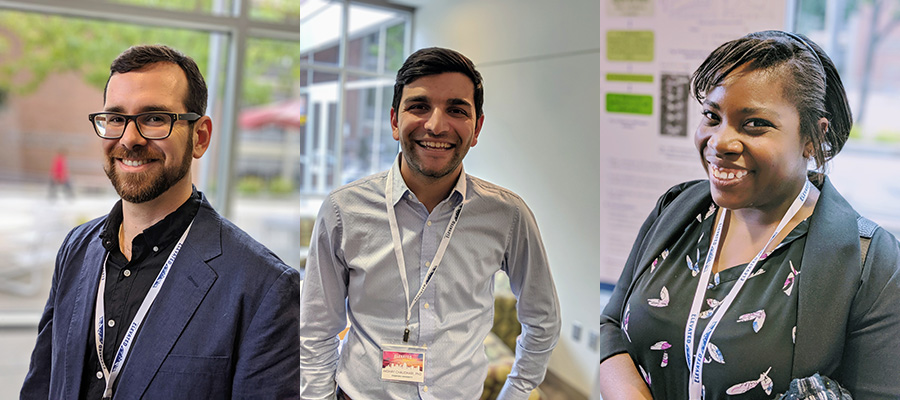 Avinoam Bar-Zion, PhD (Caltech), Akshay Chaudhari, PhD (Stanford), Stecia-Marie Fletcher, MSci (Sunnybrook, Toronto).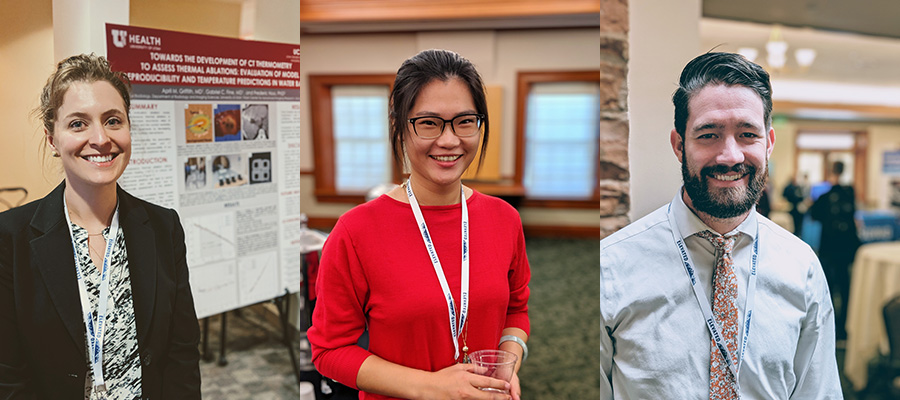 April Griffith, MD (Utah), Zijia Guo (Utah), Peter Hinckley, MD (Utah).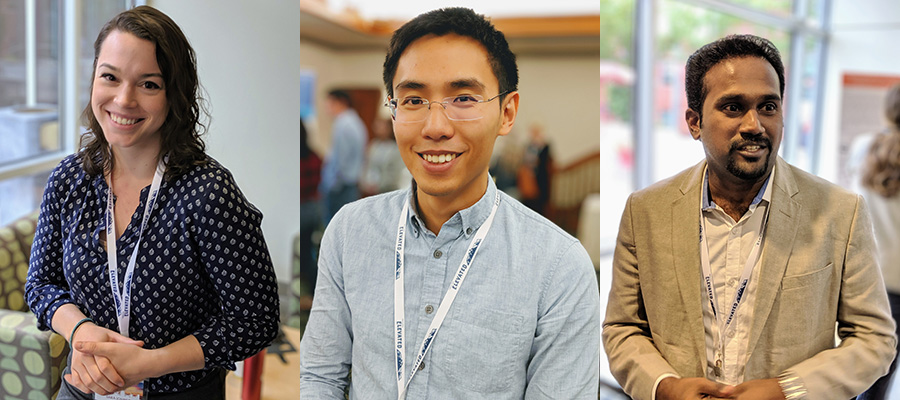 Sara Johnson (Utah), Frank Ong, PhD (Stanford), Bibin Prasad, PhD (UT Southwestern).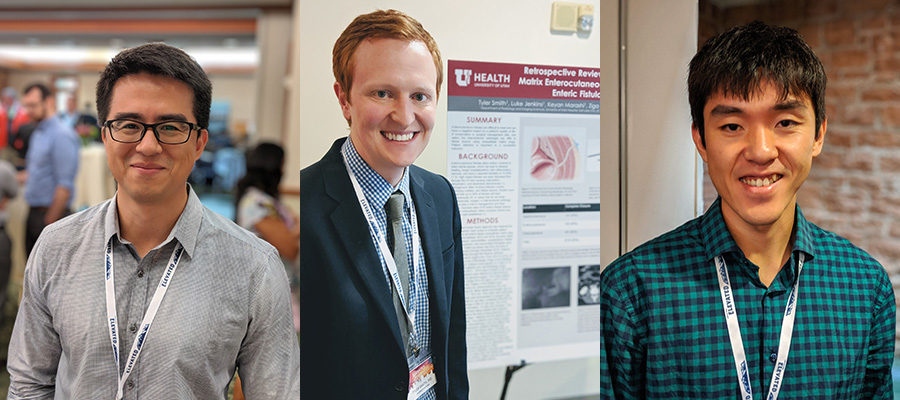 Luyao Shi (Yale), Tyler Smith, MD (Utah), Ye Tian (Utah).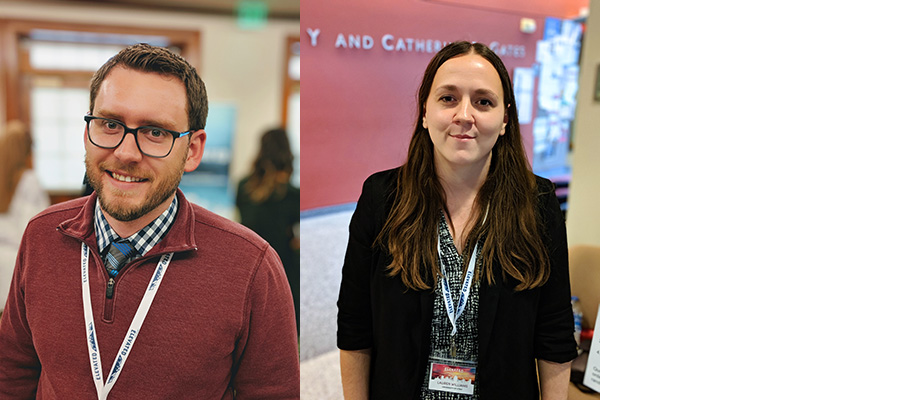 John Walsh (Yale), Lauren Williams (Utah).
Exhibit Hall and Clinical Case Competition
One of the highlights of the Saturday program was the very active Exhibit Hall, where 8 tables of interactive exhibits offered attendees a veritable scientist's playground of activities. We had demonstrations from the Advanced Novel Visualization Imaging Laboratory (ANVIL): haptic procedure simulators, augmented reality, and virtual reality simulations, as well as kyphoplasty and interventional radiology simulators. Attendees had plenty to explore. During this time, we also held a clinical case competition for 9 medical students and residents who presented mystery cases. All of them presented very well, and the judging was tight, but in the end, 1st year MD-PhD student Corey Shayman took home the award for Top Clinical Case.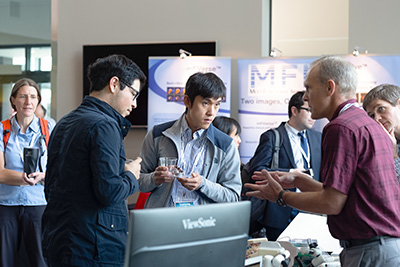 (Left) Lorne Hofstetter and Seong-Eun Kim, PhD learn about Samsung technology, while (right) Yoshimi Anzai, MD tries out a kyphoplasty simulation.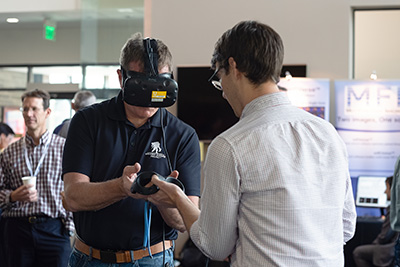 (Left) Participants and attendees learn about our custom coil fabrication lab from Robb Merrill; (right) Corey Shayman accepts his award for Top Clinical Case from Department Chairman Satoshi Minoshima, MD, PhD.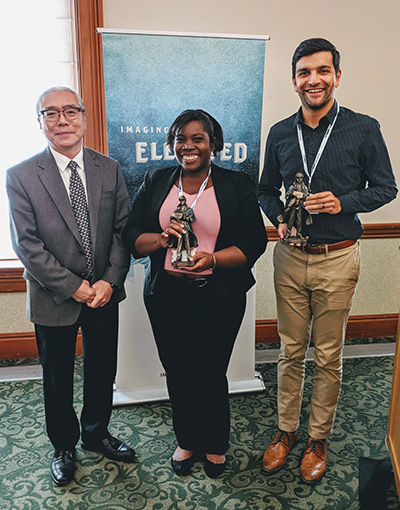 By all accounts, the symposium was a success - faculty and trainees had interesting and productive conversations with the presenters, and the presenters felt the same. We welcomed 7 new friends to our campus and hope that these interactions lead to great future work and collaborations.
The final award of the symposium was called the "Holmes Award" - a creation of the organizing committee to honor an Emerging Investigator with a trophy of Sherlock Holmes and the title of Top Investigator for 2019. The organizing committee faculty judged the presenters on their oral presentation, poster, and other criteria. Surprisingly, two presenters tied in the excellence as weighed by these factors: Akshay Chaudhari, PhD and Stecia-Marie Fletcher, MSci. Congratulations to them on this accomplishment and to all of the the participants for their hard work and willingness to present.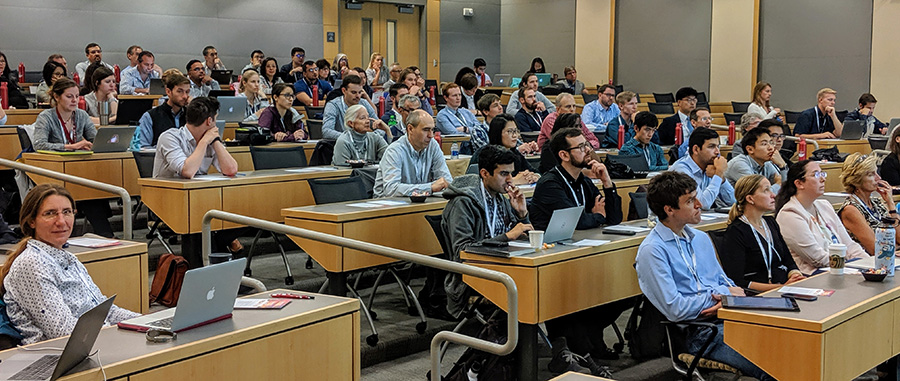 Audience for the Friday session, held at the Health Sciences Education Building.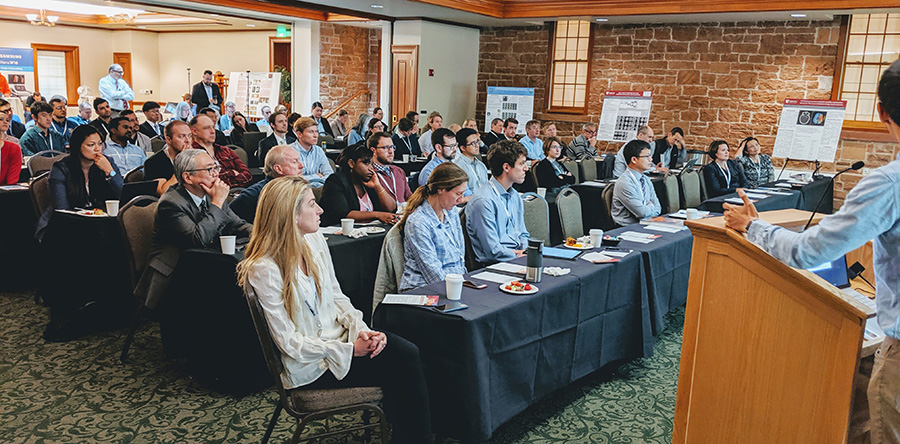 Audience members at the Saturday session, held at the Officer's Club in Fort Douglas on the University of Utah campus.