Physician Scientist Training
The Physician Scientist Training Program (PSTP) in the Department of Internal Medicine is a post graduate training program intended to produce clinically trained scientists with interests ranging from basic to translational and clinically oriented research. The program accepts qualified applicants who have completed combined MD-PhD degrees (or an MD degree with significant research training) into a program that includes accredited clinical Internal Medicine residency training, accredited subspecialty fellowship training, and post doctoral research. We are committed to supporting our resident-researchers by providing time, resources, and mentorship throughout the training program.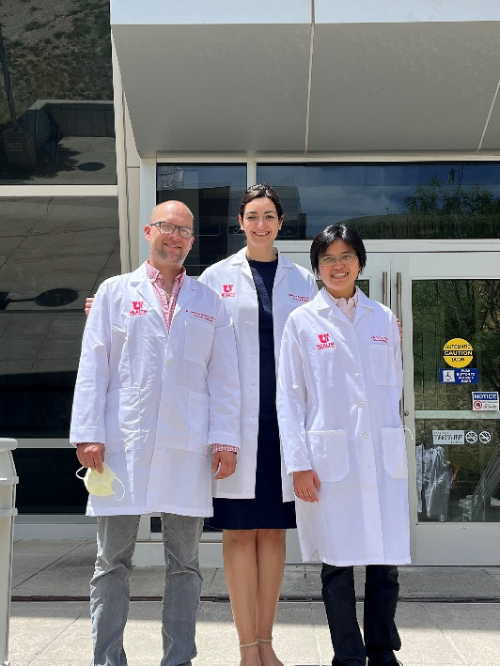 The pathway begins with clinical training in the University of Utah's Internal Medicine Residency Training Program. Residents benefit from exposure to complex and diverse patient populations from throughout the Intermountain West in an environment that values teaching, camaraderie and a high level of resident autonomy. Participants are able to pursue the American Board of Internal Medicine Research Training Pathway which allows qualified candidates to begin their subspecialty fellowship training in lieu of their third year of residency.
Clinical Fellowship Training
PSTP participants will be given the opportunity to pursue subspecialty training in any of the University of Utah Department of Internal Medicine fellowships. Four fellowships have well-established NIH Training Grants. There are also a number of non-ACGME fellowship training opportunities in areas ranging from general medicine and hospitalist medicine to ethics.
Trainees are given great flexibility in their selection of laboratories and mentors for post-doctoral research. Trainees may choose to pursue research within the Department of Medicine or take advantage of other opportunities and collaborations within the School of Medicine. The University of Utah is the home to a number of world class research centers including the Huntsman Cancer Institute, the Eccles Institute of Human Genetics, and the Nora Eccles Harrison Cardiovascular Training & Research Institute. Trainees are expected to apply for an external postdoctoral award, such as an NIH F32 or equivalent.
Trainees within the PSTP are guaranteed stipend support for residency and fellowship training. Throughout the entire length of the program, the trainees receive additional financial resources to support their educational needs. During residency and clinical fellowship years, trainees will receive educational funding of $1,500/year to support the purchase of computers, software, journal subscriptions and conference registration. During research years, after the candidate is board eligible in their subspecialty, the candidate will be given a faculty appointment. PSTP physicians who are awarded an individual extramural career development grant will be eligible for a $10,000 incentive payment.
Eligible candidates must have an MD-PhD or an MD with a strong background in research. They must also meet eligibility requirements for the University of Utah's Internal Medicine Residency Training Program.
Candidates should apply for both the PSTP (1732140C1) and the conventional categorical residency program (1732140C0). The application requirements for the PSTP are the same as for the categorical training program but the PSTP candidates must also submit the the following to improg@hsc.utah.edu:
Please indicate your subspecialty of interest. Briefly describe your research background and future goals (300 words or less).
(Optional): Please list up to 3 faculty you are interested in meeting.
Further information about research being performed within the Department of Internal Medicine, including subspecialty divisions, can be found here. Information about research being performed at our cancer center can be found here. 
For candidates invited to interview for the PSTP, the interview day will begin with the categorical residents and will be extended to include interviews with PSTP leadership and potential fellowship faculty and research mentors in the afternoon. The day will be tailored to the candidates needs based on the content of the PSTP application form and communication with the candidate prior to the interview day.
Interviewed applicants will be given the correct NRMP code to use for ranking. This may be either the Categorical Medicine NRMP code (1732140C0) or the Categorical-Research Internal Medicine code (1732140C1). PSTP residents are embedded within the categorical program. 
For more information about the Physician Scientist Program, please contact us.