Marsden Blanch M.D., M.P.H., F.A.C.S. combined his medical expertise and business acumen in 1985 when he founded Utah-based Megadyne Medical Products, one of the three largest electro-surgical product companies in the country. Its success is the result of Dr. Blanch's innovation in developing the first eschar-resistant, PTFE-coated electrodes. He graduated from BYU Magna Cum Laude in 1970 with a degree in Zoology and a minor in Chemistry. He attended the University of Utah and earned his medical degree (1974) specializing in Otolaryngology, Head and Neck Surgery. He returned to the U of U, earning a Masters of Public Health (2003).
Summary of Roundtable Description With Dr. Blanch
On why he chose otolaryngology:  I wasn't sure what area I wanted to go into, so I did a straight surgery internship to figure out what area to pursue. I considered neurosurgery, cardiac surgery…at the time it was really about finding the thing I disliked the least. Ultimately, it was two doctors that made me take a closer look at otolaryngology, both of whom were mentors for me—James L. Parkin, M.D., and Mike Stevens, M.D.  I identified with them, learned a lot from them, and also appreciated that they emphasized the importance of family along with being a good surgeon. I was also drawn to the challenge and the variety of surgeries in this specialty ranging from micro-surgery of the ear to head and neck tumors, and encompassing both adults and children.
On perfecting stapedectomies:  This is a very precise micro-surgery that restores hearing; there is no room for error at all. As a chief resident I loved doing them but there were not a lot of opportunities to get experience because the U did not see many stapedectomy cases and assisting on these cases was difficult. So I had some connections at St. Mark's hospital and was able to practice on cadavers (with the permission of families of course). I did over 100 stapedectomies, averaging 10 to 15 procedures a month on these cadavers. Eventually I got confident enough and ended up seeing a lot of cases in Utah. 
On how Megadyne was founded:  In founding Megadyne, I'm reminded that you never know what is around the corner in your life. I was planning my life around being a surgeon; my defining characteristic was that I was a surgeon. But in 1984 I got tired of taking the time to scrape eschar off of the cautery tips—the buildup of burned tissue from surgery. It wasted time and after the nurse had sandpapered the eschar off, the abraded blade attracted even more eschar. About this same time, I was watching my wife cook on a Teflon-coated frying pan one morning and I thought "why can't we coat the blade with that?" I was pretty confident that Teflon could be used in patients because of its inert nature and the fact that it was already being used in some applications as a prosthetic implant.
I got four Teflon-coated blades, sterilized one, and took it to the operating room. It  worked great! Pretty soon colleagues were requesting them, refusing to do surgeries without them, so I found myself practicing medicine by day and spending my evenings coating blades with Teflon and giving them away. I would test them out on a chunk of liver or meat in my office; nurses would come in the next day, sniff the air, and say "Dr. Blanch you've been working on your blades again."  This product was the catalyst to starting a medical products business, which was first called American Medical Products and then Megadyne.
On hardships and payoffs those first years in business:  It has been a real fun ride, but it wasn't always easy. At first we flailed. I was busy as a surgeon and my business partner was busy as a hospital administrator. We had no marketing and sales experience and we were just spinning our wheels and were almost out of money. We had spent $35,000 and not sold a single blade. It got to the point that we had to stop doing this or leave our jobs; my wife nixed that—"who is going to give you a paycheck if you do that?" she asked.  So instead I began to look for some partners with the experience we lacked and who could bring some money in.
Again we struggled and were about six to eight months from running out of money, when I got this idea. It was during the height of HIV and people were worried about it spreading, especially in operating rooms. I figured it won't be long until we'll be required to wear glasses in ORs, to prevent HIV getting into the membrane of the eye. So my partner borrowed $10,000 from his father-in-law and bought a bunch of shop goggles, two varieties— standard and deluxe; we repackaged them in Ziplock bags with mimeographed labels that said "Medical Glasses," with a one-page brochure. We sent them to every hospital in the country; within a couple of weeks orders came in like crazy—we couldn't keep up with them. This was the late 1980s, and we've never had to advertise them since. It also provided us the money to send a sterile sample of the blade to every surgeon in the country, so that product then took off.
These two products exemplify the value of being aware and keeping your eyes open and seeing where there is a problem that can be solved.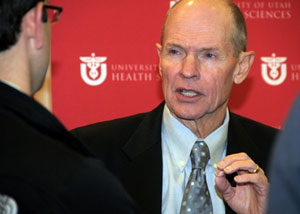 On patenting that first product:  I didn't even know that Teflon was an insulator and radio frequency was electricity—I was too ignorant to know that this wouldn't work so we just did it. And it worked. Nobody else had ever thought of it because they assumed since Teflon was an insulator it wouldn't work. It wasn't until we were defending our patent in court that I found out it worked by capacitive coupling.
Our patent was good for 17 years, and this time allowed us to build a solid base before competitors could enter the picture, though we had several infringement lawsuits. We really were the first in the market and are still the best.  My advice is if you are thinking of an idea, chances are someone else is too, so protect it early on.
On establishing a niche:  We are now a full-service electro-surgical company, but it wasn't until about 1998 that we narrowed our focus and made the decision to sell only electro-surgical devices. Prior to this we were hustling to develop and sell all sorts of medical products and we knew our 17-year Teflon-blade patent was coming to an end. During this period of time, I went on a three-year LDS mission in Southern California where I oversaw the care and training of some 200 missionaries, and came across a fast food place called In-N-Out Burger. It focused only on burgers and these joints were thriving. This gave me an idea.
When I returned to Utah I said, "We want to own core electro surgery and we're going to be like In-N-Out Burger." My partners caught the vision of becoming strictly an electro-surgical company. We got rid of everything except about eight to ten electro-surgical devices. We kept the goggles of course!
On other passions:  If someone had told me ten years ago I'd be running marathons and riding motorcycles, I would have laughed. I ran my first 10K at 58 and it nearly did me in. Since then I've run 20 marathons and will run the Boston Marathon this year for the fourth time.
I used to call motorcycles, "murder-cycles" to my children when they were young, but at 62, I was looking for a way to connect with one of my sons and the bridge was motorcycling. The BMW 1200 RT is my passion right now—that is a hot bike. Last summer we did a 3,000 mile road trip though four national parks. Once I get on a motorcycle, I just feel like the world has been lifted off. It's pure freedom.
I've got 6 children and 19 grandchildren and I love being with them. Right now I'm planning a pumpkin patch for them on our property in Midway. In addition to several marathons, I'm training for the Napa Valley Ironman for next summer and a motorcycle trip to the Northwest.  I honestly don't think I would change anything looking back…I absolutely love my life. I never thought of myself as a dedicated optimist, but a lot has just fallen into place.
I provide free medical care at a clinic downtown once a week and have never been tempted to give up medicine, even when Megadyne was flourishing. This is who I am—a clinician at heart and I'm glad I've stayed in the realm of helping patients.