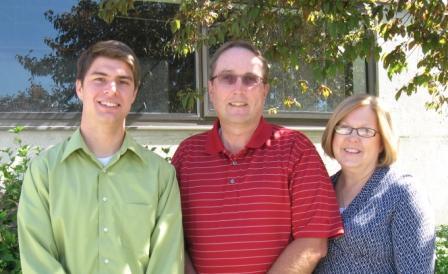 Kent and Terri Jex were high school sweethearts and married soon after graduation. Then came the schooling. Lots of it! First college, then four years of medical school, five years of residency and two years of fellowship training culminating in Kent becoming a cardio-thoracic surgeon.
By the time Kent started his first year at the University of Utah Medical School they already had two children and by graduation they had three with a fourth on the way. Life was good, if hectic, but finances were extremely tight. Trying to keep up with tuition payments, rent, feeding and clothing children, church commitments and other financial and charitable obligations was a juggling game. Both Kent and Terri still remember trying to make a decision on giving to a church commitment or paying for the next term of medical school. After much thought, concern and worry they decided to step out in faith and make the charitable donation, hoping their dedication and faith would be rewarded. A short time later an unexpected scholarship check from the University of Utah School of Medicine arrived in the mail. They both still tear up when they remember the significance of that gift. Right then and there they knew their prayers had been answered and they made a commitment to give back to other medical students when their finances allowed.
As soon as they were able they began sending some money yearly to the medical school, always to the general alumni medical scholarship fund. By the mid 1990's the Jexes found themselves in a financial position to begin giving back in a more significant way to the school. As time went on and their gifts to scholarship increased, Kristin Wann Gorang, director of the School of Medicine Alumni Relations office contacted them to see if they would like to make a five-year pledge to scholarship and be matched with a specific medical student as opposed to their money going into the general scholarship fund. The chance to get to know a specific student appealed to them. Their only requirement was the student be married and have at least one child; in memory of their own financially tight times during their training years. This year Ryan Enz, Class of 2014, is the first recipient of the R. Kent Jex, M.D. and Terri Jex Medical Student Scholarship, receiving a grant of $5000 to assist him, his wife and daughter with their expenses. This August, while back on a trip to Utah to visit family, the Jexes were able to meet with Ryan and learn more about his family and goals in medicine. Because of their interest in medical scholarship the Jexes have also included the School of Medicine in their will to ensure their scholarship will go on into perpetuity.