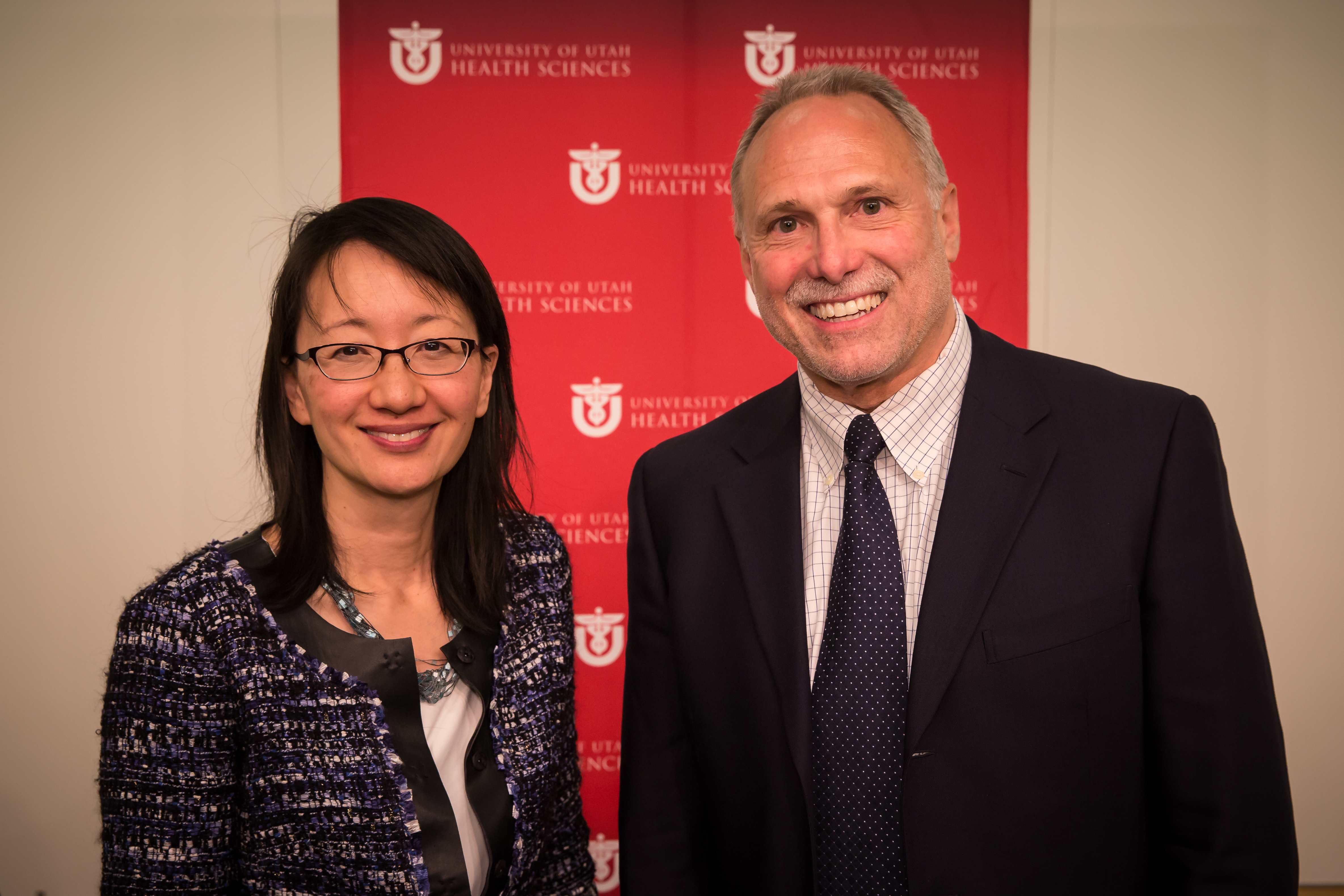 John Lowe's career has spanned two very different worlds. First, he thrived as an academic in pathology, primarily at the University of Michigan and Case Western Reserve University. Now he serves as senior director of pathology at the biotech giant, Genentech. Always passionate about drug discovery, the 1980 University of Utah Medical School graduate, who also launched two biotech companies, found intellectual stimulation in both stages of his career––and encourages students to keep an open mind.
Lowe realized pathology was a good fit for him while he was still in medical school. "When I was coming here to medical school I was 22 going on 12, so the concept of actually interacting with a patient was kind of novel," recalled Lowe at a Dean's  Roundtable event at the School of Medicine in February 2015. "I probably did mature during the first two or three years of medical school but that was still part of my core characteristics. I was very reserved. I found pathology, the rotation I took - I think it was my third year and maybe my fourth year - to be extremely stimulating and found it compatible with my personality."  He enjoyed thinking about disease in its entirety, the signs and symptoms and seeing the consequences of the disease at the cellular level. His career would eventually lead him to hold the Warner Lambert/Parke-Davis professorship in the University of Michigan Department of Medicine and work as an investigator for the Howard Hughes Medical Institute. In 2005, he moved to Case Western where he chaired the pathology department.
At the roundtable, he spoke to students about how pathology has evolved during his career. Technology is now capable of imaging a slide and displaying it on a screen at the level of resolution and "almost" with the speed with which you could look at it under a microscope, he said. But Lowe sees many pathologists as unwilling to let go of their basic tools––despite his own predictions to the contrary 10 years ago.  "The field of pathology has a core that has't changed much at all since I was in medical school: the aspect of harvesting tissue from humans, processing it and examining it under a microscope," he said.
What's changed is the ability to do molecular analysis. "That allows pathologists and other healthcare professionals to take a much more careful, close and stratified look at molecular processes of tissue that for all the world will look the same under the microscope," said Lowe, an expert in protein modification pathways.  Reflecting on the two stages of his career, Lowe sees academic pathology as having more distinct missions than exist for pathologists in private industry. Those include providing clinical care, acquiring grants, teaching medical students as well as basic research.
"Faculty are, in many ways, running their own small business. They're out there acquiring revenue to support the activities they themselves have chosen to research," he said. "Whatever you want to work on, so long as you continue to get funding and publish - so long as that's going well - you really don't have to worry too much about the super structure. [It's] academic freedom." 
At Genentech, the focus is on enabling drug discovery exclusively, he said, which can include allowing others to do basic research and the translation clinical research. There is no grant acquisition, teaching or clinical care component. The role of a small business person does not exist––and not everyone fits in that kind of culture. The company recruits and nurtures individuals who enjoy working as a team, Lowe said.  Many of the more senior scientists there have had a fairly long academic career. Until he arrived at Genentech, Lowe had no idea what went on behind industry doors. He would recommend students spend a few weeks as an intern at a drug company. What he's discovered is a "sincere drive" to help other human beings––something he began thinking about while still in academia.
"It reminds me when I was in Michigan," the pathologist said. "I was plying my trade in my fairly large research laboratory. I said, 'This is really fun but I'm not sure this is helping anybody.'"  Lowe has noticed that people with a Ph.D. or a strong research background often choose to go into pathology. His research specialty has been the molecular control of glycosylation events in inflammation and disease. Despite his career switch, he acknowledged the appeal of academic life.
"The opportunity to do a lot of research but still have your foot in clinical medicine is probably greatest in the field of pathology," he said. "If you think about an academic career there are still ... lots of opportunities, faculty positions where you would be afforded the time to spend maybe 80 percent of your effort on science and 20 percent or less on clinical activities. I think that's probably not the case in other specialties."  If Lowe has advice for today's medical students, it's to keep an open mind throughout their time at school. "I should have sampled more opportunities during medical school. My fourth year I really focused in on pathology. That's OK, but I think I could have benefited from having rotations in lots of different sub-specialties. It would have given me more perspective."