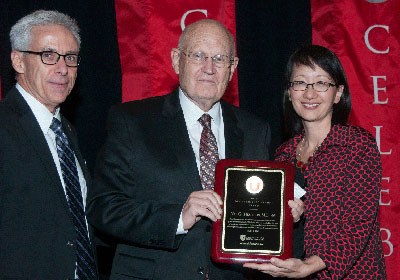 Dr. Val Hemming earned his BA from the University of Utah in 1962 and matriculated with the medical school Class of 1966. As a senior, he joined the US Air Force (AF) and served for 30 years. Following a 1966-1967 internship at the U of U, he spent a year as a flight surgeon. He then completed pediatric training at Wilford Hall USAF Medical Center in San Antonio, Texas, and served four years at the AF hospital in Wiesbaden, Germany.
He returned to the U of U for fellowship training in infectious diseases. Soon after fellowship he was appointed as the pediatric residency director at David Grant AF Medical Center. In 1980 he was transferred to the Uniformed Services University of the Health Sciences in Bethesda, Maryland, where he served eight years as professor and chairman of the Department of Pediatrics. In 1995 he was appointed as interim dean of the school of medicine and then as dean from 1996 through 2002. He retired as dean emeritus and was honored for his research, for leading innovations in medical school curriculum and for pioneering work in medical simulation.
Over 40 Years of Research
For over 40 years he conducted and published basic science and clinical research studies examining pathogenesis of bacterial and viral pulmonary infections in infants and young children. His collaborative research with respiratory syncytial virus (RSV) resulted in two FDA licensed biologicals for prevention of serious RSV.