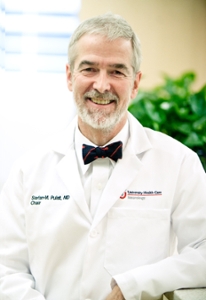 Neurology entered this century with never-before-seen advances in understanding the normal functions of the brain and its diseases. The discovery of mutations in disease genes, the use of novel imaging methods, and the development of new drugs and their evaluation in clinical trials have all led to breakthroughs in the treatment of neurological diseases. Just in the last decade, new medications and surgical treatments have been discovered for diseases as diverse as multiple sclerosis, Alzheimer disease, stroke, and epilepsy, ushering in a golden age for the clinical neurosciences.
The Department of Neurology at the University of Utah has a long-standing tradition of excellence in clinical care, education, and translational and clinical research. A large number of subspecialists provide expert diagnoses and treatments for all disorders affecting the brain, spinal cord, nerves, and muscles. We have a well-established and highly regarded residency program and a number of fellowships in neurological subspecialties.
The interdisciplinary nature of our programs allows close collaboration of our neurology faculty with faculty in neurosurgery and neuroradiology, as well as pediatrics and rehabilitation. Last year, we admitted 1,576 inpatients, had 41,326 outpatient visits, performed 531 acute Telemedicine services, and had 687 stroke Telehealth visits. The interactions within our newly created Clinical Neurosciences Center has further increased collaborations in education, research, and patient care and has resulted in an integration of our three missions.
Sincerely,
Stefan Pulst, MD
Department Chair