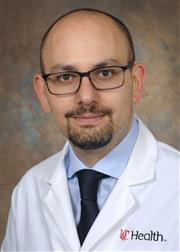 Join us for a guest lecture series on Deep Brain Stimulation (DBS) at the University of Utah presented by Aristide Merola, MD, PhD, Assistant Professor from the University of Cincinnati Gardner Center for Parkinson's Disease and Movement Disorders.  
The outline for the Neurophysiology in Movement Disorders lecture is as follows: 
3–4 p.m. Tremor Analysis for the Diagnosis of Challenging Movement Disorders
4–5 p.m. Autonomic Dysfunction in Parkinson Disease
5–6 p.m. Innovative Technologies for Deep Brain Stimulation in Movement Disorders
A case study will be presented for each topic in conjunction with an interactive discussion.
We anticipate this to be a very informative and productive forum for clinicians serving patients with movement disorders throughout the state of Utah. We hope you will join us and look forward to collaborating with our colleagues in the community.
Who: Aristide Merola, MD, PhD
What: Guest Lecture on Deep Brain Stimulation
When: Friday, November 16, 2018, from 3 p.m. to 6 p.m.
Where: Imaging and Neurosciences Center
             729 Arapeen Dr. 
             SLC, UT 84108
RSVP:  Tish Pendley, Administrative Assistant
            Phone: 801-585-9386
            Email: tishp@genetics.utah.ed