From the Desk Of...
Each month, one staff member from the Department of Internal Medicine will be highlighted in a new staff recognition program called "From the Desk Of..." We are fortunate to have such talented staff members, and we want the rest of the department to get to know "the face behind the email."
January's featured staff member is Jamie Smith, the Fellowship Program Manager for the Division of Endocrinology.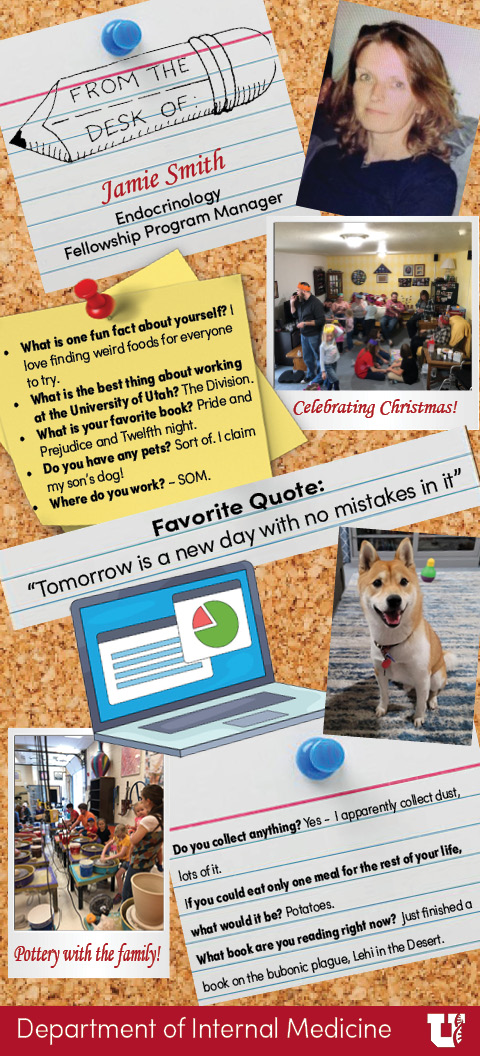 What is one fun fact about yourself? I love finding weird foods for everyone to try.
What is your favorite motto/quote? "Tomorrow is a new day with no mistakes in it."
What is the best thing about working at the University of Utah? The Division.
What is your favorite book? Pride and Prejudice and Twelfth Night.
Do you have any pets? Sort of. I claim my son's dog!
Where do you work? SOM.
How do you prefer to start your day? Waking up.
What was your first job? Office assistant at age 14 at Casa Grande National Ruins Monument.
What's a typical day at work like? Computer, computer, computer.
What's the best part of your job? The division has the best people to work for/with.
What book are you reading right now? Just finished a book on the bubonic plague, Lehi in the Desert.
What is your favorite podcast and why? Don't Miss This". It is the only one I have listened to.
If you could snap your fingers and become an expert in something, what would it be? Thinking.
Do you collect anything? Yes - I apparently collect dust, lots of it.
If you could eat only one meal for the rest of your life, what would it be? Potatoes
Who would you want to play you in a movie about your life? Megan Follows.