From the Desk Of...
Each month, one staff member from the Department of Internal Medicine will be highlighted in a new staff recognition program called "From the Desk Of..." We are fortunate to have such talented staff members, and we want the rest of the department to get to know "the face behind the email."
August's featured staff member is Tricia Sweeney, Associate Director of Research and Science in the Division of Epidemiology.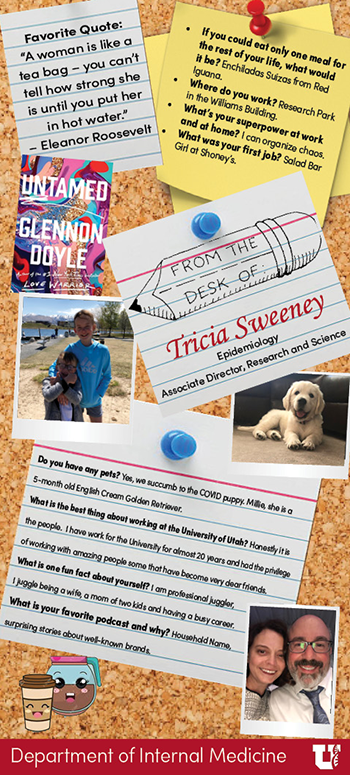 What is one fun fact about yourself? I am professional juggler, I juggle being a wife, a mom of two kids and having a busy career. Albeit I don't always do it well but I feel like I wouldn't be good at any one without the others.
What is your favorite motto/quote? "A woman is like a tea bag – you can't tell how strong she is until you put her in hot water" – Eleanor Roosevelt.
What is the best thing about working at the University of Utah? Honestly it is the people. I have work for the University for almost 20 years and had the privilege of working with amazing people some that have become very dear friends.
What is your favorite book? "Untamed" by Glennon Doyle.
Do you have any pets? Describe. Yes, we succumb to the COVID puppy. We lost our 12-year-old Golden Retriever this past February so it seemed like a good time to get a new dog. Millie, she is a 5-month old English Cream Golden Retriever.
Where do you work? SOM, VA, SHHC, etc: Research Park in the Williams Building.
How do you prefer to start your day? Coffee, nothing before coffee.
What was your first job? Salad Bar Girl at Shoney's.
What's a typical day at work like? The only typical thing is there is no such thing as a typical day at work for me. But that is okay it keeps me on my toes and I am never bored.
What's the best part of your job? Variety! One of my favorite things is helping junior faculty submit their first grant proposal.  Seeing their anxiety and stress in the beginning but then the proposal starts to take shape and heads towards the finish line.  It's exciting to be part of that process and watching them become a funded investigator.
What book are you reading right now? Just finished "On Being Human" by Jennifer Pastiloff.
What is your favorite podcast and why? Household Name, surprising stories about well-known brands.
If you could snap your fingers and become an expert in something, what would it be? The ability to enjoy winter.
What's your superpower at work and at home? I can organize chaos.
If you could have only three apps on your smartphone, what would they be? Instagram, Maps and Amazon Music.
What is your favorite way to decompress after work? Glass of wine, listen to a podcast or Audible book and work on a jigsaw puzzle.
Do you collect anything? Shoes, several years ago I started purchasing a new pair of shoes when I finished a big grant proposal.  This was awesome until one summer I put together 6 large proposals in the span of 2 months and the celebratory shoes became a little much.  I still "collect" shoes and if I find something I like I usually buy them in every color.
If you could eat only one meal for the rest of your life, what would it be? Enchiladas Suizas from Red Iguana.
Who would you want to play you in a movie about your life? Keri Russell.