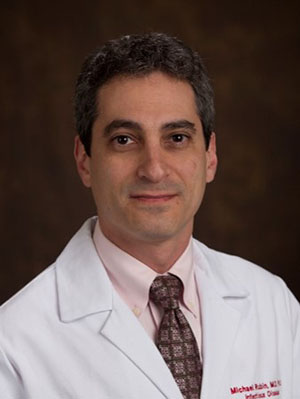 We are pleased to announce the appointment of Michael A. Rubin, MD, PhD, MS to the new position of Associate Chair of Faculty Affairs and Faculty Development for the Department of Internal Medicine. Mike will join the department leadership team that includes Drs. Zimmerman (Research), Milne (Education), Welt (Clinical Affairs), and Eleazer (VA). In this new role, Mike will help oversee all faculty affairs, including the promotion process, mentoring and career development, performance reviews, recruitment, and retention. He will work with the department administrative team to improve processes and ensure we are well aligned with the broader UUHSC strategy and goals. Mike will represent the Department on faculty affairs issues within the Department, School of Medicine, and University. He will be an important advocate for the faculty and will have a positive impact on the Department and the institution. 
Mike has been with the University of Utah School of Medicine since his residency in 2000, and in 2003 joined the faculty as a talented member of the Division of Epidemiology. He has served as the Medical Director of the Employee Infection Control Clinic since 2004, where he has been involved with the care, treatment, and follow-up of employees who are exposed to bloodborne pathogens and other communicable diseases. His research on infection control and healthcare modeling is transformational and has been extended to other fields.
As a Mentor for the Academy of Health Science Educators, the Society of Healthcare Epidemiologists of America (SHEA), and the Vice President's Clinical & Translational (VPCAT) Research Scholar Program,  Mike has demonstrated his commitment to improving the quality of work within the healthcare system and his genuine concern for assisting the next generation of medical professionals to achieve their potential. He is proactive and a hard worker, with a clear commitment to the Department and its faculty and staff.