Resilience Poster Session: Improving Wellness and Personal and System Resilience
The Resiliency Center Wellness Champions, faculty, and staff from across U of U Health presented resilience posters using evidence-based strategies to create a culture of wellness, efficiency, and support across U of U Health, during a Resiliency Center Poster Session held on December 5.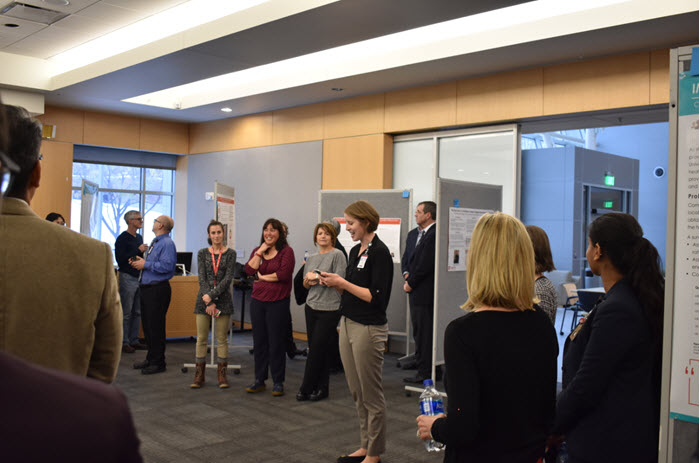 The Resiliency Center is designed to foster wellness and resilience for all employees within University of Utah Health. The center also serves as a hub for coordinating and expanding innovative programming while also housing resources essential to professional fulfillment.
The efforts of Wellness Champions, faculty, and staff to develop these initiatives and projects help to bring the vision of the Resiliency Center into action. These teams are on the front lines of what their departments and divisions need; they are remarkable advocates for wellness and resiliency.   
Submissions for the poster session came from across Health Sciences and the Department of Internal Medicine including the Division of Cardiovascular Medicine, the Division of Pulmonary Medicine, and Internal Medicine Administration.
The Division of Cardiovascular Medicine's Lilian Khor, MD; Adam Valencia, MS; Lauren Warner, BS; Dawn Young, RN; and James Fang, MD presented a poster on "Addressing Cardiology Faculty and Staff Wellness by Promoting Awareness through Serial Surveys and Group Discussion."
Jessica Francis, CCRS; Alice Moe, MA; Lynda Roe, CPhT; Gretchen Anderson, DNP, FNP-C; and Mary Andolsek, LCSW with The Cystic Fibrosis Team from the Division of Pulmonary Medicine presented a poster on "Adding Healthy Tomorrows Wellness Challenge."
APC Directors David Kendrick, PA-C and Andrea Schindler APRN, who are with the Department of Internal Medicine partnered with the Department of Surgery on "Career Progression Opportunities for NPs and PAs." 
At the poster session, presenters were also competing for wellness grants. The intention of the grants is for recipients to continue with their work on wellness and resiliency efforts. Posters were measured by the following criteria: innovation, impact, scalability to other groups and overall impression. Wellness grants were awarded to the best posters in the following categories: building a culture of wellness, personal resiliencies, and system resilience.
Two out of three wellness grants were awarded to faculty and staff in the Department of Internal Medicine.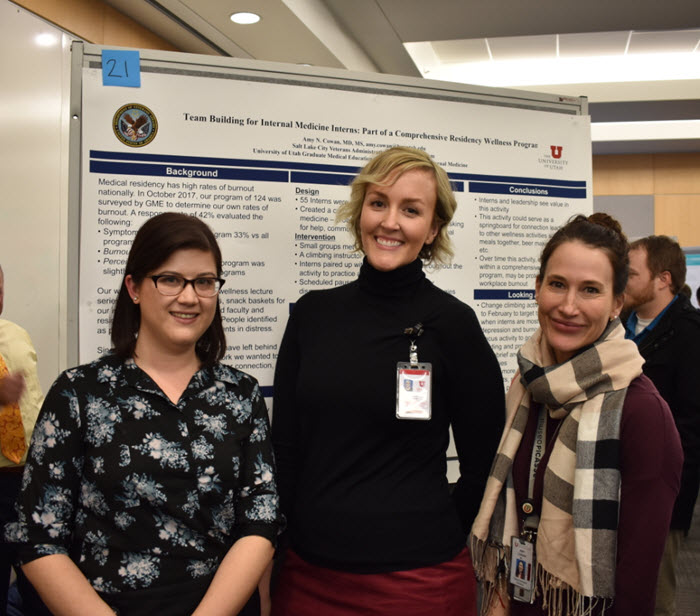 Dori Knight, Mandy Skonhovd, and Aaron Bell from Internal Medicine Administration are the second prize recipients of a wellness grant awarded during the poster session. They developed a poster based on the Women's World Café Initiative that was held earlier this year. Their poster demonstrated the outcome of the event and how the department identified immediate areas for improvement and focus. Due to the success of the event, the department held a second Women's World Café for all staff on December 14.  
Amy Cowan, MD, MS (General Internal Medicine) is the third prize recipient for her work on "Team Building for Internal Medicine Interns: Part of a Comprehensive Residency Wellness Program."
The Resiliency Center Poster Session is a unique opportunity to celebrate the ongoing efforts to improve faculty and staff wellness and resiliency. Congratulations to everyone who contributed to this year's poster session. For more information, please visit the Resiliency Center's website.