From the Desk Of...
Each month, one staff member from the Department of Internal Medicine will be highlighted in a new staff recognition program called "From the Desk Of..." We are fortunate to have such talented staff members, and we want the rest of the department to get to know "the face behind the email."
July's featured staff member is Trisha Sanchez, an academic program manager in the Divisions of Oncology and Hematology.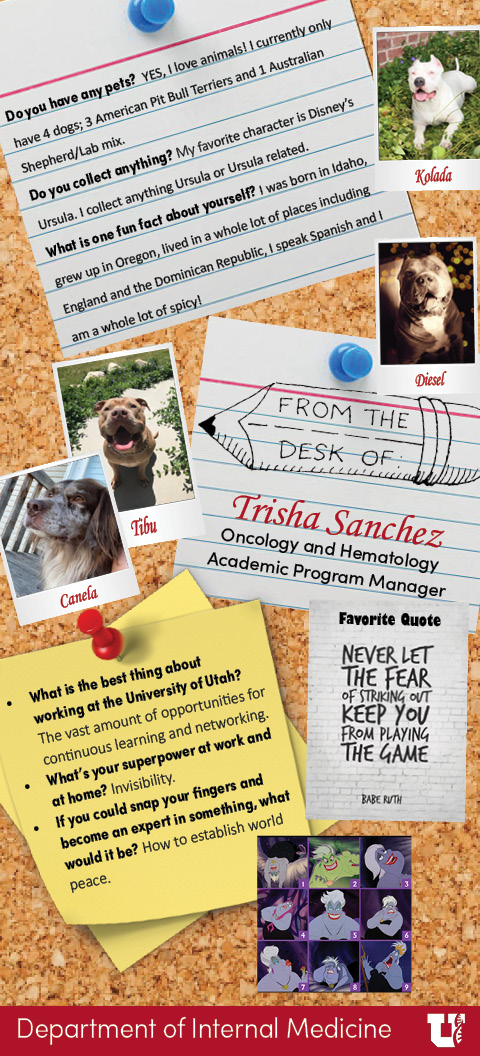 What is one fun fact about yourself? I was born in Idaho, grew up in Oregon, lived in a whole lot of places including England and the Dominican Republic, I speak Spanish and I am a whole lot of spicy.
What is your favorite motto/quote? Never let the fear of striking out keep you from playing the game.    -Babe Ruth
What is the best thing about working at the University of Utah? The vast amount of opportunities for continuous learning and networking.
What is your favorite book? I am not a huge book reader, but Harry Potter was pretty good. I like movies much, much more. I love Disney (everything), comedies, crime and Sci-Fi/Fantasy genres. (Favorite Disney movie- Little Mermaid, Ursula is my favorite character.)
Do you have any pets? YES, I love animals! I would have more but my husband said we can't afford to feed anymore at this time so I currently only have 4 dogs; 3 American Pit Bull Terriers and 1 Australian Shepherd/Lab mix (named below by age).
    -10 yrs. Shepherd (female) – Canela (aka "Cinnamon" in the Spanish language)
    -3.5 yrs. APBT (female) – Tibu (aka Tiburon "shark" in the Spanish language)
    -2.5 yrs. APBT (male) – Diesel (cause he is huge! 115 lbs of muscle)
    -1.5 yrs. APBT (female) – Kolada (aka Pina Colada cause she is white and sweet)
I have had all of my dogs since they were born and able to leave their birth moms. I love each of them like they were my very own (hairy) children. They are spoiled rotten and live indoors with us almost 100% of the time. When you ask what I am doing for the weekend, it usually consists of hanging out with my "dawgs" (aka family/pets).
I also have two human daughters, Ariana age 10 and Kalina age 8, who can sometimes be as wild as an animal but also just as cute.
Where do you work? – SOM, VA, SHHC, etc. I work at the Huntsman Cancer Institute within the Divisions of Oncology and Hematology.
What was your first job? My mom always instilled in me the importance of hard work. I started officially working the summer of my sophomore year in high school when I was 15. I worked in the catering/food service department for the college located in my home town. Since then I have never not had a job (or two or three).
What's a typical day at work like? Do you want to learn from the best of the best in Hematology and Oncology at one of the most beautiful facilities on the West Coast? Well I'm the gal to help get you there and provide the best support for your absolute success! Educational success for trainees and faculty is my number one priority.
I manage all of the activities and complete program requirements for our Internal Medicine: Hematology and Medical Oncology Fellowship Program and the (new) Hematopoietic Progenitor Cell Transplantation (HPCT) and Cellular Therapy Fellowship Program. I also work with our IM residency program to schedule residents and medical students (internal and external) for outpatient clinical rotations with the Hematology and Oncology faculty.
What's the best part of your job? The life of an academic program manager is something I never imagined I would have. The world of academic medicine and health administration has opened up a whole new world of "joy in a career" for me. The best parts of my job are the amazing physicians, researchers, trainees and staff we get to work with who want to help others with their incredible talents and drive to make this world just a little bit healthier.
There was a point in my childhood when my mother sliced her hand open on a broken glass while washing dishes and I was the only one around to help her take care of her wound. I almost fainted while helping her and I knew at that moment I could never be a doctor myself. Now I know my place wasn't to be a doctor but instead it is to be the support that helps build programs and healthcare systems into a place where doctors can flourish and be successful in their craft and helping others.
If you could snap your fingers and become an expert in something, what would it be? How to establish world peace. The year 2020 has had our world in a whirlwind of craziness with a worldwide pandemic, scary big bugs and worst of all, hate on the forefront. I wish I could snap my fingers and know how to fix our world's problems and instill the power of love in everyone's hearts.
What's your superpower at work and at home? Invisibility.
What is your favorite way to decompress after work? I like to watch a good TV show or movie with my husband. I also love to design and make t-shirts for people using my Cricut machine.
Do you collect anything? As I said my favorite character is Disney's Ursula. I collect anything Ursula or Ursula related.
Who would you want to play you in a movie about your life? I took a quiz to see who my famous personality doppelganger is and I got Rihanna because "I am wise, intelligent, and mysterious. I am dignified, but compassionate, and I understand the value of listening more than I speak. I have a unique and ever-changing sense of fashion that expresses my personality as I grow and change."
Although Rihanna and I look nothing alike, this description in my opinion seems fairly accurate. I also have some specific people who would need to be cast (because I have thought a lot about this previously and these people look very similar to my husband and mom). Usher would have to play my husband and Kathy Bates would have to play my mom.