From the Desk Of...
Each month, one staff member from the Department of Internal Medicine will be highlighted in our staff recognition program called "From the Desk Of..." We are fortunate to have such talented staff members, and we want the rest of the department to get to know "the face behind the email."
July's featured staff member is Jamie Walker, an Executive Assistant for the Division of Oncology.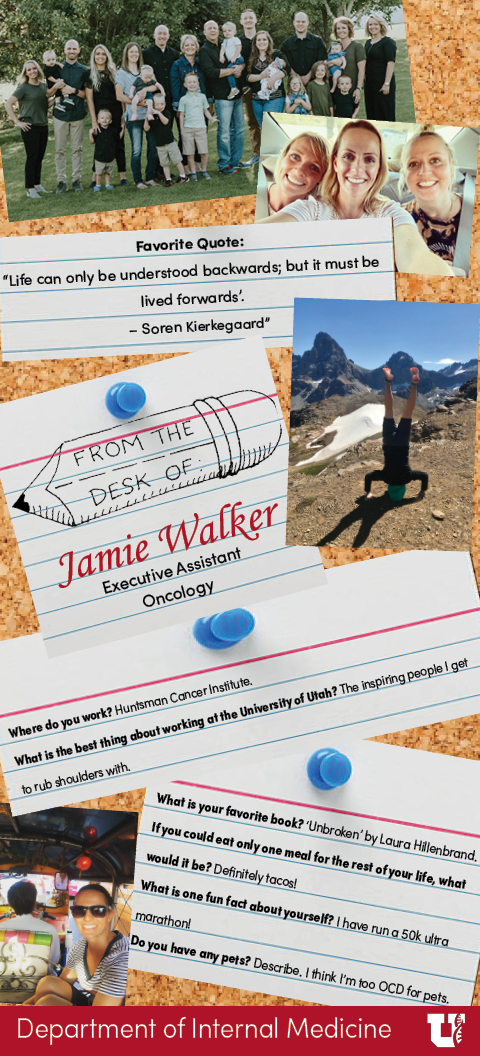 What is one fun fact about yourself? I have run a 50k ultra marathon! 50k = 31 miles. It was in the Kaibab National Forest and went along the ridge of the Grand Canyon.
What is your favorite motto/quote? 'Life can only be understood backwards; but it must be lived forwards'. – Soren Kierkegaard
What is the best thing about working at the University of Utah? The inspiring people I get to rub shoulders with.
What is your favorite book? 'Unbroken' by Laura Hillenbrand
Do you have any pets? I think I'm too OCD for pets :)
Where do you work? Huntsman Cancer Institute - I support 5 Medical Oncologists and help with their scheduling and administrative work.
What was your first job? My family picked and sold night crawlers – we earned ourselves a trip to Disneyland!
What is your favorite podcast and why? Cold podcast – I am fascinated by a good true crime story. Also The Office Ladies podcast which is just entertaining and fun.
If you could snap your fingers and become an expert in something, what would it be? I have always loved music and wish I could be a singer and performer. And this is coming from someone who is quite self-conscious of being in the spotlight.
What is your favorite way to decompress after work? Going for a hike or relaxing and watching a basketball game or show.
Do you collect anything? If so, describe. I love to travel, so every place I visit I get some type of figurine or souvenir, which I keep on a bookshelf in my room.
If you could eat only one meal for the rest of your life, what would it be? Definitely tacos!