From the Desk Of...
Each month, one staff member from the Department of Internal Medicine will be highlighted in our staff recognition program called "From the Desk Of..." We are fortunate to have such talented staff members, and we want the rest of the department to get to know "the face behind the email."
June's featured staff member is Jessica Francis, a Research Coordinator for the Division of Pulmonary Medicine.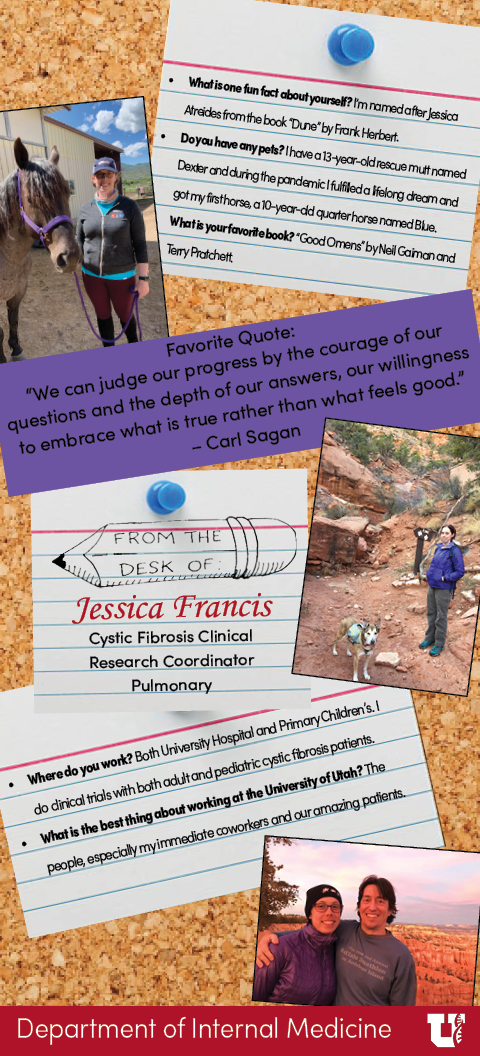 What is one fun fact about yourself? I'm named after Jessica Atreides from the book "Dune" by Frank Herbert.
What is your favorite motto/quote? "We can judge our progress by the courage of our questions and the depth of our answers, our willingness to embrace what is true rather than what feels good." – Carl Sagan
What is the best thing about working at the University of Utah? The people, especially my immediate coworkers and our amazing patients.
What is your favorite book? "Good Omens" by Neil Gaiman and Terry Pratchett
Do you have any pets? I have a 13-year-old rescue mutt named Dexter who can still keep up with my husband and I on hikes. During the pandemic I fulfilled a lifelong dream and got my first horse, a 10-year-old quarter horse named Blue.
Where do you work? Both University Hospital and Primary Children's. I do clinical trials with both adult and pediatric cystic fibrosis patients.
What book are you reading right now? "Spin" by Robert Charles Wilson
What is your favorite podcast and why? My Favorite Murder, it's the perfect blend of comedy, true crime, and empathy.
What is your favorite way to decompress after work? Playing Animal Crossing: New Horizons
Do you collect anything? If so, describe. I love mugs, but I'm not allowed to buy a new one unless I get rid of an old one first.